Bloomberg - Evening Briefing - The Fed has more work to do
All signs point to another big interest-rate hike if the latest economic reports have anything to say about it. US job openings unexpectedly jumped to 11.2 million and consumer confidence advanced to the highest since May. Combined, the figures show rock-solid labor demand and resilient household demand even as US central bankers step harder on the monetary policy brakes. Without a commensurate slowdown in consumer spending and easing of wage pressure, the Federal Reserve's fight to bring inflation down from decades-high levels will be that much more difficult. Fed officials continued to reiterate their commitment to raising rates to bring down inflation—though they remained vague on how large any potential upcoming rate hike would be. Meanwhile, Goldman Sachs issued a sobering warning for the UK, predicting inflation would rise to 22%. Stocks sank. Here's your markets wrap. — Margaret Sutherlin
Bloomberg is tracking the coronavirus pandemic and the progress of global vaccination efforts.
Here are today's top stories
Pakistan's unprecedented flooding has killed more than 1,000 people and forced nearly half a million more to evacuate into relief camps. Dangerous flooding has damaged over a million homes, 3,500 kilometers (2,174.8 miles) of roads and 162 bridges, according to officials. Pakistan's economy was already in crisis and the deluge is expected to create a food shortage. 
Ukraine reported heavy fighting as it started a counteroffensive in the region around Kherson, a river port that was one of the first cities to fall to Russian forces at the start of the war. Troops destroyed bridges and ammunition depots and hammered command posts.  A US National Security Council spokesman called for a "controlled shutdown" of the Russian-occupied Zaporizhzhia nuclear power plant, which is near the clashes and has come under shelling. And for the first time, Pope Francis and the Vatican openly criticized Russia's invasion, calling it "morally unjust." Follow the latest. 
With the ongoing war isolating Russia further, one country is stepping in to fill the void: China. Chinese cars, televisions and smartphones are replacing German and South Korean imports. The war is speeding up Russia's tilt to Asia. And by doing so, Russia is upending global trade as it seeks to insulate itself from further disruptions by pivoting to goods from countries that haven't joined sanctions imposed by the US and its allies.
The feud between Elon Musk and Twitter escalated again Tuesday. Musk asked a Delaware judge to amend counterclaims against Twitter, citing claims by the social platform's ex-head of security of "egregious deficiencies" in defenses against hackers and privacy issues. Musk and his lawyers argued the allegations meant that Twitter had breached the terms of the merger agreement. Twitter sued Musk after the billionaire abandoned a $44 billion takeover bid for the platform. 
The US Navy said it thwarted an attempt by Iran's Islamic Revolutionary Guard Corps to capture an unmanned American vessel in the Persian Gulf, as tensions persist despite efforts by the countries to resolve their deadlock over restoring the 2015 nuclear deal. 
Donald Trump is hiring former Florida Solicitor General Christopher Kise to represent him after federal authorities searched the former president's Mar-a-Lago home in an investigation of his handling of classified records.  
In its early years, YouTube—like many of its Silicon Valley peers—policed itself with the populist spirit of the early web. Moderators were told to leave videos up, so long as they didn't show or incite over-the-top violence. But with the rise of the Islamic State came the rise in slick, cinematic propaganda on the site. One former publicist remembers dealing with a "beheading every day." The content was a nightmare for YouTube, and incited a video purge to boot terrorism off its platform and stem an advertiser exodus. But its approach to extremism had a glaring blind spot.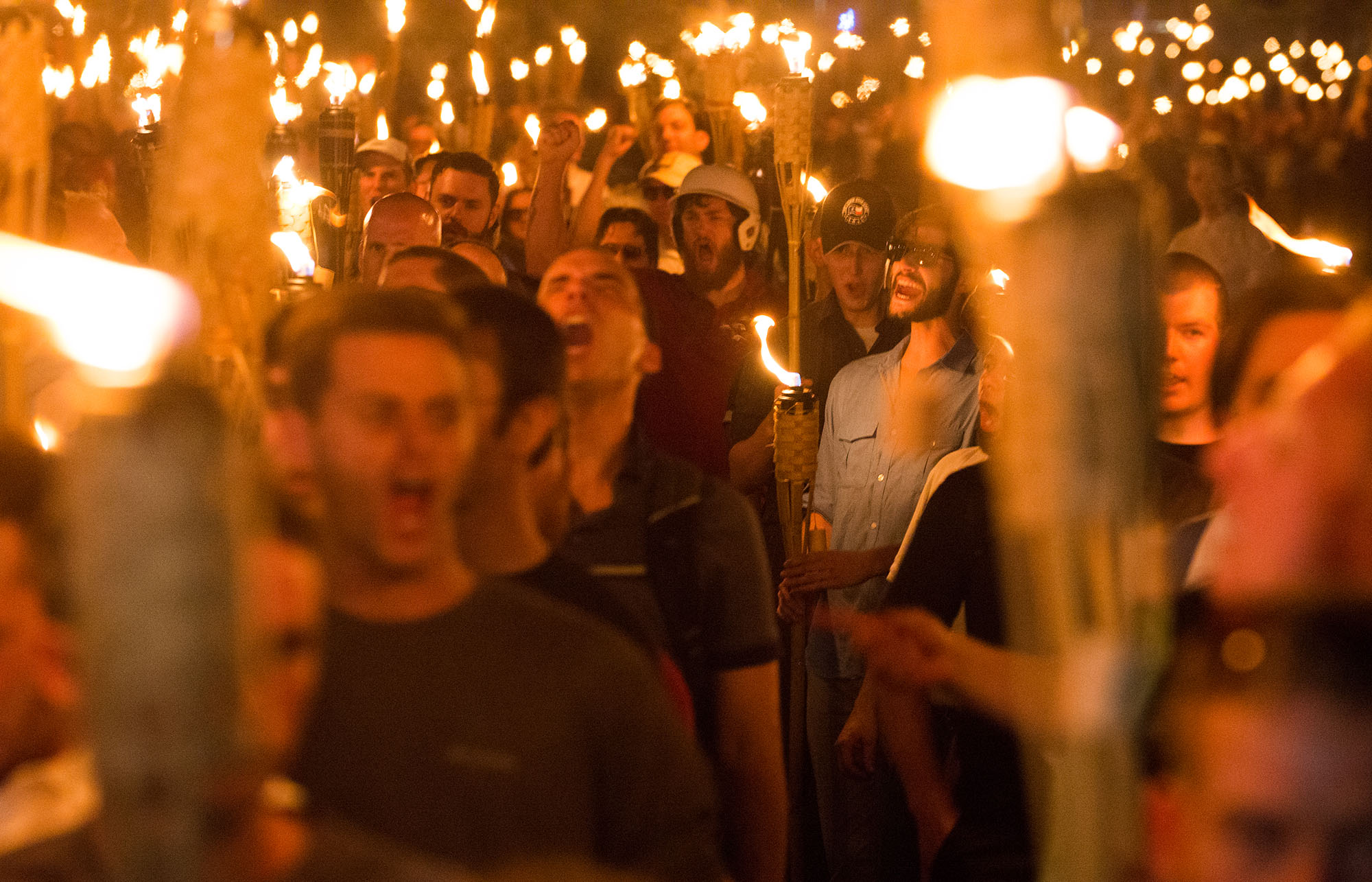 White supremacists, Neo-Nazis and other members of the Unite the Right rally marched on Charlottesville, Va., in 2017.  Photographer: NurPhoto/NurPhoto
What you'll need to know tomorrow
Aspen's Willoughby Way reads like a game of billionaire Monopoly, dotted with mansions owned by the likes of hedge-fund king Dan Och, leveraged-finance titan Bennett Goodman and the parents of Amazon founder Jeff Bezos. They've long sought refuge in the wealthy Colorado mountain town. But they're increasingly getting some company.
Get the Bloomberg Evening Briefing: If you were forwarded this newsletter, sign up here to receive it in your mailbox daily along with our Weekend Reading edition on Saturdays.
Bloomberg Technology Summit: The global economy is being redesigned amid surging inflation, the Covid-19 pandemic, Russia's war on Ukraine and the current bear market. Join Bloomberg Live in London and virtually on Sept. 28 to hear Europe's business leaders, policymakers, entrepreneurs and investors explain how they're adapting to this environment and discuss strategies to create business models that foster growth and innovation. Register here.
Like getting this newsletter? Subscribe to Bloomberg.com for unlimited access to trusted, data-driven journalism and subscriber-only insights.
Looking for a group subscription? Help your team stay on top of today's business landscape with our discounted group subscription options.
Before it's here, it's on the Bloomberg Terminal. Find out more about how the Terminal delivers information and analysis that financial professionals can't find anywhere else. Learn more.
Older messages
Monday, August 29, 2022
Bloomberg Evening Briefing View in browser Bloomberg The US Justice Department said a "limited set" of material seized from former President Donald Trump's home by FBI agents seeking classified
Saturday, August 27, 2022
Bloomberg Weekend Reading View in browser Bloomberg Follow Us Get the newsletter The speech was brief and packed a punch. Climbing interest rates, slower growth and a softening of the labor market will
Friday, August 26, 2022
Bloomberg Evening Briefing View in browser Bloomberg Fourteen of 15 boxes recovered earlier this year from former President Donald Trump's Florida home included highly classified documents,
Thursday, August 25, 2022
Bloomberg Evening Briefing View in browser Bloomberg Investment professionals are warning that a Republican campaign seeking to wipe ESG off the financial map puts at risk the savings of ordinary
Wednesday, August 24, 2022
Bloomberg Evening Briefing View in browser Bloomberg President Joe Biden announced a sweeping package of student-debt relief that forgives as much as $20000 in loans for some, a move he said would help