The Conversation - Genomics has a diversity problem
| | | |
| --- | --- | --- |
| US Edition - Today's top story: Uncovering the genetic basis of mental illness requires data and tools that aren't just based on white people – this international team is collecting DNA samples around the globe View in browser | | US Edition | 12 September 2022 |
The advent of genomic sequencing opened a new era of precision medicine in which treatments can take into account the unique differences between individuals. But there's one major hurdle: The data is overwhelmingly from white people. As a result, researchers are unable to capture much of the genetic diversity of populations around the world. And lacking a full picture of all the forms the human genome can take can limit understanding of a given disease.
One global initiative is trying to change that. Researchers in 14 countries across four continents are collecting and analyzing DNA samples from around the world, trying to uncover the genetic underpinnings of mental illness. Hailiang Huang and his colleagues describe the guiding principles of the collaboration, and the new sequencing method they've developed to help capture the genetic diversity of humanity.
Also today:
Vivian Lam

Assistant Health and Biomedicine Editor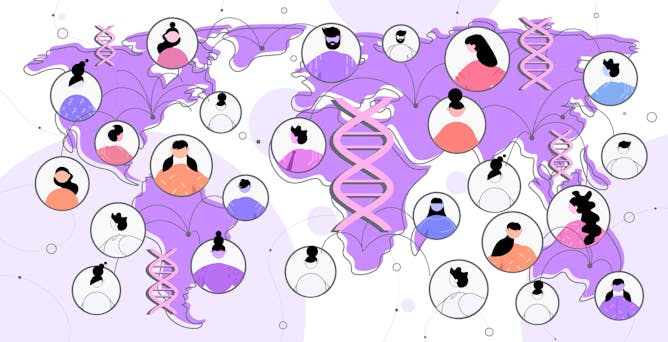 Existing genetic data and sequencing tools are overwhelmingly based on people of European ancestry, which excludes much of the rich genetic variation of the world.
Politics + Society
The world changed a great deal in the 70 years of Queen Elizabeth II's reign. Her son's legacy may be determined by how he adapts to new dynamics within the UK and across the Commonwealth.

Arizona has been a reliable vote for GOP candidates for the past 70 years. But the 2020 election of Democrat Joe Biden underscores the political impact of the state's changing demographics.

A nuclear nonproliferation expert explains why Iran was always unlikely to return to the 2015 international agreement that limited its nuclear weapon development.
Economy + Business
While the overwhelming majority of charities are legitimate, looking into a charity before supporting it can help you avoid supporting scams and make better-informed decisions.

The author, who died Sept. 1, 2022, inspired countless researchers to probe the injustices working people face.
Environment + Energy
Sharks are much more severely threatened by humans than vice versa. A marine biologist explains how people can help protect sharks and why some strategies are more effective than others.
Science + Technology
Research shows underrepresented people in STEM studies thrive in learning environments that address their need to belong, feel competent and find meaning in their work.

Ethereum, one of the world's largest blockchains and host of decentralized finance, NFTs and billions of dollars' worth of cryptocurrency, is poised to dramatically reduce its energy consumption.

Ant feet are equipped with an array of tools – from retractable sticky pads to claws to special spines and hairs – enabling them to defy gravity and grip virtually any surface.
Reader Comments 💬
"I understand the multiple reasons that folks might feel crisis fatigue. But – let's not make this another crisis. Frankly, the world is beset right now by a toxic stew of problems we can face, and that we can solve. Or –we can all say we are tired and give up. I have no control over the way communication technologies and social network, as well as modern journalism, keeps the audience pitched at the edge. ... That does not change the fact that there are real and objective problems we must face, lean into, and work together to resolve."

– Reader Anthony Brunello on the story When tragedy becomes banal: Why news consumers experience crisis fatigue
Older messages
What happens when Arctic islands aren't islands at all
Saturday, September 10, 2022
+ the long wait for household robots ‌ ‌ ‌ ‌ ‌ ‌ ‌ ‌ ‌ ‌ ‌ ‌ ‌ ‌ ‌ ‌ ‌ ‌ ‌ ‌ ‌ ‌ ‌ ‌ ‌ ‌ ‌ ‌ ‌ ‌ ‌ ‌ ‌ ‌ ‌ ‌ ‌ ‌ ‌ ‌ ‌ ‌ ‌ ‌ ‌ ‌ ‌ ‌ ‌ ‌ ‌ ‌ ‌ ‌ ‌ ‌ ‌ ‌ ‌ ‌ ‌ ‌ ‌ ‌ ‌ ‌ ‌ ‌ ‌ ‌ ‌ ‌ ‌ ‌ ‌ ‌ ‌ ‌ ‌ ‌ ‌ ‌
Elizabeth II's 'deliciously disruptive' legacy
Friday, September 9, 2022
+ the problem with 'Latinx' ‌ ‌ ‌ ‌ ‌ ‌ ‌ ‌ ‌ ‌ ‌ ‌ ‌ ‌ ‌ ‌ ‌ ‌ ‌ ‌ ‌ ‌ ‌ ‌ ‌ ‌ ‌ ‌ ‌ ‌ ‌ ‌ ‌ ‌ ‌ ‌ ‌ ‌ ‌ ‌ ‌ ‌ ‌ ‌ ‌ ‌ ‌ ‌ ‌ ‌ ‌ ‌ ‌ ‌ ‌ ‌ ‌ ‌ ‌ ‌ ‌ ‌ ‌ ‌ ‌ ‌ ‌ ‌ ‌ ‌ ‌ ‌ ‌ ‌ ‌ ‌ ‌ ‌ ‌ ‌ ‌ ‌ ‌
America's aging infrastructure can't handle the heat
Thursday, September 8, 2022
+ community organizing is having a moment ‌ ‌ ‌ ‌ ‌ ‌ ‌ ‌ ‌ ‌ ‌ ‌ ‌ ‌ ‌ ‌ ‌ ‌ ‌ ‌ ‌ ‌ ‌ ‌ ‌ ‌ ‌ ‌ ‌ ‌ ‌ ‌ ‌ ‌ ‌ ‌ ‌ ‌ ‌ ‌ ‌ ‌ ‌ ‌ ‌ ‌ ‌ ‌ ‌ ‌ ‌ ‌ ‌ ‌ ‌ ‌ ‌ ‌ ‌ ‌ ‌ ‌ ‌ ‌ ‌ ‌ ‌ ‌ ‌ ‌ ‌ ‌ ‌ ‌ ‌ ‌ ‌ ‌ ‌ ‌
The problem with virtue signaling
Monday, August 29, 2022
+ high heat and air pollution a dangerous combination ‌ ‌ ‌ ‌ ‌ ‌ ‌ ‌ ‌ ‌ ‌ ‌ ‌ ‌ ‌ ‌ ‌ ‌ ‌ ‌ ‌ ‌ ‌ ‌ ‌ ‌ ‌ ‌ ‌ ‌ ‌ ‌ ‌ ‌ ‌ ‌ ‌ ‌ ‌ ‌ ‌ ‌ ‌ ‌ ‌ ‌ ‌ ‌ ‌ ‌ ‌ ‌ ‌ ‌ ‌ ‌ ‌ ‌ ‌ ‌ ‌ ‌ ‌ ‌ ‌ ‌ ‌ ‌ ‌ ‌ ‌ ‌ ‌ ‌