What The Elle - 👋🏼 Opinionated: Quiet ... Retirement

Sallie's Opinion
Dream retirements we can get behind
For women, saving for retirement has never been an easy or linear thing. It's a big part of why Ellevest exists — to help women invest for their futures, not the ones predicted on data from the lives of men. We want women — and everyone — to be able to plan for the long, fulfilling lives they deserve.
But our relationship to the concept of retirement is changing at a cultural level, too. These days, while plenty of women certainly wouldn't sneeze at a traditional, stop-working-at-65 retirement, plenty more just … don't want that kind of life. That's what we learned when we asked our Instagram community a simple question: "What does your dream retirement look like?" (Also learned: A lot of you see visions of dairy products in your future. 🍦)
I loved seeing these answers, so I hope they can inspire and get you dreaming of your own.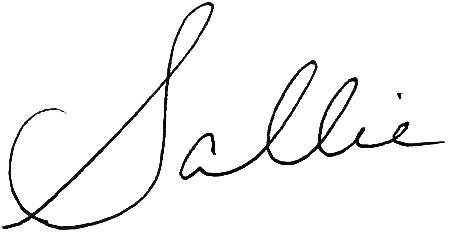 CO-FOUNDER & CEO
Workshop your retirement
How much will you need in the future? How much should you invest today? Join us on Wednesday, September 21 at 5 PM ET for an online workshop to answer those questions.
Journal about your future
Your dream retirement needs detail. This downloadable worksheet provides some thought starters to help you get more specific as you evolve. (Miss you already, Serena!)
Ready to feel good about money?
Join our best-selling financial wellness workshop on September 15 at 5 PM ET.
Reading, scrolling, and … wearing
Start investing in a future that feels good.
All opinions and views expressed by Ellevest are current as of the date of this writing, for informational purposes only, and do not constitute or imply an endorsement of any third party's products or services.

Information was obtained from third-party sources, which we believe to be reliable but not guaranteed for accuracy or completeness.

The information provided should not be relied upon as investment advice or recommendations, does not constitute a solicitation to buy or sell securities and should not be considered specific legal, investment or tax advice.

The information provided does not take into account the specific objectives, financial situation, or particular needs of any specific person.

Investing entails risk, including the possible loss of principal, and there is no assurance that the investment will provide positive performance over any period of time.

As of

8/15/2022

, Ellevest Membership fees can be found

here

. Other fees as described in Ellevest's Wrap Fee Program Brochure and the Ellevest Membership Terms and Conditions Agreement will continue to apply.

Older messages
💸 Money Cheat Sheet: Back-to-School Szn
Friday, September 9, 2022
Is it 85 degrees? Yes. Are we sipping a hot cider and playing around with our budget? Also yes. ‌ ‌ ‌ ‌ ‌ ‌ ‌ ‌ ‌ ‌ ‌ ‌ ‌ ‌ ‌ ‌ ‌ ‌ ‌ ‌ ‌ ‌ ‌ ‌ ‌ ‌ ‌ ‌ ‌ ‌ ‌ ‌ ‌ ‌ ‌ ‌ ‌ ‌ ‌ ‌ ‌ ‌ ‌ ‌ ‌ ‌ ‌ ‌ ‌ ‌ ‌ ‌ ‌
⚖️ Opinionated: Who Gets To Decide What's Fair?
Wednesday, September 7, 2022
Plus, the type of insurance you should definitely look into. ‌ ‌ ‌ ‌ ‌ ‌ ‌ ‌ ‌ ‌ ‌ ‌ ‌ ‌ ‌ ‌ ‌ ‌ ‌ ‌ ‌ ‌ ‌ ‌ ‌ ‌ ‌ ‌ ‌ ‌ ‌ ‌ ‌ ‌ ‌ ‌ ‌ ‌ ‌ ‌ ‌ ‌ ‌ ‌ ‌ ‌ ‌ ‌ ‌ ‌ ‌ ‌ ‌ ‌ ‌ ‌ ‌ ‌ ‌ ‌ ‌ ‌ ‌ ‌ ‌ ‌ ‌ ‌ ‌ ‌
💸 Money Cheat Sheet: 19 Pieces of Great Advice
Thursday, September 1, 2022
Plus, a networking course that's introvert-friendly. ‌ ‌ ‌ ‌ ‌ ‌ ‌ ‌ ‌ ‌ ‌ ‌ ‌ ‌ ‌ ‌ ‌ ‌ ‌ ‌ ‌ ‌ ‌ ‌ ‌ ‌ ‌ ‌ ‌ ‌ ‌ ‌ ‌ ‌ ‌ ‌ ‌ ‌ ‌ ‌ ‌ ‌ ‌ ‌ ‌ ‌ ‌ ‌ ‌ ‌ ‌ ‌ ‌ ‌ ‌ ‌ ‌ ‌ ‌ ‌ ‌ ‌ ‌ ‌ ‌ ‌ ‌ ‌ ‌ ‌ ‌ ‌
🎒 Opinionated: Memes, Tweets, and Reads, Oh My!
Tuesday, August 30, 2022
A roundup of what you clicked, faved, and shared this summer. ‌ ‌ ‌ ‌ ‌ ‌ ‌ ‌ ‌ ‌ ‌ ‌ ‌ ‌ ‌ ‌ ‌ ‌ ‌ ‌ ‌ ‌ ‌ ‌ ‌ ‌ ‌ ‌ ‌ ‌ ‌ ‌ ‌ ‌ ‌ ‌ ‌ ‌ ‌ ‌ ‌ ‌ ‌ ‌ ‌ ‌ ‌ ‌ ‌ ‌ ‌ ‌ ‌ ‌ ‌ ‌ ‌ ‌ ‌ ‌ ‌ ‌ ‌ ‌ ‌ ‌ ‌ ‌ ‌ ‌
💸 Money Cheat Sheet: What's an F-You Fund?
Thursday, August 25, 2022
Plus: the 4-1-1 on student loan forgiveness. ‌ ‌ ‌ ‌ ‌ ‌ ‌ ‌ ‌ ‌ ‌ ‌ ‌ ‌ ‌ ‌ ‌ ‌ ‌ ‌ ‌ ‌ ‌ ‌ ‌ ‌ ‌ ‌ ‌ ‌ ‌ ‌ ‌ ‌ ‌ ‌ ‌ ‌ ‌ ‌ ‌ ‌ ‌ ‌ ‌ ‌ ‌ ‌ ‌ ‌ ‌ ‌ ‌ ‌ ‌ ‌ ‌ ‌ ‌ ‌ ‌ ‌ ‌ ‌ ‌ ‌ ‌ ‌ ‌ ‌ ‌ ‌ ‌ ‌ ‌ ‌ ‌ ‌