Bloomberg - Evening Briefing - Sabotage
In what could be another major escalation in the standoff between the Kremlin and Europe over Vladimir Putin's war on Ukraine, Germany and the US said they suspected the crucial Nord Stream gas pipeline system was damaged by an act of sabotage. Evidence is said to point to a violent act rather than technical issues after Swedish seismologists detected two explosions in the area on Monday, when leaks appeared almost simultaneously in the Baltic Sea. The pipelines were already out of action, but any hope the Kremlin might have turned them back on at some point have now been dashed. Gas prices jumped and Denmark moved to bolster the security of energy assets. It's the clearest sign yet Europe must weather winter without much Russian gas, and that sanctions over Putin's seven-month war—one in which potentially tens of thousands of Ukrainians have been killed by his soldiers—come at a cost. —Margaret Sutherlin
Bloomberg is tracking the continuing coronavirus pandemic and the progress of global vaccination efforts with daily updates.
Here are today's top stories
Putin's call-up of hundreds of thousands of reservists and other civilians to bolster his war effort could be a devastating move for Russian employment, inflation and GDP. It takes at least one in every 100 workers out of the country, shrinking an already thin workforce, and potentially jeopardizes Russian households' finances. 
Jury selection began in the sedition trial of Stewart Rhodes for his role in the Jan. 6 attack on the US Capitol. Founder of the ultra-right wing "Oath Keepers" militia group, he is among a small group facing the most serious charges in the sweeping Justice Department investigation, which has netted 870 arrests related to the attack. Rhodes' trial is the biggest test yet for federal prosecutors, who allege he was a ringleader in an alleged plot to perpetrate the first coup in American history.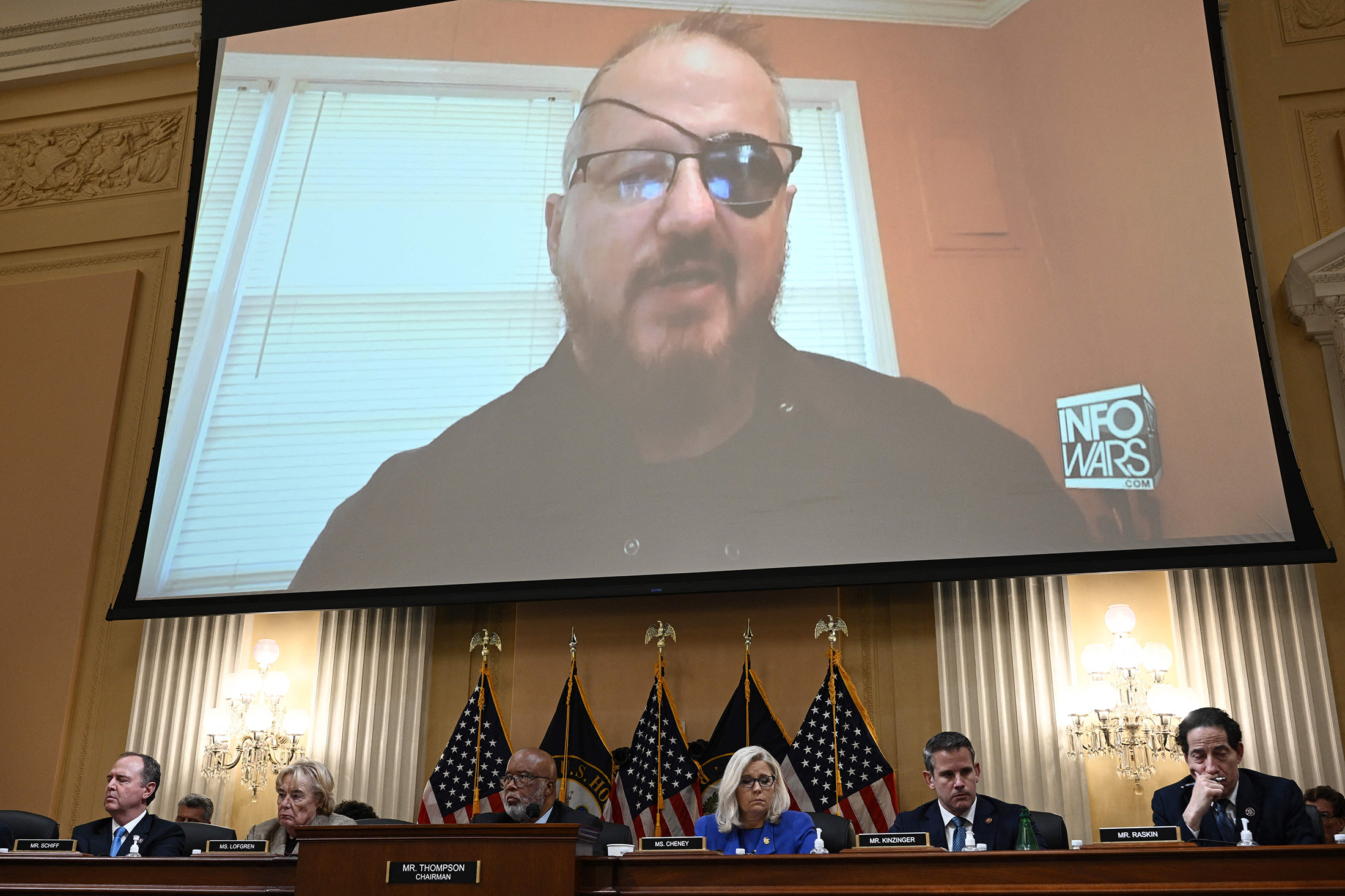 Stewart Rhodes is seen on June 9 during a House Select Committee hearing to Investigate the January 6th Attack the US Capitol Photographer: Brendan Smialowski/AFP
The S&P 500 dropped for the sixth straight session on Tuesday, its longest losing streak since February 2020, sparked by central bank tightening programs and exacerbated by the energy crisis in Europe. Here's your markets wrap.
Hurricane Ian could be one of the costliest storms in US history—around $45 to $70 billion in economic losses. The hurricane is set to make landfall in Florida Wednesday or early Thursday, potentially as a catastrophic Category 4 storm. It hit Cuba as a Category 3 storm in the early hours of Tuesday with 125 mile per hour winds and life-threatening storm surge. Track Ian's path here. Vietnam meanwhile is evacuating 400,000 people ahead of Typhoon Noru, which may be the strongest storm facing that country in two decades.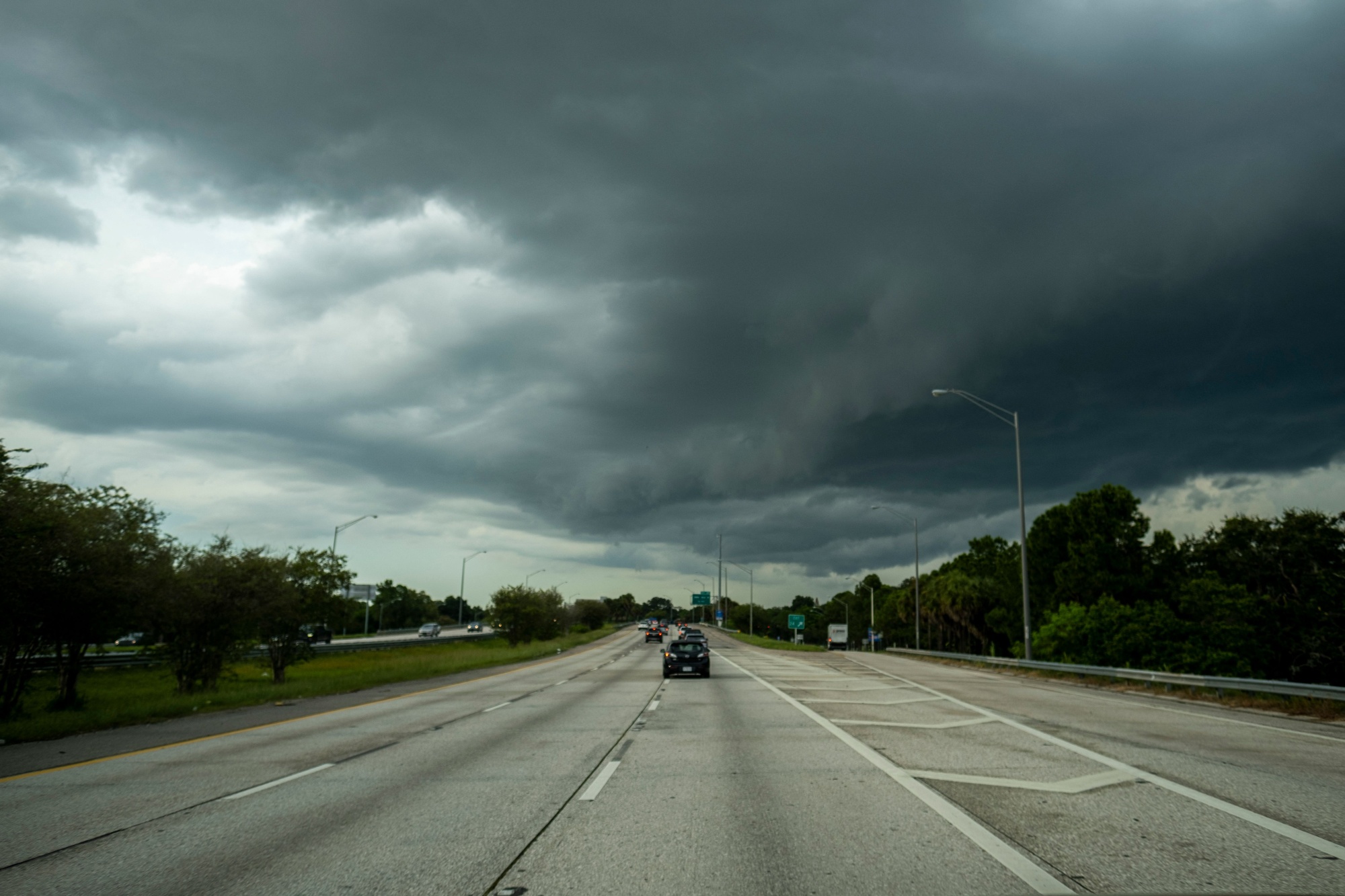 Storm clouds are seen over St. Petersburg, Florida, as Hurricane Ian approaches Photographer: Ricardo Arduengo/AFP
US regulators are poised to announce a settlement of about $2 billion with firms across Wall Street for failing to monitor employees using unauthorized messaging apps, including Meta-owned WhatsApp. The penalties are poised to be the largest of their kind.
US home prices are falling—the first time that's happened in a decade.  A national measure of prices in 20 large cities fell 0.44% in July, the first drop since March 2012, with the biggest month-over-month declines in San Francisco (-3.6%), Seattle (-2.5%) and San Diego (-2%). Meanwhile the housing picture in London is looking dire.
China's shaky recovery continued in September, with a pickup in car and home sales in the biggest cities compensating for weaker global demand and falling business confidence. Here are three charts that explain what's happening with the world's second biggest economy.
 What you'll need to know tomorrow
In 1979, Esquire magazine coined the term "power lunch" to describe the gathering of wealthy businessman for a meal at the now defunct Four Seasons restaurant in the Seagram Building on Park Avenue. While the onset of the pandemic brought those meals to a screeching halt, slowly but surely those power lunches are returning.  
Get the Bloomberg Evening Briefing: If you were forwarded this newsletter, sign up here to receive it in your mailbox daily along with our Weekend Reading edition on Saturdays. 
For more stories about the future of work, check out  Work Shift, Bloomberg's new home for workplace and management coverage. And sign up  for the Work Shift newsletter for reporting, data and insights delivered to your inbox every Tuesday.
Like getting this newsletter? Subscribe to Bloomberg.com for unlimited access to trusted, data-driven journalism and subscriber-only insights.
Looking for a group subscription? Help your team stay on top of today's business landscape with our discounted group subscription options.
Before it's here, it's on the Bloomberg Terminal. Find out more about how the Terminal delivers information and analysis that financial professionals can't find anywhere else. Learn more.
Older messages
Monday, September 26, 2022
Bloomberg Evening Briefing View in browser Bloomberg From stocks to bonds, credit to crypto, money managers looking for somewhere to hide from the Federal Reserve-induced storm battering virtually
Saturday, September 24, 2022
Bloomberg Weekend Reading View in browser Bloomberg Follow Us Get the newsletter Central banks from Ulaanbaatar to Pretoria and Washington to London have unleashed aggressive tightening to combat some
Friday, September 23, 2022
Bloomberg Evening Briefing View in browser Bloomberg In what have been labeled by Ukraine, the US, NATO and others as "sham" votes, Kremlin forces and Moscow-aligned rebels in four occupied territories
Thursday, September 22, 2022
Bloomberg Evening Briefing View in browser Bloomberg The US housing market has gone from FOMO to just plain fear. Prices are falling from peak levels, with expensive West Coast markets recording the
Wednesday, September 21, 2022
Your Bloomberg Evening Briefing. View in browser Bloomberg The war in Ukraine entered a serious new phase Wednesday. Russian President Vladimir Putin called on 300000 reservists in a major escalation