📈 AJ1 Lost & Found Stock, September's Bests & more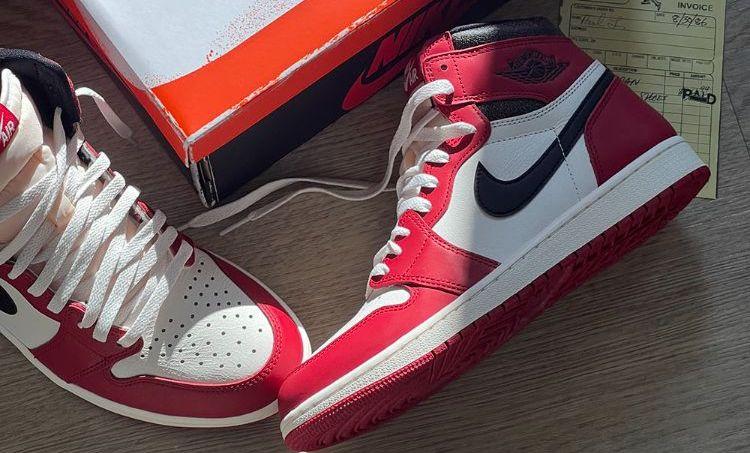 You may have heard, the upcoming Chicago-style AJ1 'Lost & Found' is going to be the most-stocked AJ1 ever! While the pairs will be there, it won't be enough. The coveted sneakers will not meet demand, they'll be produced to maintain demand, hype and ensure it's still a collector's item.

There will be plenty of opportunities to cop from raffles, online drops and restocks. Now is the perfect time to prep yourself with our newly reduced Mobile Plus membership to get instant Drop Alerts the moment your size becomes available.
SS4 Available Tomorrow
For the first time ever, we're making the SS4 available to the public. Tomorrow at 12PM ET, limited pairs of the SS4 will be available for purchase online FCFS in our store.
From new AJ1s, Salehe Crocs, and Tom Sach Nikes, our sneaker release experts rank the best sneakers that dropped in September and update the running leaderboard for 2022 . . .
We take an early in-hand look at the upcoming Social Status & Nike collaboration on the Air Penny 2 . . .
You read that right, one of our members put the community on his back last month to help assist fellow members on ELEVEN pairs of Yeezys . . .
Keeping up with tradition, the Air Jordan 11 will be headlining the holiday rollout with patent leather dipped in cherry . . .
Early links for Patta & New Balance collab, a sluggish AJ4 Black/Steel release and continued restocks of the AJ1 'Taxi' & Tom Sachs GPS round out our recap . . .
Stay Savy-on-the-go
To stay connected with us, download the SoleSavy app to follow all news, upcoming events, and track the latest releases!
You're receiving this email because you created an account with SoleSavy. We will be sending you exclusive promotions, breaking SoleSavy news, and more.

© SoleSavy. All rights reserved
Older messages
📉 The Current State of Sneakers
Wednesday, July 27, 2022
Recapping July and looking onward! ‌ ‌ ‌ ‌ ‌ ‌ ‌ ‌ ‌ ‌ ‌ ‌ ‌ ‌ ‌ ‌ ‌ ‌ ‌ ‌ ‌ ‌ ‌ ‌ ‌ ‌ ‌ ‌ ‌ ‌ ‌ ‌ ‌ ‌ ‌ ‌ ‌ ‌ ‌ ‌ ‌ ‌ ‌ ‌ ‌ ‌ ‌ ‌ ‌ ‌ ‌ ‌ ‌ ‌ ‌ ‌ ‌ ‌ ‌ ‌ ‌ ‌ ‌ ‌ ‌ ‌ ‌ ‌ ‌ ‌ ‌ ‌ ‌ ‌ ‌ ‌ ‌ ‌ ‌ ‌ ‌ ‌ ‌
☀️ Yeezy restocks & an interview with Social Status!
Friday, July 15, 2022
July's remaining drops and more ‌ ‌ ‌ ‌ ‌ ‌ ‌ ‌ ‌ ‌ ‌ ‌ ‌ ‌ ‌ ‌ ‌ ‌ ‌ ‌ ‌ ‌ ‌ ‌ ‌ ‌ ‌ ‌ ‌ ‌ ‌ ‌ ‌ ‌ ‌ ‌ ‌ ‌ ‌ ‌ ‌ ‌ ‌ ‌ ‌ ‌ ‌ ‌ ‌ ‌ ‌ ‌ ‌ ‌ ‌ ‌ ‌ ‌ ‌ ‌ ‌ ‌ ‌ ‌ ‌ ‌ ‌ ‌ ‌ ‌ ‌ ‌ ‌ ‌ ‌ ‌ ‌ ‌ ‌ ‌ ‌ ‌ ‌
😎 Travis Scott & Jordan are back for the summer!
Tuesday, June 28, 2022
It's officially summer and the drops aren't slowing down. ‌ ‌ ‌ ‌ ‌ ‌ ‌ ‌ ‌ ‌ ‌ ‌ ‌ ‌ ‌ ‌ ‌ ‌ ‌ ‌ ‌ ‌ ‌ ‌ ‌ ‌ ‌ ‌ ‌ ‌ ‌ ‌ ‌ ‌ ‌ ‌ ‌ ‌ ‌ ‌ ‌ ‌ ‌ ‌ ‌ ‌ ‌ ‌ ‌ ‌ ‌ ‌ ‌ ‌ ‌ ‌ ‌ ‌ ‌ ‌ Hey there!
Wednesday, June 8, 2022
News and Releases for June 8 ‌ ‌ ‌ ‌ ‌ ‌ ‌ ‌ ‌ ‌ ‌ ‌ ‌ ‌ ‌ ‌ ‌ ‌ ‌ ‌ ‌ ‌ ‌ ‌ ‌ ‌ ‌ ‌ ‌ ‌ ‌ ‌ ‌ ‌ ‌ ‌ ‌ ‌ ‌ ‌ ‌ ‌ ‌ ‌ ‌ ‌ ‌ ‌ ‌ ‌ ‌ ‌ ‌ ‌ ‌ ‌ ‌ ‌ ‌ ‌ ‌ ‌ ‌ ‌ ‌ ‌ ‌ ‌ ‌ ‌ ‌ ‌ ‌ ‌ ‌ ‌ ‌ ‌ ‌ ‌ ‌ ‌ ‌ ‌ ‌ ‌
New Kobe 6, JFG Inside Voices and more
Saturday, May 28, 2022
New SoleSavy sneaker weekly recap. ‌ ‌ ‌ ‌ ‌ ‌ ‌ ‌ ‌ ‌ ‌ ‌ ‌ ‌ ‌ ‌ ‌ ‌ ‌ ‌ ‌ ‌ ‌ ‌ ‌ ‌ ‌ ‌ ‌ ‌ ‌ ‌ ‌ ‌ ‌ ‌ ‌ ‌ ‌ ‌ ‌ ‌ ‌ ‌ ‌ ‌ ‌ ‌ ‌ ‌ ‌ ‌ ‌ ‌ ‌ ‌ ‌ ‌ ‌ ‌ ‌ ‌ ‌ ‌ ‌ ‌ ‌ ‌ ‌ ‌ ‌ ‌ ‌ ‌ ‌ ‌ ‌ ‌ ‌ ‌ ‌ ‌ ‌