[Inverted Passion] Never ask your friends or family if they like your idea
By Paras Chopra on Oct 09, 2022 04:22 am
People are generally nice in person. You'd know this if you have ever gone to parties where everyone is super nice to others but as soon as the party is over, they start gossiping about the ones who've left. Very rarely would anyone tell a person at the party that they look like a clown (while often thinking in their head of the same).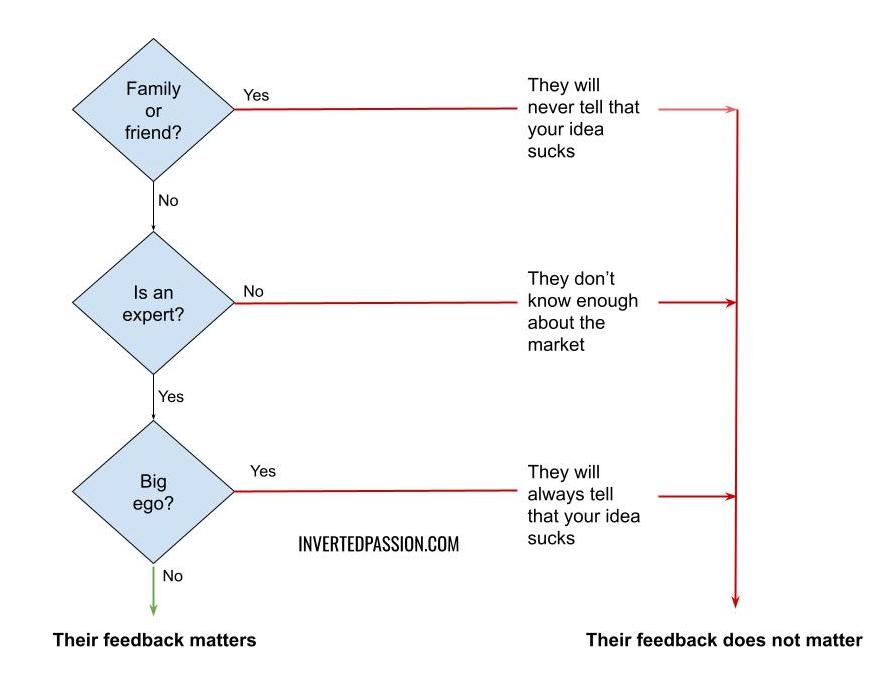 This tendency of people not to tell honestly what they have in mind misleads entrepreneurs when they seek feedback on their idea. Even if the idea is obviously flawed, in general, people won't tell that to an entrepreneur's face. This means, if you're an entrepreneur, you rarely get to hear why your idea sucks.
Combine this tendency of people to avoid giving negative feedback with the tendency of listeners to seek confirmatory feedback and you have a recipe for failure. The problem worsens when feedback is sought from close ones. Friends and family will never want to offend you, so they would go to great lengths to justify why your idea is a bright one. The more a person is close to you, the more the person will rationalize. But what you want is truth, not fabricated reasons.
There are two more problems with asking for feedback from non-experts (such as family or friends).
First, a common person neither knows enough about entrepreneurship, nor knows enough about a specific market to be able to give you the insight that you might be seeking.
Second, some people with a big ego interpret you seeking feedback as a sign of their superiority and would likely tell you why the idea will never work. By pointing out (sometimes obvious) flaws, they feel great about themselves, which is what their ego desires.
So, net-net, when it comes to feedback, what matters is who you ask feedback from. In fact, seeking feedback from everyone around you can backfire because you'll likely latch on to positive feedback while ignoring the negative feedback.
You want to seek feedback from someone who is honest, is an expert in your target market and doesn't have a big ego. 
Such people are rare, but that's why you have to be selective in deciding whose feedback to act upon.
Remember: not all feedback is worthwhile. It matters who you ask feedback from.
This essay is part of my book on mental models for startup founders.
---
/>
Read in browser »

Recent Articles:
Always seek disconfirmatory evidence
Map is not the territory
You're probably not a good leader (because being that is hard)
Notes from the book "The Shallows"
How to change habits
Copyright © 2022 Inverted Passion, All rights reserved.
You are receiving this email because you opted in via our website.

Our mailing address is:


Want to change how you receive these emails?
You can

update your preferences

or

unsubscribe from this list

.


Older messages
[Inverted Passion] Always seek disconfirmatory evidence
Monday, September 12, 2022
Here's a new post on InvertedPassion.com Always seek disconfirmatory evidence By Paras Chopra on Sep 11, 2022 12:36 am Thinking is expensive for an animal – our brain consumes almost 20% of the
[Inverted Passion] Map is not the territory
Monday, August 29, 2022
Here's a new post on InvertedPassion.com Map is not the territory By Paras Chopra on Aug 28, 2022 02:55 am Imagine you are tasked with making a map of the world. How would you go about it? Think
[Inverted Passion] How to change habits
Tuesday, July 26, 2022
Here's a new post on InvertedPassion.com How to change habits By Paras Chopra on Jul 26, 2022 02:53 am What's the most effective way to change habits? I've been diving deep into this topic