⚡️ If you need un-boring business coaching, Wandering Aimfully (which I'm a part of and LOVE) is open for enrollment through October 18!
Learn more here, or hit reply - I'm happy to answer any questions you may have.
Creativity is really just a series of experiments, right?
We don't necessarily know what's going to work before we start. (Same with life!) We might chart a path, and change course along the way, based on the information we get from what happens and how we feel about it.
One of our best tools in the creative process is having an experimental mindset - approaching creativity like a scientist! 🧑‍🔬🔬🧪
If you're a recovering perfectionist like me, you might find this idea really freeing, because it can relieve some of the pressure to make everything go right.
You can try considering your project just an experiment where you're gathering data, collecting information on what does and doesn't work. This frees you up to be curious about what is actually happening, and let go of rigid expectations about the outcome.
Depending on how your brain works, you could be very data-driven and track the results of your creative experiment for a set period of time. You could choose a certain element to play with, like medium, size, time of day that you work on your art, or even something unexpected like drawing with your left hand if you're right-handed. I'm sure you can think of many variables that work for your particular medium.
If you're not feeling like having such strict parameters, that works, too! The main thing is having regular time for reflection, so that you can log some information on what happened and how it's working.
The idea I use in my weekly check in (click here to download a copy of my worksheet) is 4 simple questions:
What worked?
What didn't work?
What did I learn?
What would I like from next week, or the future?
I use this every week as a general check in, but you can use it for anything that you're looking to get your own feedback on.
Then you can look back to see if what you got from the project is what you were looking for, what you expected, or something totally different.
This will probably inspire some curiosity about why it turned out that way, which can influence your next creative experiment!
It can feel so vulnerable to be deep in the struggle of the creative process, especially in the messy middle. This is often where lots of huge and intrusive questions come up, like, "Is this any good? Am I any good? How do I finish this project? Am I really an artist?"
Your brain might convince you, "I just don't know how to do this." Sometimes you don't even know what the question is, and it's just a general resistance to working on the project, accompanied by a grind-y feeling in your stomach.
This humorous version of the creative process (I don't know the original source) often rings true for many of us:
When negative feelings are happening, that's a great time to have curiosity, like, "Oh, that's interesting, I am avoiding writing right now. I wonder why I'm doing that. Why do I feel so frustrated right now."
Curiosity without judgment helps depersonalize it, so you can look more objectively at the issue you're having. It's all good information!
If things aren't going well, it doesn't mean you're a failure, or that you're never going to finish the project. It's just time for more problem solving.
When you're struggling, you can say, "I wonder what I could do to make myself feel more comfortable with this," or "I wonder how I could support myself better through this step of the process."
This could also mean skipping a step entirely, to make things easier, or just to see what happens.
The scientific method starts with posing a hypothesis about what might happen, and any scientist will tell you that hypotheses are often wrong!
"Failed" (meaning, your expectations didn't match what happened) experiments are still really useful.
They give you tons of information about what exactly didn't work, and what conditions were surrounding the situation when that thing didn't work.
A mild mess isn't a failure. It's just perhaps something that makes you adjust your course.
Scientists also have to be patient, to stick with the research until it's done. They take a lot of care with the process, and we artists can be the same way!
If it feels restrictive to you to think about patience and a long process, no need to make up a bunch of complicated rules for yourself, but just remind yourself that the creative process takes time. We're not in charge of the timeline, and that's just part of the deal.
My favorite thing about having an experimental mindset in creativity is that it gives us permission to play, to get messy, literally or figuratively.
(A splatter-painted lab coat might even be my Halloween costume this year! I'll share photos.)
We get to set an expectation that it doesn't need to go right the first time, and that we'll stay present in the process as it unfolds.
I hope that thinking of creativity in this way is helpful for you, too!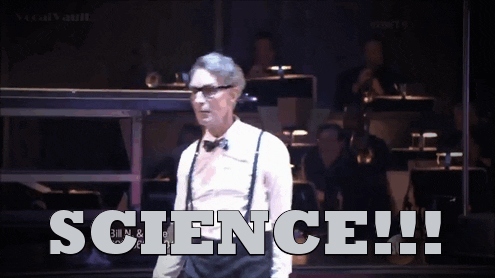 Are you doing any creative experiments right now, or have you in the past? How did they go? I'd love to hear about it!
Stay well, my friends - I'm always rooting for you. My inbox is always open, so please feel free to reach out if I can help in any way.
I always love hearing from you!

Have a lovely week! ⁠
Rebecca
Staying on the good side of the internet
On Being A Whole Person lately
* You can always submit questions or topic ideas - I love hearing your feedback! *

When life gets extra busy, it can be hard to stay connected to yourself and your creativity, and to stay rooted in what's really important to you. I share the practices, journal prompts, and schedule parameters that I'm experimenting with in this busier season, to make sure I'm fueling my energy and creativity in a self-compassionate way - I hope they're also helpful for you!
I had a delightful conversation with Megan Ihnen, a mezzo-soprano and "new music force of nature" who wears many hats as a performer, educator, coach/consultant for musicians, and also in arts admin. With these many roles, she is an amazing connector and natural community builder.
Tune in to hear us chat about creative placemaking, authentic community building, balancing many roles and having lots of work variety, burnout, being a musician during the pandemic, routines, harmful ideas around "hard work", and how we can bring our very favorite selves to our creative work.
Berkeley, CA 94710
United States
Copyright © 2022 Rebecca Hass
hello@rebeccahass.com

I occasionally use affiliate links in these emails (usually books) - if you make a purchase through an affiliated link, I make a small commission at no extra cost to you.
No longer want these emails? Unsubscribe here - no hard feelings!