29 winter business ideas to make money all year round
Hey,
This is Pat, founder of Starter Story - every week I write this email to share the lessons we learned after talking to successful founders around the world. If you're not interested, you can unsubscribe here.
Special promo: During October, we're running a 25% off deal on our Premium and Premium Plus memberships for our newsletter subscribers only. Don't miss it!

Here are this week's stories, enjoy!
---
Together with Semrush
Semrush is hands down the best digital marketing platform that can handle everything from keyword research, content marketing, social media, keyword and backlink gap analysis, etc.
There's no reason to use another digital marketing tool as they keep enhancing the platform to fit every business's needs.
---
29 winter business ideas to make money all year round
Why this matters
Macro
Huge spending season, even in a recession.

It includes the biggest shopping days in the year: Black Friday, Cyber Monday, and Christmas.

68%

of consumers expect higher prices.
Micro
Typically you experience bad weather and spend more time indoors.

Perfect time to work on that business idea you've been thinking about.
Winter-focused ideas guaranteed to make you money
#1. Tabletop games
With people spending more time indoors and gatherings being more common than during other seasons of the year, this is a perfect business to make a killing.
#2. Greeting cards
Did you know that 1.3 billion Christmas cards are sent every year in the U.S. only
That's a great market to get a piece from. And the best news is that there's plenty of room for innovation. Check these founders making thousands thanks to:
#3. Everything around gifting
Winter is definitely the season of gifting. Some people are even forced to buy a gift for a coworker they don't even like because that's the tradition!
Gifting solutions:
Products that are just perfect as gifts:
#4. Clothing
Weather changes so do clothes.
Easy peasy.
#5. Heating
This one's a no-brainer. When temperatures lower people turn the heating on.
You don't even need to sell it, you just need to be well-positioned so the customers can find you.
#6. Food and cooking
This is a big time of the year for all things food.
You can create recipes for those who want to cook. Like this founder who turned her family recipes into a $744K/year business.
Or you can offer catering services aimed to serve big parties that don't mind spending a bit more for convenience's sake. Like this guy who built an $18M business around food trucks.
Also, have some diets / meal plans ready because they're very sought after when the Holidays end. This girl went from $150/month to $45K/month in one year helping people eat healthier.
(continues...)
---
Together with Semrush
How this couple spotted a six-figure business opportunity thanks to Semrush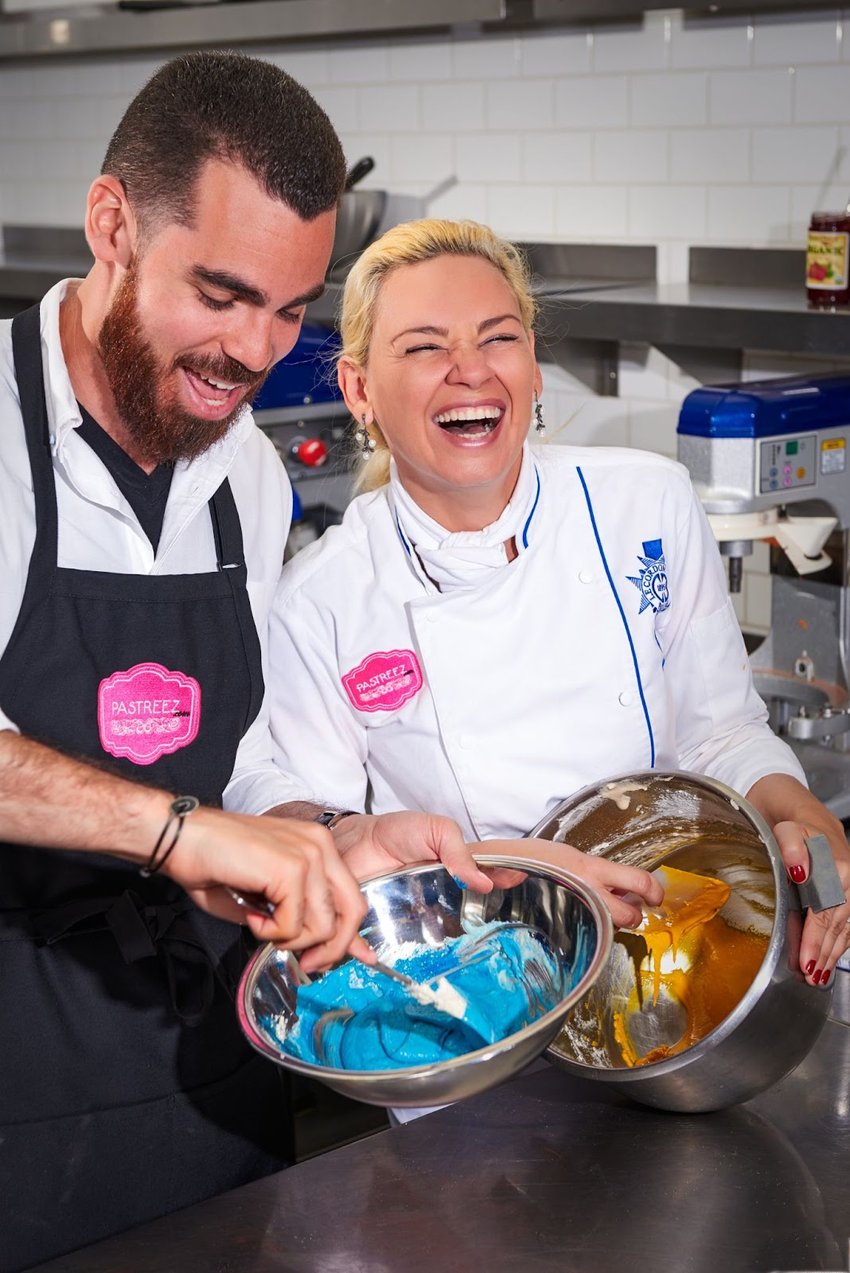 While living in Paris, Anthony & Yani discovered that:
#1. Thousands of people were searching "macarons near me" or "buying macarons".
#2. Few people were capitalizing on macarons specifically (you can spy on your competitors with Semrush).
#3. Nobody was answering real customers' questions, like "what do macarons taste like", or "best macarons in the US", so they started a blog to do it.
Today, their online French bakery is a $300K/year business.
Semrush is the perfect tool to start and grow your business. For the next 48 hours, they are offering an exclusive deal to Starter Story readers -> Try it now free for 14 days.
---
(continues...)
#7. Niche travel business
Many people fly back home to meet with their friends and families, perfect target to offer discounted flights and hotels or even help them fly for free using their credit card points (yes, you can make $4K/month doing that).
At the same time, it's a huge holiday season. Which means is perfect to sell all kinds of vacations: ski trips, hiking trips, surprise trips, and trips to the weirdest places on Earth.
#8. Winter sports
People love skiing and snowboarding. On average, one person will spend around $700 on equipment just to get started. The market size for ski equipment in the U.S. is $1.4 billion.
Short season but an incredible market opportunity. This online store makes $90K/month selling ski gear.
#9. Party planning
Not now, Phyllis! I'm not talking about that kind of party planning.
Corporate parties, family gatherings, alumni reunions,... this is a time of get-togethers.
The best part? All you need to set foot in this industry is an agenda with plenty of contacts of decorators, caterers, bartenders, etc.
Bonus: Check this after-party cleaning side hustle that brings in an extra $3K/month.
#10. Drinks
And what's a must-have for any party? Drinks!
And since on most occasions there will be people of all ages, you shouldn't think about alcoholic drinks only.
Keep the business running after the snow melts
Get creative to stay in business the whole year.
The same product / service can make money all year round making some minor adjustments.
Change the messaging up:
Christmas cards -> Saint Valentine cards -> Father's Day cards, etc
Christmas drinks -> Sunny cocktails with umbrellas
Christmas parties -> New Year's Eve parties -> Weddings -> Quinceañera celebrations
It's all about marketing
Even when there's no way you can adapt your product/service to a cold season, like this hammock brand.
You could change your focus and target people in the southern hemisphere where the weather is warmer! Or use aspirational messaging, lots of people hate cold weather, making them feel like the summer is around the corner.
---
Discover ideas that make money
There is no secret to building a profitable business. All of the systems and strategies can be learned, so why not learn them from others who have already done it?
Join Starter Story to access our database of 3,000+ business case studies. See the exact timelines of how founders took their businesses from idea to thousands of customers.
Get real answers to questions like:
How do people find great business opportunities?
What did they do to get their 10 first clients?
What challenges do they face at every stage and how to overcome them?
Join Starter Story Premium for $2.58/week. A no-brainer investment for your business.
---
Starter Story - 662 S Millward St, Jackson, WY 83001
Click here if you want to stop receiving emails from us.
Key phrases
Older messages
Starter Story's Sunday Breakfast #15
Sunday, October 23, 2022
Running a $120K/year e-commerce working only 15 hours per week?͏ ‌ ͏ ‌ ͏ ‌ ͏ ‌ ͏ ‌ ͏ ‌ ͏ ‌ ͏ ‌ ͏ ‌ ͏ ‌ ͏ ‌ ͏ ‌ ͏ ‌ ͏ ‌ ͏ ‌ ͏ ‌ ͏ ‌ ͏ ‌ ͏ ‌ ͏ ‌ ͏ ‌ ͏ ‌ ͏ ‌ ͏ ‌ ͏ ‌ ͏ ‌ ͏ ‌ ͏ ‌ ͏ ‌ ͏ ‌ ͏ ‌ ͏ ‌ ͏ ‌ ͏ ‌ ͏
11 valuable lessons from 7-figure entrepreneurs
Thursday, October 20, 2022
#5. You're probably charging less than you should͏ ‌ ͏ ‌ ͏ ‌ ͏ ‌ ͏ ‌ ͏ ‌ ͏ ‌ ͏ ‌ ͏ ‌ ͏ ‌ ͏ ‌ ͏ ‌ ͏ ‌ ͏ ‌ ͏ ‌ ͏ ‌ ͏ ‌ ͏ ‌ ͏ ‌ ͏ ‌ ͏ ‌ ͏ ‌ ͏ ‌ ͏ ‌ ͏ ‌ ͏ ‌ ͏ ‌ ͏ ‌ ͏ ‌ ͏ ‌ ͏ ‌ ͏ ‌ ͏ ‌ ͏ ‌ ͏ ‌ ͏ ‌ ͏ ‌
1 person + $1K = A profitable business
Tuesday, October 18, 2022
9 profitable businesses ideas you can start this week͏ ‌ ͏ ‌ ͏ ‌ ͏ ‌ ͏ ‌ ͏ ‌ ͏ ‌ ͏ ‌ ͏ ‌ ͏ ‌ ͏ ‌ ͏ ‌ ͏ ‌ ͏ ‌ ͏ ‌ ͏ ‌ ͏ ‌ ͏ ‌ ͏ ‌ ͏ ‌ ͏ ‌ ͏ ‌ ͏ ‌ ͏ ‌ ͏ ‌ ͏ ‌ ͏ ‌ ͏ ‌ ͏ ‌ ͏ ‌ ͏ ‌ ͏ ‌ ͏ ‌ ͏ ‌ ͏ ‌ ͏ ‌ ͏ ‌
Starter Story's Sunday Breakfast #14
Sunday, October 16, 2022
This solo founder makes almost $800K/year working 10 hours per week͏ ‌ ͏ ‌ ͏ ‌ ͏ ‌ ͏ ‌ ͏ ‌ ͏ ‌ ͏ ‌ ͏ ‌ ͏ ‌ ͏ ‌ ͏ ‌ ͏ ‌ ͏ ‌ ͏ ‌ ͏ ‌ ͏ ‌ ͏ ‌ ͏ ‌ ͏ ‌ ͏ ‌ ͏ ‌ ͏ ‌ ͏ ‌ ͏ ‌ ͏ ‌ ͏ ‌ ͏ ‌ ͏ ‌ ͏ ‌ ͏ ‌ ͏ ‌ ͏ ‌ ͏