Bloomberg - Evening Briefing - Xi is making markets nervous
Xi Jinping has put himself in a position to rule China for at least another decade—and possibly for life. The question now is what he'll do with all that power. By 2049, the 100th anniversary of the People's Republic of China, Xi said he wants to ensure the nation "leads the world in terms of composite national strength and international influence." It's how he plans to get there that's unsettling markets. —David E. Rovella
Here are today's top stories
Vladimir Putin added his voice to the chorus of lower Kremlin officials claiming without providing evidence that Ukraine is planning to detonate a radioactive "dirty bomb," a non-nuclear device that uses conventional explosives to spread radioactive material, on its own soil. That the Russian leader has chimed in with what's been called a fabrication, pretext and false-flag has NATO and Kyiv even more worried that Moscow, as has been alleged in the past, is considering doing that which it accuses others of planning. US Secretary of State Antony Blinken, in an interview with Bloomberg News, called the claims "irresponsible." He also echoed President Joe Biden in saying Putin has been warned of the consequences his country would face for using a nuclear weapon. "We've communicated that very clearly and directly," Blinken said. India, which along with China has been friendly with Russia and provided it economic support despite its eight-month war, also warned Putin against using nuclear weapons.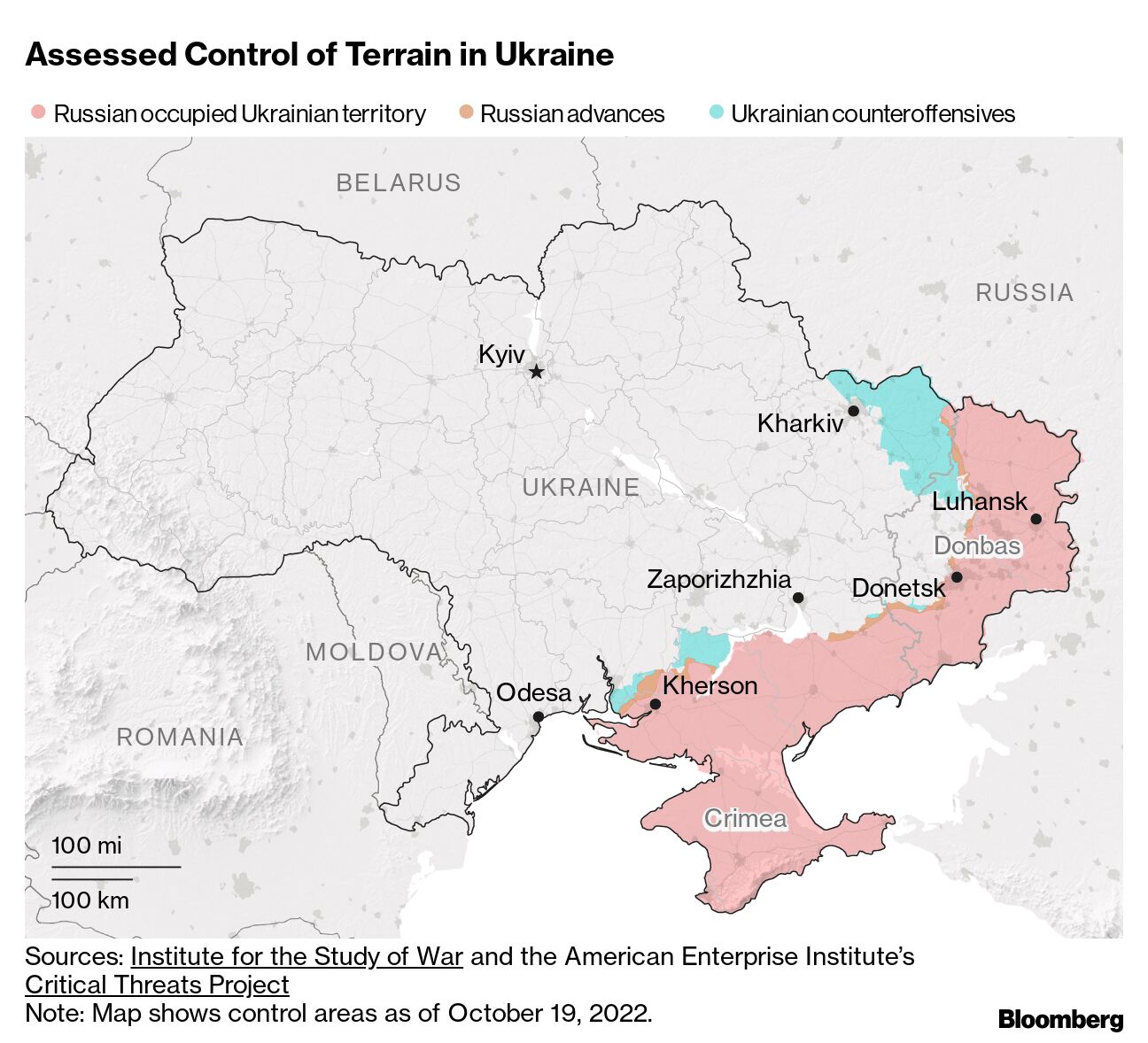 US officials have been forced to scale back a plan to impose a cap on Russian oil prices, following skepticism by investors and growing risk in financial markets brought on by crude volatility and central bank efforts to tame inflation.
Gas prices in America may have fallen from their summer highs, but there's a diesel shortage spreading from the Northeast to the Southeast, prompting at least one supplier to initiate emergency protocols. 
Soaring inflation around the world is set to put a major dent in salary increases for the second year running. Just 37% of all countries expect to report real-term wage hikes next year. Here's where it's going to hurt most.
The TreasuryDirect website is facing long delays as Americans race to buy US Series I savings bonds before rates reset at the end of the month. One of this year's best-performing investments, I bonds currently offer a 9.62% interest rate, as they're designed to help protect Americans' savings from inflation. That rate is expected to drop to 6.47% beginning Nov. 1.
Pfizer is the target of an Italian probe alleging the company hid at least 1.2 billion euros ($1.2 billion) in profit by transferring money to units in other countries. Italy's Guardia di Finanza is alleging that Pfizer's unit based just outside Rome, Pfizer Italia Srl, transferred excess capital to affiliates in the US and the Netherlands to avoid taxes on profits.
Facebook-parent Meta forecasted fourth-quarter revenue at the low end of analysts' estimates, showing the social-media platform continues to struggle with a weak advertising market. Its shares tumbled more than 12% in extended trading and are down more than 55% this year.
Bloomberg continues to track the global coronavirus pandemic. Click here for daily updates.
 What you'll need to know tomorrow
On Nov. 8, California voters are set to decide on a state ballot initiative that's theoretically about fighting climate change. Proposition 30 aims to raise income taxes on residents making more than $2 million a year, generating as much as $5 billion annually to fund electric vehicle infrastructure and subsidize EV purchases. Behind the scenes though, it's become the subject of an awkward fight between Lyft, which has dumped $45 million into passing it, and a bunch of rich people including venture capitalists. Governor Gavin Newsom has weighed in, too, calling it "one company's cynical scheme to grab a huge taxpayer-funded subsidy."
Get the Bloomberg Evening Briefing: If you were forwarded this newsletter, sign up here to receive it in your mailbox daily along with our Weekend Reading edition on Saturdays.
Bloomberg Growth Summit: Companies are finding they have to work harder to keep their customers and attract new ones. Join us in New York or virtually on Nov. 3 as top executives from some of the world's most exciting companies discuss how they are taking their businesses to the next level with customer-centric strategies. Register here.
Like getting this newsletter? Subscribe to Bloomberg.com for unlimited access to trusted, data-driven journalism and subscriber-only insights.
Looking for a group subscription? Help your team stay on top of today's business landscape with our discounted group subscription options.
Before it's here, it's on the Bloomberg Terminal. Find out more about how the Terminal delivers information and analysis that financial professionals can't find anywhere else. Learn more.
Key phrases
Older messages
Tuesday, October 25, 2022
Bloomberg Evening Briefing View in browser Bloomberg US President Joe Biden warned the Kremlin Tuesday against using any radioactive weapons in its war on Ukraine as tensions over a potential nuclear
Monday, October 24, 2022
Bloomberg Evening Briefing View in browser Bloomberg A sense of exasperation swept across Chinese markets as Xi Jinping moved to stack his leadership ranks with loyalists. Stocks capped their worst day
Saturday, October 22, 2022
Bloomberg Weekend Reading View in browser Bloomberg Follow Us Get the newsletter Even in the deeply unstable world of UK politics, this week was one for the record books. In the coming days, Britain
Friday, October 21, 2022
Bloomberg Evening Briefing View in browser Bloomberg Regardless of whether the third time in as many months is the charm, the next UK government faces a landscape of smoking economic ruin that the City
Thursday, October 20, 2022
Bloomberg Evening Briefing View in browser Bloomberg Prime Minister Justin Trudeau pitches Canada as a global climate leader, one that's adopted ever-bolder climate targets and policies under his