Morning Brew - ☕ Augmented reality check
| TOGETHER WITH | |
| --- | --- |
Happy Thursday. Turns out credit-card rates have hit a 30-year high as the Federal Reserve attempts to fight inflation. We're not financial experts over here, but a friendly reminder to spend responsibly. Now, here's what you actually came here for.
In today's edition:
—Maeve Allsup, Katishi Maake, Adam DeRose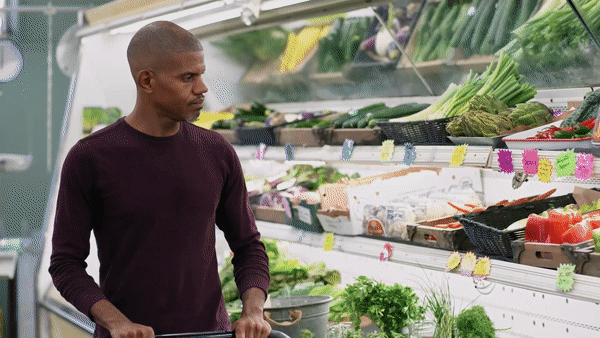 Mojo Vision
Augmented reality retail experiences are easily accessible today by any consumer with a smartphone, from furniture placement to testing lipstick shades. By many indications, AR is more than a Big Tech buzzword: some estimates suggest the global market will be worth over $97 billion by 2028. And it's not just Meta and Apple who are betting on an AR-enabled future.
In 2020, Amazon's Alexa Fund invested in smart lens-maker Mojo Vision, and last week, the pair announced a test integration with the Alexa Shopping List in which lens-wearers can access and interact with their list hands-free while in the grocery store.
Even with the new use case, some experts are hesitant to predict a future in which computer-clad shoppers stroll grocery aisles while using eye movement to scroll through coupons.
"On the consumer side, we're not expecting retail," Shahd ElAshri, a research analyst specializing in consumer devices at International Data Corporation Canada, told Retail Brew. "We don't think people are going to jump at the idea of wearing glasses while they're shopping."
An uncertain landscape
Consumer analyst Carolina Milanesi said that while AR hardware has use cases in a retail setting, she's skeptical that consumers will find value outside of the home.
Technology that enables users to test out potential items of clothing together, or to visualize sizing and get more information about a product while shopping from home, is extremely valuable, she explained. But from an in-store perspective, she doesn't see as much value for consumers. "I feel you're starting to think more about a solution searching for a problem," she said.
For her part, ElAshri predicts that, partly because of consumer hesitancy, AR applications in retail will continue to be experiences—like testing out makeup via smartphone—not hardware, such as glasses or contact lenses.
Keep reading here.—MA
Dreaming big this holiday season? Attentive is handing out 36 gifts to lift your seasonal spirits—and your brand's revenue.
Their 36 Leading Holiday SMS Marketing Campaigns guide is packed with best-in-class text message marketing examples. Get your copy and learn how IRL brands use SMS marketing to connect with customers and boost revenue during the holiday season.
You'll see how brands such as CB2, Dolce Vita, and Michaels engage with their customers through list growth, loyalty/VIP, abandoned cart, promotional, non-promotional, and conversational messages.
Kick off the holiday season right and connect with one of Attentive's SMS specialists.
Take advantage of their free trial for qualified brands and reach your customers before Black Friday + Cyber Monday.
Heyday
Heyday made it rain last year with a more than half-billion-dollar funding round. A year later, the company is boosting its portfolio of brands as it seeks to become a modern-day CPG heavyweight.
The company recently closed on an acquisition of ZitSticka, a personal care brand that specializes in acne treatment and prevention. It's an acquisition that CEO and co-founder Sebastian Rymarz said fits perfectly into the Heyday model.
For starters, Rymarz said Heyday believes ZitSticka has a great product that's shown success in the market, as the company recently moved into Target and Ulta.

Secondly, ZitSticka brings in $15–$20 million in annual revenue, which meets Heyday's target of $10–$50 million for brands it acquires.

And lastly, Heyday, while confident in ZitSticka, believes it can help scale its omnichannel operations and increase efficiencies across the brand, Rymarz said.
"We do things like get better demand planning, and re-architecting the supply chain, and bringing our ad-bidding algorithms to bear right. So there's all of these things that we can do to drive efficiency," he told Retail Brew.
But why would an up-and-coming DTC brand agree to an acquisition? "We pay more," Rymarz said. He explained that Heyday is able to offer up a higher acquisition deal based on the projected trajectory of the acquired company.
"Now we're able to pay more, we're going to win more deals. If we win more deals, we get more brands that give us more contribution profit that allows us to make bigger investments in the platform," he said. "And on and on it goes. That's the flywheel."
Keep reading here.—KM
The Real Housewives of New Jersey/Bravo via Giphy
"A tight labor market has some employers placing more emphasis on skills and certifications than previous employment or secondary education. HR pros can use social media to understand what capabilities and skills candidates can bring to their workplace," writes HR Brew's Adam DeRose:
John Patterson, VP for talent at Macy's, told HR Brew in September that to recruit seasonal hires ahead of the busy holiday season, the company got creative with how it advertised jobs. This was especially helpful when trying to reach specific demographics.
Beyond advertising on social streaming platforms, the retail giant also used a number of social media platforms to reach different communities.
Read the whole story here on HR Brew.
One click away from capturing Gen Z. These days, everybody's talkin' about Zoomers. Their music, their fashion, their values. But how can e-commerce capture this new audience? One word: speed. Bolt's lightning-fast checkout tools are here to fulfill Gen Z's boom for zoom. Read more about Bolt's next-level online shopping tools here. 
Today's top retail reads.
When life gives you leggings: Lululemon is nearly "synonymous with athleisure," but the brand's inroads in the space have also affected the apparel industry at large. (Retail Dive)
Sweet tooth: In the midst of record inflation, mass layoffs, and a potential recession, people are turning to chocolate to soothe their concerns. Chocolate makers are reporting booming sales. (CNN)
Holding on for dear life: There are a handful of retail chains—household names, in some respect—that have struggled over the past few years and might not make it to 2023. (Yahoo Finance)
Retail recipes: Searching for the secret sauce of retail? Look no further—NewStore's 2023 Omnichannel Leadership Report has all the goods to understand the current state of retail and its progress toward digital transformation. Download your copy here.*
*This is sponsored advertising content.
Hey retail readers, have you heard?
Marketing Brew is hosting a full-day affair of industry exploration and navigation on November 15 in NYC. Complete with brand leaders and industry connections, The Brief: A Summit Presented by Marketing Brew is an event that cannot be missed.
Incredible speakers from HBO, REI, Vans, and more will take to the stage to tackle the dizzying industry topics we love so dearly. Get 15% off your tickets using the code RetailMarketers at checkout.
Register today
The numbers you need to know.
It's no secret the holidays are a time when people across the country get their drink on. But what exactly will be popular this year in shopping carts and bars?
Taking a look at Q3, purchases of low-alcohol and better-for-you wine grew 35% YoY, and spending on pre-mixed cocktails increased 29%, according to shopper intelligence firm Catalina.
Canned wine fell 17%, bottled wine was down 5%, and both domestic and imported beer sales only grew 3%.

Craft beer and flavored malt beverages gained 6% and 4%, respectively. Hard seltzer sales fell drastically at 29%.
Catalina believes these gains and losses will reflect what shoppers will stick to once the holidays roll around. "Knowing what shoppers are more likely to put into their baskets this holiday season allows us to identify and better segment 1,700-plus syndicated and custom audiences, which in turn helps our retail and CPG customers develop personalized messaging and incentives," Sean Murphy, chief data and analytics officer at Catalina, said in a release.
Catch up on the Retail Brew stories you may have missed.
Written by Maeve Allsup, Katishi Maake, and Adam DeRose
Was this email forwarded to you? Sign up here.
WANT MORE BREW?
Industry news, with a sense of humor →
Tips for smarter living →
Podcasts → Business Casual, Founder's Journal, Imposters, and The Money with Katie Show
YouTube
Accelerate Your Career with our Courses →
ADVERTISE // CAREERS // SHOP 10% OFF // FAQ

Update your email preferences or unsubscribe

here

.
View our privacy policy

here

.

Copyright © 2022 Morning Brew. All rights reserved.
22 W 19th St, 4th Floor, New York, NY 10011
Older messages
Thursday, November 10, 2022
It has shoppable ads and e-commerce ambitions in the US. November 10, 2022 Marketing Brew TOGETHER WITH Wunderkind Happy Thursday. Advertisers can rest easy knowing that Twitter is "going to work hard
⏱ 30 Bonus Tickets on Sale for Limited Time!
Thursday, November 10, 2022
We just released 30 additional tickets to The Brief, get one before they're gone. Hey, Marketing Pros! It's almost the weekend, but believe it or not, we have *even better* news to share as you
Thursday, November 10, 2022
Plus, how the midterms could affect the stock market... November 09, 2022 View Online | Sign Up | Shop Morning Brew TOGETHER WITH BMW Good morning. Yesterday started with a lunar eclipse and ended with
Thursday, November 10, 2022
Oh, and C-band bans are back, baby. " " November 09, 2022 Emerging Tech Brew TOGETHER WITH Fidelity Investments Greetings. If you were waiting for a sure sign that the recent era of VC
Thursday, November 10, 2022
Scatter-market slowdown. November 09, 2022 Marketing Brew TOGETHER WITH #paid It's Wednesday. Global ad spend is now projected to grow nearly half as much as initially expected in 2022, according