Morning Brew - ☕ 11 years
| TOGETHER WITH | |
| --- | --- |
Good morning. The World Cup starts tomorrow, and we weren't sure it was possible but this already ~unusual~ tournament just got even weirder: In a U-turn from its previous stance, host country Qatar abruptly banned the sale of beer at World Cup stadiums, leaving its $75 million sponsor Budweiser with only alcohol-free Bud Zero to sell inside stadiums.
We'll get into that mess and lots more in tomorrow's special World Cup preview edition of Brew Review. Make sure to check it out.
—Abby Rubenstein, Jamie Wilde, Matty Merritt, Max Knoblauch, Neal Freyman
| | | | |
| --- | --- | --- | --- |
| | Nasdaq | 11,146.06 | |
| | | | |
| --- | --- | --- | --- |
| | S&P | 3,965.34 | |
| | | | |
| --- | --- | --- | --- |
| | Dow | 33,745.69 | |
| | | | |
| --- | --- | --- | --- |
| | 10-Year | 3.827% | |
| | | | |
| --- | --- | --- | --- |
| | Bitcoin | $16,679.69 | |
| | | | |
| --- | --- | --- | --- |
| | Grindr | $36.50 | |
*Stock data as of market close, cryptocurrency data as of 3:00am ET. Here's what these numbers mean.
Markets:

Stocks

rose

just a little bit yesterday as investors keep waiting to see what the Fed will do next and just how bad the fallout from FTX's implosion will be in the crypto world. One stock that surged was Grindr, which had its market debut yesterday (marked with a performance by drag queens) after merging with a SPAC.
Justin Sullivan/Getty Images
Theranos founder Elizabeth Holmes was sentenced to 135 months (that's 11.25 years) in prison yesterday for defrauding investors in what would have been the biggest tech scandal news of the week if FTX had never existed.
That's less than the 15 years prosecutors sought, but a whole lot more than the 18 months of house arrest her lawyers advocated for. On the white-collar prison time scale ranging from Martha Stewart's five months to Bernie Madoff's 150 years, Holmes's sentence for what the judge estimated to be $121 million worth of scamming is probably starting to make Sam Bankman-Fried a little nervous about that disappearing $32 billion.
In case you missed the Hulu series, here's the backstory: Once hailed as the next Steve Jobs (all those black turtlenecks helped) and famous for being so intense she never blinked, Holmes turned out to be peddling a fantasy.
Holmes dropped out of Stanford to start Theranos—which attracted high-profile investors like Rupert Murdoch and board members like Henry Kissinger—and grew it into a $10 billion company.

The problem? She claimed Theranos had technology that could perform tons of tests on a single drop of blood, but…it couldn't (which didn't stop her from rolling the tech out to patients). Once the Wall Street Journal exposed the truth and regulators came calling, both the company and Holmes's wealth were wiped out.
While sentencing Holmes for deceiving investors, Judge Edward Davila said he wouldn't add time for the harm she did to Theranos patients because she was not found guilty of charges related to that. He also said her being the undisputed leader of the company would not count against her. But he said he would consider her failure to take responsibility—the government claimed Holmes once said, "They don't put pretty people like me in jail."
What's next: Holmes could still appeal her conviction. Meanwhile, her ex-romantic and ex-business partner Ramesh "Sunny" Balwani, who was found guilty of 12 counts of fraud and conspiracy, is scheduled to be sentenced in early December.—AR
…and one giant leap for your finances.

Getting started is one of the most difficult steps in investing. Unless you have a finance degree, it can feel like a super-complicated undertaking—but it doesn't have to be.
Enter robo-advisors like Fidelity Go®. They can make investing fast, easy, and affordable. With Fidelity Go®, you just need to answer a few quick questions online to get started. From there, it builds an investing strategy to meet your needs and handles the actual investing part.
Concerned about account minimums? None to speak of. Stressed about managing your investments? Deposit at least $10 and it'll handle that for ya, too. Worried about advisory fees? With Fidelity Go®, there are no advisory fees under $25k. Once your account reaches $25k, you'll be charged an annual fee of 0.35%—but you'll also get unlimited 1-on-1 coaching from a Fidelity advisor.
Take the guesswork out of investing and get started with Fidelity Go®.
This is a paid advertisement from Fidelity on behalf of its affiliated broker-dealer and investment adviser.
Scott Olson/Getty Images
Special counsel will investigate Trump. Attorney General Merrick Garland announced yesterday that he has appointed Jack Smith, a war crimes prosecutor and former DOJ public integrity chief, as special counsel to take over investigations into former President Donald Trump's role in the January 6, 2021, insurrection and his handling of classified government documents. Special counsels lead politically sensitive investigations like these to help avoid the appearance of conflicts of interest for the DOJ. And this one is certainly sensitive: Trump declared his candidacy for the 2024 presidential race earlier this week.
US considers Saudi crown prince immune from suit over slaying. Despite President Biden's harsh rhetoric about the role of Saudi Arabia's Crown Prince Mohammed bin Salman in the murder of Jamal Khashoggi, the Biden administration said in a legal document that his position as a nation's leader shields him from a lawsuit brought by the journalist's former fiancée. The State Department stressed that it was making a determination based on precedent that had nothing to do with the merits of the case itself. A judge must still rule on whether MBS has immunity.
Banksy tells his fans to steal from Guess. Incensed that the clothing retailer allegedly used his designs for a store display without permission, the famed anonymous street artist urged his 11.5 million Instagram followers to shoplift from the Guess store on Regent Street in London, forcing the store to close. Guess, which hasn't commented on the matter, created the display through a partnership with Brandalised, a company that licenses graffiti from artists. A copyright lawyer told the BBC that Guess seems to have legally acquired the rights to Banksy's work, even if he wasn't aware of the deal.
Francis Scialabba
Taylor Swift fans finally feel some sense of justice after this week's nightmare battle for Eras Tour tickets. Turns out the DOJ had been looking into Ticketmaster parent company Live Nation's potential abuse of power in the live event industry even before it gummed up the Taylor Swift ticket sales, the New York Times reported yesterday.
Angry Swifties on Twitter didn't cause this. But they did put a spotlight on the monopoly Ticketmaster holds. The site crashed when millions of fans tried to snag presale tickets for Swift's Eras Tour on Tuesday. On Thursday, Ticketmaster said it was canceling the general sale because there weren't enough tickets remaining. And yesterday, Swift herself addressed the chaos in an Instagram post blaming Ticketmaster.
Swift apologized to fans and said, "I'm not going to make excuses for anyone because we asked them, multiple times, if they could handle this kind of demand and we were assured they could."
This isn't Live Nation's first time on the DOJ's to-do list: Live Nation's 2010 merger with Ticketmaster was ultimately okayed by antitrust regulators, but in 2019 the DOJ found it had violated its promise not to threaten venues to use it (Ticketmaster) or lose it (Live Nation's tours).—MM
Toyota
Toyota just did a makeover of the Prius that goes way beyond undoing its ponytail and taking off its eyeglasses. Though the Prius was the first hybrid electric vehicle to be mass-produced (back in 1997), it's struggled to stand out among its competitors in recent years because—well, let's just say you'd never paint a racing stripe on it.
While all-electric rivals like Tesla have swooped in, the Prius has remained a hybrid. There are reasons for that choice:
Fully battery-powered vehicles are more expensive to produce, and Toyota wants the Prius to be an affordable "car for the majority," Toyota's design GM, Simon Humphries, said.

Hybrids don't have to be charged, which is convenient when you're driving from LA to Las Vegas and don't want to run out of volts on Zzyzx Rd.
Hybrids are also more reliable. And you don't have to take our word for it: Consumer Reports recently ranked hybrids as the most reliable vehicle type, while "electric vehicles" were No. 16. Toyota was also named the most reliable automaker, and the 2022 Prius the fourth most reliable car model.
Okay, but…environmental groups have criticized Toyota for moving as slow as, well, a Prius, toward producing fully electric cars.—JW
Justin Sullivan/Getty Images
Stat: The US is gearing up for the largest dam demolition ever: four dams in the Klamath River in California are going bye-bye. Why are we going all Michael Bay on these dams? Removing them will return the river to a free-flowing state and open up hundreds of miles of salmon habitat. Now that federal regulators have signed off on the plan, the $500 million dam destruction project, which has been championed by Native American Tribes and environmental groups, can commence as soon as summer.
Quote: "We figured what better way to make the best of a potentially bad situation."
With Thanksgiving travel expected to reach ~98% of pre-pandemic volume, there's likely going to be a lot of chaos at the airport before you make it to the turkey, but the team at offshore betting website BetUS wants to make that a moneymaking opportunity for you by taking bets on which airlines will cancel the most flights. Oddsmakers favor Alaska Airlines and the ticket you always regret buying, Frontier Airlines, to leave the most passengers stranded.
Watch: The micro and macro reasons behind all those tech layoffs. (Wall Street Journal)
Max Knoblauch
Weekend conversation starters:
Get caught up: On Behind the Numbers: The Weekly Listen host Marcus Johnson, along with Insider Intelligence's analysts, recaps the most important media, tech, and advertising stories of the week. Listen wherever you get your podcasts.
Get 93% off a lifetime membership: Save thousands on flights with Dollar Flight Club. Receive alerts for flights discounted up to 90%—like round-trip to Hawaii from $197. Hurry, this offer ends in 24 hours.* 
Zeroed in: With this no-fee credit card, you'll pay 0% interest on purchases for a year + have 0% interest on transferred debt for 21 months. Apply for this card here.*
*This is sponsored advertising content.
Brew Crossword: It's our last full crossword before Thanksgiving, so of course today's puzzle is Turkey Day-themed. Play it here.
Open House
Welcome to Open House, the only newsletter section that is benefiting from the FTX collapse. We'll give you a few facts about a listing and you try to guess the price.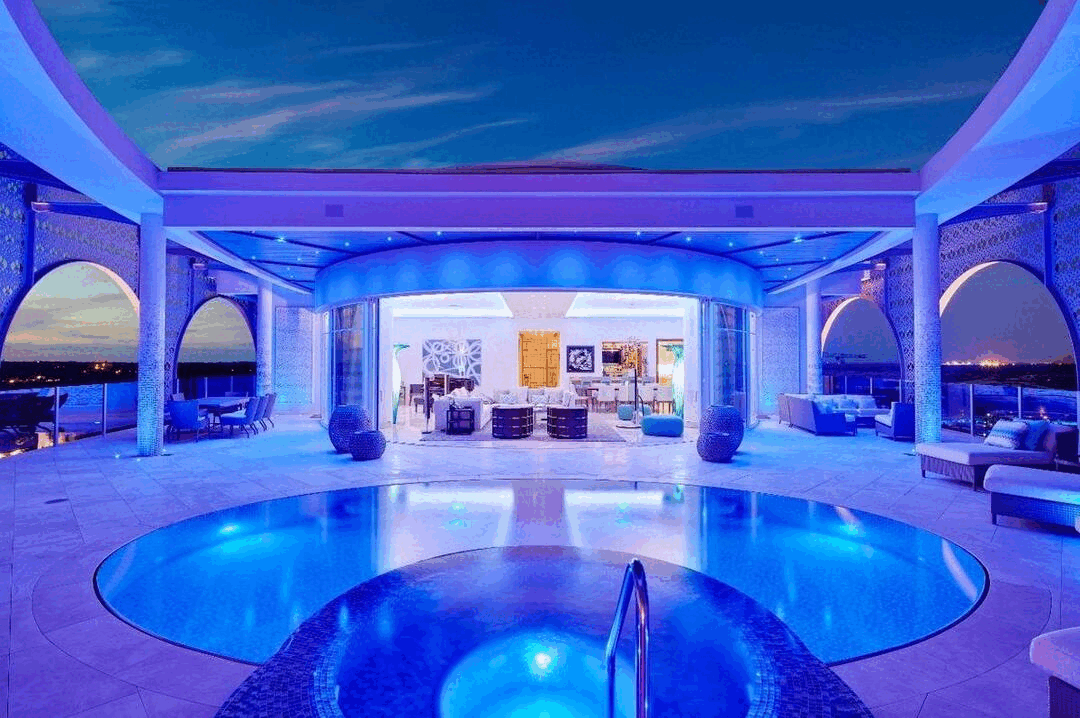 Seaside Real Estate
Today's home is Sam Bankman-Fried's humble Bahamas penthouse. It was only briefly offered on a real estate listing site and we don't know whether SBF actually owned the place (he could have rented). Still, you could own a piece of crypto crash history. Amenities include:
5 beds, 6+ baths

Private marina

Probably some secrets if you check the trash
How much to hold onto the FTX dream just a little bit longer?
Become the life of the office party when you shop the White Elephant collection. Whether you're on the hunt for a Big Brainstorm Energy candle or an Excel mouse pad, this is the collection for you. Shop now for up to 55% off.
Wanna hear about the latest tech? Emerging Tech Brew will deliver all the most important tech news straight to your inbox for free.
That's right, we actually made networking fun. Find out what all the talk is about and discover which course is right for you with our 5-minute quiz.
✢ A Note From Fidelity
Fidelity Go® provides discretionary investment management, and in certain circumstances, non-discretionary financial planning, for a fee. Advisory services offered by Fidelity Personal and Workplace Advisors LLC (FPWA), a registered investment adviser. Brokerage services provided by Fidelity Brokerage Services LLC (FBS), and custodial and related services provided by National Financial Services LLC (NFS), each a member NYSE and SIPC. FPWA, FBS and NFS are Fidelity Investments companies.
Written by Neal Freyman, Abigail Rubenstein, Matty Merritt, Max Knoblauch, and Jamie Wilde
Was this email forwarded to you? Sign up here.
WANT MORE BREW?
Industry news, with a sense of humor →
Accelerate Your Career with our Courses →
ADVERTISE // CAREERS // SHOP 10% OFF // FAQ

Update your email preferences or unsubscribe

here

.
View our privacy policy

here

.

Copyright © 2022 Morning Brew. All rights reserved.
22 W 19th St, 4th Floor, New York, NY 10011
Key phrases
Older messages
Friday, November 18, 2022
The utility of NFTs in retail. November 18, 2022 Retail Brew TOGETHER WITH Wunderkind Happy Friday. Q4 and the holidays are here for retail, and it promises to be as crazy as ever. When the dust
Friday, November 18, 2022
Plus: How a 150+ year-old company thinks about the future. November 18, 2022 Emerging Tech Brew TOGETHER WITH Miso It's Friday, and if you're a remote worker who misses wasting time chatting
Friday, November 18, 2022
Takeaways from The Brief. November 18, 2022 Marketing Brew TOGETHER WITH Attest You made it to Friday. And Cheetos has a new addition to your Thanksgiving table: Feel free to place the cheese-dust
Friday, November 18, 2022
Is lab-grown meat the future? November 18, 2022 View Online | Sign Up | Shop 10% Off Morning Brew TOGETHER WITH Electric Good morning. It takes a particularly heinous act of Mother Nature to impact a
Thursday, November 17, 2022
How a retired exec spends his time giving back. November 17, 2022 | View Online | Sign Up Sidekick Logo TOGETHER WITH Bombas Hey, Sidekickers. New work paradigm, meet the new watercooler. The hottest