Morning Brew - ☕ Bob is back
| TOGETHER WITH | |
| --- | --- |
Good morning. Today is the day when having a second monitor comes up really clutch, because at 2pm ET, the US Men's National Team will kick off their World Cup campaign against Wales.
The US men's team didn't qualify for the previous World Cup, so this will be their first tournament match in eight years. But if that sounds like a long time to wait, think about how much this means to Welsh people: Their team hadn't qualified for the World Cup in 64 years.
—Neal Freyman
| | | | |
| --- | --- | --- | --- |
| | Nasdaq | 11,146.06 | |
| | | | |
| --- | --- | --- | --- |
| | S&P | 3,965.34 | |
| | | | |
| --- | --- | --- | --- |
| | Dow | 33,745.69 | |
| | | | |
| --- | --- | --- | --- |
| | 10-Year | 3.827% | |
| | | | |
| --- | --- | --- | --- |
| | Bitcoin | $16,451.23 | |
| | | | |
| --- | --- | --- | --- |
| | Bird | $0.20 | |
*Stock data as of market close, cryptocurrency data as of 5:00am ET. Here's what these numbers mean.
Markets:

It'll be a

short but stuffed

(get it) week for investors. In the lead-up to Thanksgiving, when markets will close, we'll get another batch of earnings reports and minutes from the previous Fed meeting. Traders will have to clock in on Black Friday for a half day.

Stock spotlight:

The e-scooter rental company Bird is probably grateful that FTX's implosion is stealing the spotlight from its own collapse. Last week, the company said it

overstated revenue

for more than two years and is warning it could go bankrupt if things don't turn around. Currently a penny stock, Bird will be delisted by the NYSE if its share price doesn't rise above $1 by the end of the year.
Jeff Kravitz/FilmMagic/Getty Images
Bob Chapek must be feeling as tossed aside as Woody in the first Toy Story. In a Sunday night news dump for the ages, Disney announced that former CEO Bob Iger would return to his role atop the entertainment giant, replacing his successor Chapek, who's been CEO for less than three years.
This was…surprising. After leading the company for 15 years, Iger handed over the reins to Chapek in February 2020. It was an unexpected choice, given that streaming boss Kevin Mayer was seen as a more likely heir to the Disney throne than Chapek, who led the parks and entertainment division. But Iger had reportedly handpicked Chapek as his successor, and repeatedly said he was satisfied with being retired. "I can't think of a better person to succeed me in this role," Iger said in March 2020.
But Chapek never really hit his stride
First, the Covid-19 pandemic upended the company's business, forcing parks to close and movie theaters to shut down.
Then, Chapek struggled to contain multiple controversies.
Initially, he did not come out forcefully against Florida's so-called "Don't Say Gay" law, which ticked off many employees.

During his watch, Disney also got into a high-profile dust-up with actor Scarlett Johansson over her compensation for

Black Widow

.
The company's recent performance appears to have been the final straw that sent the board crawling back to Iger. Both Disney's streaming unit and the parks division underperformed expectations last quarter. This year, shares are down 41%.
Can Iger turn things around?
He has quite the track record. During his OG tenure as CEO, Disney reinvented itself by acquiring Marvel, Lucasfilm, and Pixar. Disney's board hopes Iger will similarly right the ship during the two years he's slated to stay on.
"As Disney embarks on an increasingly complex period of industry transformation, Bob Iger is uniquely situated to lead the Company through this pivotal period," board Chairman Susan Arnold wrote.
Big picture: Bringing on a former CEO to provide stability is not unprecedented in corporate America. The formerly spurned Steve Jobs returned to Apple in 1997, and former Starbucks boss Howard Schultz recently returned to the company as interim CEO.
Whether you're heading to bed or en route to a vacation destination, having peace of mind that your home is safe and secure can help you rest easy.
And to help you get some ample R&R, we'll save you the internet search: US News & World Report named SimpliSafe a 3-peat winner for the best home security system. And their early Black Friday sale is happening now.
Here's the deal: You can save 50% on any new security system and get a *free* HD indoor security camera. It's all backed by 24/7 professional monitoring, and SimpliSafe's top-rated app gives you complete control of your system—anytime, anywhere.
Shop here.
Jason Connolly/AFP via Getty Images
Mass shooting at LGBTQ club in Colorado Springs: Five people were killed and 25 injured when a gunman opened fire at Club Q, a gay nightclub in Colorado Springs, Saturday night. The 22-year-old suspect is in custody after being subdued by "heroic" patrons, police said. The attack occurred at the close of Transgender Awareness Week, and Club Q was planning to host a performance to mark Transgender Day of Remembrance on Sunday.
Donald Trump is back on Twitter. Elon Musk reinstated former President Trump's Twitter account, which had been suspended after Trump helped incite the January 6, 2021, attack on the Capitol. But the way Musk went about it was…unconventional. While Musk had pledged he would let a content moderation council decide the fate of banned accounts, he instead decided to ask Twitter users whether Trump should be allowed on. They, and an untold number of bots, voted 52% in favor. Trump, meanwhile, said he's sticking with his own social media platform, Truth Social.
Mostly disappointing climate conference ends with a single breakthrough. Delegates at the COP27 climate summit in Egypt agreed to create a fund that will compensate lower-income nations for losses and damages they suffer from weather disasters fueled by greenhouse gas emissions spewed by richer nations. But despite that step forward, leaders did not agree to any more ambitious targets for emissions cuts, which would help prevent future costly disasters from happening in the first place.
Mandel Ngan/AFP via Getty Images
President Joe Biden blew out 80 birthday candles on Sunday, becoming the first octogenarian to occupy the White House.
Concerns about Biden's age have been swirling since his inauguration, when he became the oldest person to be sworn in as president at 78. But by punching in past 80, he's one of an increasing number of octogenarians still working instead of playing bingo.
In 1980, just 2.5% of the 80+ US population were in the workforce, per a Washington Post analysis of Bureau of Labor Statistics data.

By 2019, the share had soared to 6%. It did dip last year to 5.5%.
The WaPo mostly chalks this up to the increase in life expectancy over the past several decades. In 1942, the year Biden was born, an American could expect to live 66 years on average. By 2019, life expectancy had jumped to 79.
Zoom out: If Biden chooses to run again in 2024, his opponent will certainly let you know that he'll be 86 by the end of that term. That opponent could be Donald Trump, who is currently 76 years old.
+ Optional reading: Yale management professor Jeffrey Sonnenfeld wrote a piece describing how older people have fared in leadership roles. One data point: Benjamin Franklin saved the Constitutional Convention at 81.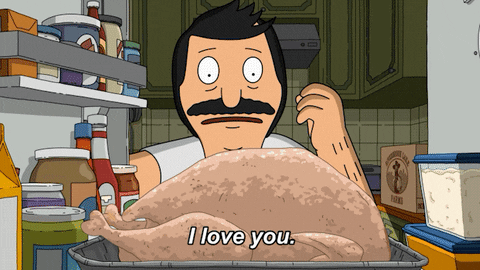 Bob's Burgers/Fox via Giphy
Thanksgiving: It's quite possibly the best holiday week of the year—hosting a Friendsgiving Tuesday night, inflating your job title to impress your high school friends Wednesday night, feasting on turkey and football on Thursday, then shopping or not doing much at all for the next three days.
The World Cup: Worker productivity around the world will take a hit as the World Cup group stage offers about four soccer clashes a day. Starting on Tuesday, the games will take place at 5am, 8am, 11am, and 2pm ET.
Rail strike decision: Workers at two leading US railroad unions have voted on whether to accept a new labor deal, and the results will be revealed today. The stakes are extremely high: If rail workers reject the deal, it raises the prospect of a strike that could cripple supply chains in the US.
Everything else:
Wednesday is Fibonacci Day (11/23).

Stop by your local Main Street on Small Business Saturday.

Making their debut as balloons at the Macy's Thanksgiving Day Parade on Thursday: Bluey and "Stuart the Minion."
John Normile/Getty Images
Stat: 77 inches of snow fell as of Saturday morning in Orchard Park, NY, the home of the Buffalo Bills stadium—that's the same height as the Bills' star QB Josh Allen (6 feet, 5 inches). In fact, only five players on the Bills 53-member roster are taller than the level of snow that was dumped on the village, according to WIVB. (The Bills home game was moved to Detroit.)
Quote: "Slow down. This ain't Thunder Road."
If you were driving on New Jersey highways recently, you might have noticed whimsical signs like this one (referencing Jersey legend Bruce Springsteen) or others like "We'll be blunt—don't drive high." But those have been swapped out for more conventional warnings after the Federal Highway Administration told the state's transportation department to cut it out with the clever messages last Wednesday.
Read: Things I noticed while visiting the ICU. (Trevor Klee)
Dive back into the week.
Useful shortcuts. You can use Excel shortcuts to help get your personal finances in order. Here are some of our favorites.
Stop renting Airbnbs—invest in them. reAlpha's building a portfolio of high-potential, AI-vetted vacation rental properties and just landed a $200m financing deal to accelerate their growth. Become an early reAlpha shareholder before 12/8.*
A rare find: Exclusive access to DUER's Black Friday sale means you get the world's most comfortable pants on sale, with styles built for work, play, and everything in between. Shop here.*
A better night's sleep: Bad pillows can affect your dreams at night—and chasing your dreams by day. Peep our pillow pick + other great gifts for everyone on your list in our gift guide. Sponsored by Marlow.*
*This is sponsored advertising content.
Turntable: Identify today's pangram for a special Thanksgiving treat. Play Turntable here.
More World Cup trivia
These are the eight groups for the World Cup. Which group has the greatest collective population?
FIFA
Group B by a longshot. The US alone is home to 333 million people.
✤ A Note From reAlpha
MA, MD, and Hawaii Residents:
reAlpha's Regulation A offering is not being made in MA, MD, and Hawaii, and reAlpha's common stock is not available for purchase by MA, MD, and Hawaii residents.
Key phrases
Older messages
Sunday, November 20, 2022
Why this won't be a typical World Cup... Together with Origin Investments November 20, 2022 | View Online | Sign Up | Shop 10% Off David Ramos/Getty Images EDITOR'S NOTE Good morning. With the
Saturday, November 19, 2022
Elizabeth Holmes gets 11 years for Theranos fraud... November 19, 2022 View Online | Sign Up | Shop 10% Off Morning Brew TOGETHER WITH Fidelity Good morning. The World Cup starts tomorrow, and we weren
Friday, November 18, 2022
The utility of NFTs in retail. November 18, 2022 Retail Brew TOGETHER WITH Wunderkind Happy Friday. Q4 and the holidays are here for retail, and it promises to be as crazy as ever. When the dust
Friday, November 18, 2022
Plus: How a 150+ year-old company thinks about the future. November 18, 2022 Emerging Tech Brew TOGETHER WITH Miso It's Friday, and if you're a remote worker who misses wasting time chatting
Friday, November 18, 2022
Takeaways from The Brief. November 18, 2022 Marketing Brew TOGETHER WITH Attest You made it to Friday. And Cheetos has a new addition to your Thanksgiving table: Feel free to place the cheese-dust