For Black Friday, I'm sending your a free eBook. Also, 50% off my books and courses.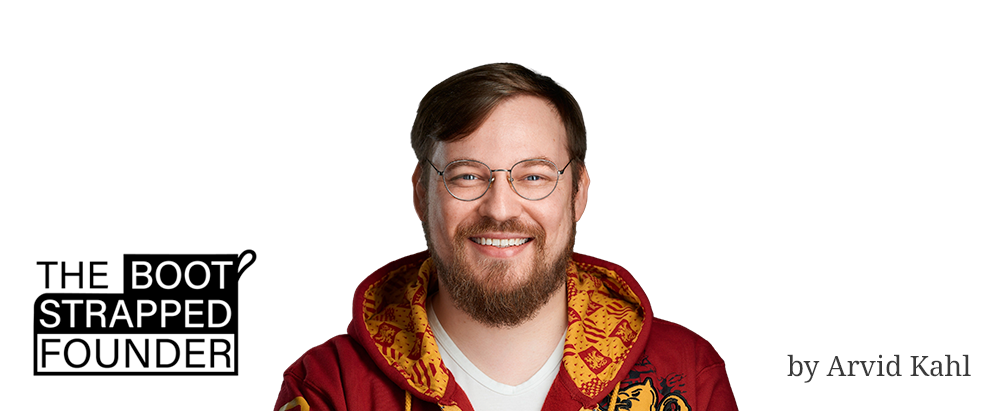 Hi there!
It's that time of the year — when most retailers' operations become profitable, moving from the red to the black: it's Black Friday. And because you probably enjoy saving money, I'm offering all my digital books and courses at half price this week.
​
​
And before I get to the links, here's a little token of my appreciation for having purchased a product of mine before. I am making available Zero to Sold, The lost Chapters: the parts of my first book that my eager editor set aside, but I would have loved to have included in the book. Well, now you get to have them for free, with no obligations.
Jump over to https://zerotosold.com/lost-chapters.pdf to grab this 34-page extension of my best-selling guide to bootstrapping. This is my little Black Friday gift to you.
​
Alright.
Savings time.
I have lowered the prices for all my products on Gumroad and Amazon) by 50% for the duration of Black Friday. I have ALSO set up Purchasing Power Parity Pricing coupons on the landing pages for each of my products that will give you a location-based discount based on where you live. Those go down to 70%, so that's a max of 85% off (that's a Gumroad-only feature.) Deals end next week.
​
Enjoy!
Zero to Sold ($4.99): https://zerotosold.com/​
The Embedded Entrepreneur ($4.99): https://embeddedentrepreneur.com/​
Find your Following ($24.99): https://findyourfollowing.com/​
​
I hope this makes my work more accessible to whoever couldn't afford it just yet. Please reach out to your entrepreneurial friends and colleagues, forward them this email, and share the sale on social media. I would appreciate this very much.
Thank you, again, for being awesome. I hope you have a wonderful —and insightful— Black Friday week (what an odd thing to say.)
​
With warmest regards from a rather frosty unfinished basement in Canada,
Arvid
P.S.: Tony Dinh created a Github repo with all sorts of Black Friday deals by indie makers all over the world. You can find it here: https://github.com/trungdq88/Awesome-Black-Friday-Cyber-Monday​
​
To make sure you keep getting these emails, please add arvid@thebootstrappedfounder.com to your address book or whitelist us.
Want to unsubscribe from all our emails for good? No worries, just click this link, and off ya go: Unsubscribe. (Reminder, clicking this link removes you from all our emails (including The Bootstrapped Founder newsletter) and you won't ever hear from us again!)
Our postal address: 113 Cherry St #92768, Seattle, WA 98104-2205

Key phrases
Older messages
Calm Business Misconceptions — TBF #161
Friday, November 4, 2022
Is calmness just a fantasy? Can it even be done? ‌ ‌ ‌ ‌ ‌ ‌ ‌ ‌ ‌ ‌ ‌ ‌ ‌ ‌ ‌ ‌ ‌ ‌ ‌ ‌ ‌ ‌ ‌ ‌ ‌ ‌ ‌ ‌ ‌ ‌ ‌ ‌ ‌ ‌ ‌ ‌ ‌ ‌ ‌ ‌ ‌ ‌ ‌ ‌ ‌ ‌ ‌ ‌ ‌ ‌ ‌ ‌ ‌ ‌ ‌ ‌ ‌ ‌ ‌ ‌ ‌ ‌ ‌ ‌ ‌ ‌ ‌ ‌ ‌ ‌ ‌ ‌ ‌ ‌ ‌ ‌
Operating a Calm SaaS Business — TBF #160
Friday, October 28, 2022
The Bootstrapped Founder #160: Operating a Calm SaaS Business ‌ ‌ ‌ ‌ ‌ ‌ ‌ ‌ ‌ ‌ ‌ ‌ ‌ ‌ ‌ ‌ ‌ ‌ ‌ ‌ ‌ ‌ ‌ ‌ ‌ ‌ ‌ ‌ ‌ ‌ ‌ ‌ ‌ ‌ ‌ ‌ ‌ ‌ ‌ ‌ ‌ ‌ ‌ ‌ ‌ ‌ ‌ ‌ ‌ ‌ ‌ ‌ ‌ ‌ ‌ ‌ ‌ ‌ ‌ ‌ ‌ ‌ ‌ ‌ ‌ ‌ ‌ ‌ ‌ ‌
Pricing for Calm SaaS Businesses — TBF #159
Friday, October 21, 2022
The Bootstrapped Founder #159: Pricing for Calm SaaS Businesses ‌ ‌ ‌ ‌ ‌ ‌ ‌ ‌ ‌ ‌ ‌ ‌ ‌ ‌ ‌ ‌ ‌ ‌ ‌ ‌ ‌ ‌ ‌ ‌ ‌ ‌ ‌ ‌ ‌ ‌ ‌ ‌ ‌ ‌ ‌ ‌ ‌ ‌ ‌ ‌ ‌ ‌ ‌ ‌ ‌ ‌ ‌ ‌ ‌ ‌ ‌ ‌ ‌ ‌ ‌ ‌ ‌ ‌ ‌ ‌ ‌ ‌ ‌ ‌ ‌ ‌ ‌ ‌ ‌