Bloomberg - Evening Briefing - Powell's double-edged sword
A measure of US inflation that Federal Reserve Chair Jerome Powell seems to consider an important signpost showed a slowdown last month, the latest good news for a central bank that still hopes to negotiate a soft landing for the economy. But in financial circles, the Fed may be in the minority as the clamor of recession prognosticators returns yet again to a fever pitch. And the rate hikes Powell has been wielding like a broadsword are increasingly causing collateral damage. On Thursday, Wells Fargo fired hundreds more of its mortgage employees, the latest in a series of terminations across the industry as high rates bring home-lending to a grinding halt. Another big financial name is engaging in mass firings, too, albeit for different reasons. Credit Suisse, following years of scandals and management missteps, is terminating at least one third of its debt sales employees globally as part of its latest restructuring—one that seeks to eliminate thousands of jobs while drastically downsizing its investment banking and trading business. —David E. Rovella
Here are today's top stories
Taiwan Semiconductor Manufacturing will make more advanced microchips at its new $12 billion plant in Arizona, set to open in 2024, after US customers such as Apple pushed the company to do so. Tensions with China have turbocharged US efforts to bring more manufacturing to its shores—especially semiconductors critical to both consumer and defense industries. The Biden administration's Chips and Science Act, passed this year, offers $50 billion in incentives for companies looking to create semiconductors in America.
Bad news for Blackstone. Its $69 billion real estate fund for rich people is going to limit redemption requests, yet another chilling indicator for the property industry. What's more, the firm's top executives bet big on the fund: Chief Executive Officer Steve Schwarzman and President Jon Gray each dropped $100 million or more of their own money in it.
Vladimir Putin's call up and conscription of hundreds of thousands of Russians for his war on Ukraine, not to mention the hundreds of thousands more who fled to safety, is gutting Russia's already unstable economy. A record depletion of workers is fast spreading across a country already hobbled by an aging and shrinking population and with unemployment near the lowest ever. Whole industries are in distress.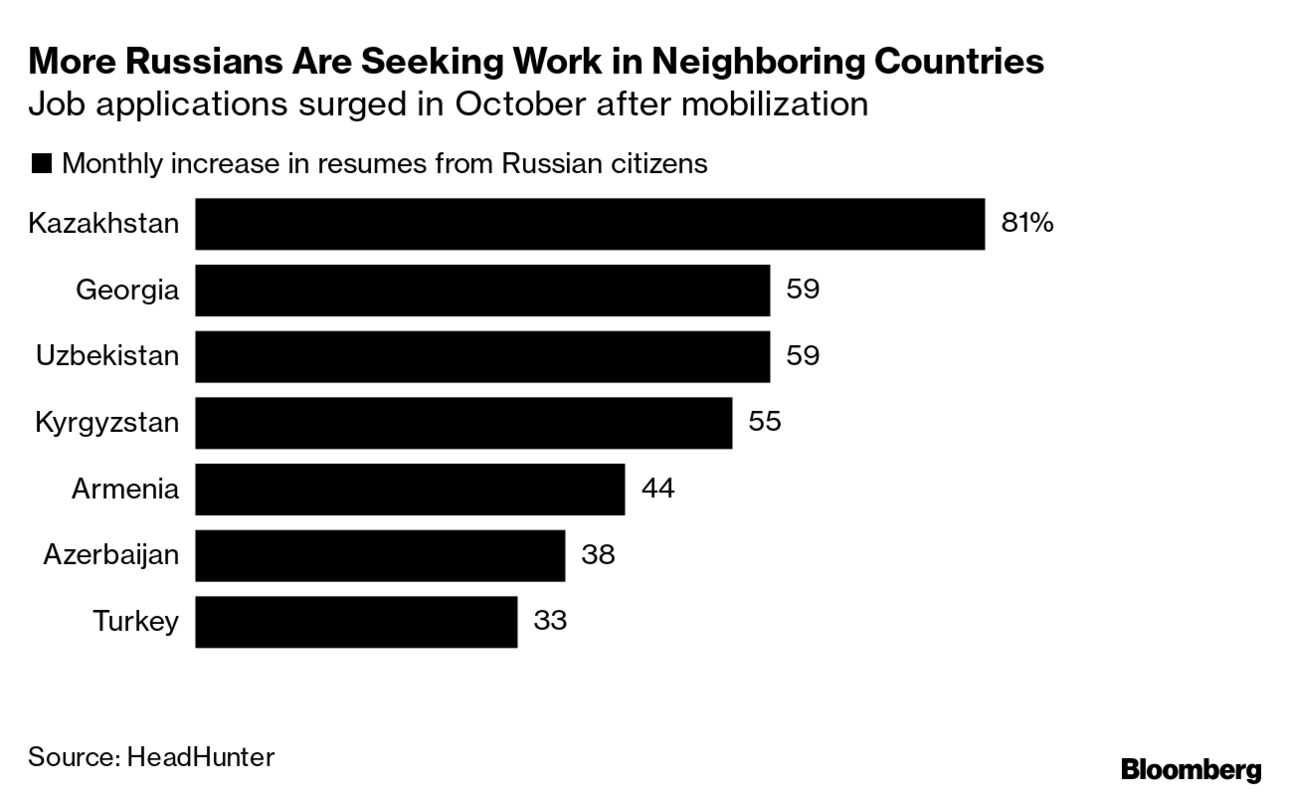 At the White House Thursday, a visiting French President Emmanuel Macron said the timing and terms of negotiations to end Putin's war are up to Ukrainians. President Joe Biden said he'd be interested in talking to Putin—but only if he's really looking to end the conflict. In Ukraine, the Kremlin has continued its attacks on infrastructure in what's being seen as a bid to make the winter unbearable for civilians. In eastern Ukraine, battles between defending Ukrainians and Russian mercenaries have reportedly devolved into gruesome trench warfare not unlike that of World War I. 
Chinese leader Xi Jinping urged more efforts to resolve the war in Ukraine during talks with European Council President Charles Michel, as Beijing sought to address one of its biggest friction points with Brussels. Back home, Xi's government is issuing veiled warnings of a potential crackdown on protestors of his restrictive "Covid-zero" policy, but it also appears to be bending to the will of demonstrators in a bid to end unrest. China said it will now allow some infected people to isolate at home rather than keeping them in government quarantine sites. The news comes on the anniversary of the first publicly documented case of the coronavirus, revealed three years ago today in Wuhan.
In the US, hospitalization rates are slowly rising again as some medical experts fear a third winter wave may soon develop. Hospitalization rates, a preferred measure given the prevalence of at-home testing, had remained largely flat since September, with some predictions that this winer won't be as bad as previous ones thanks to vaccinations and earlier infections. But the fallout from a Thanksgiving holiday where most if not all precautions were lifted could militate against such an optimistic outcome. Deaths from Covid in America are rising, too, closing in on 400 people every day. That's about one-third of all documented daily Covid deaths worldwide. 
Families of the children and teachers shot dead in an Uvalde, Texas elementary school earlier this year sued various Texas police agency employees connected to the botched law enforcement response to the attack. Hundreds of heavily armed Texas Department of Public Safety and Uvalde police employees stood by for more than an hour as the gunman, just yards away, killed almost two dozen children and teachers. The plaintiffs seek $27 billion as part of a potential federal class action.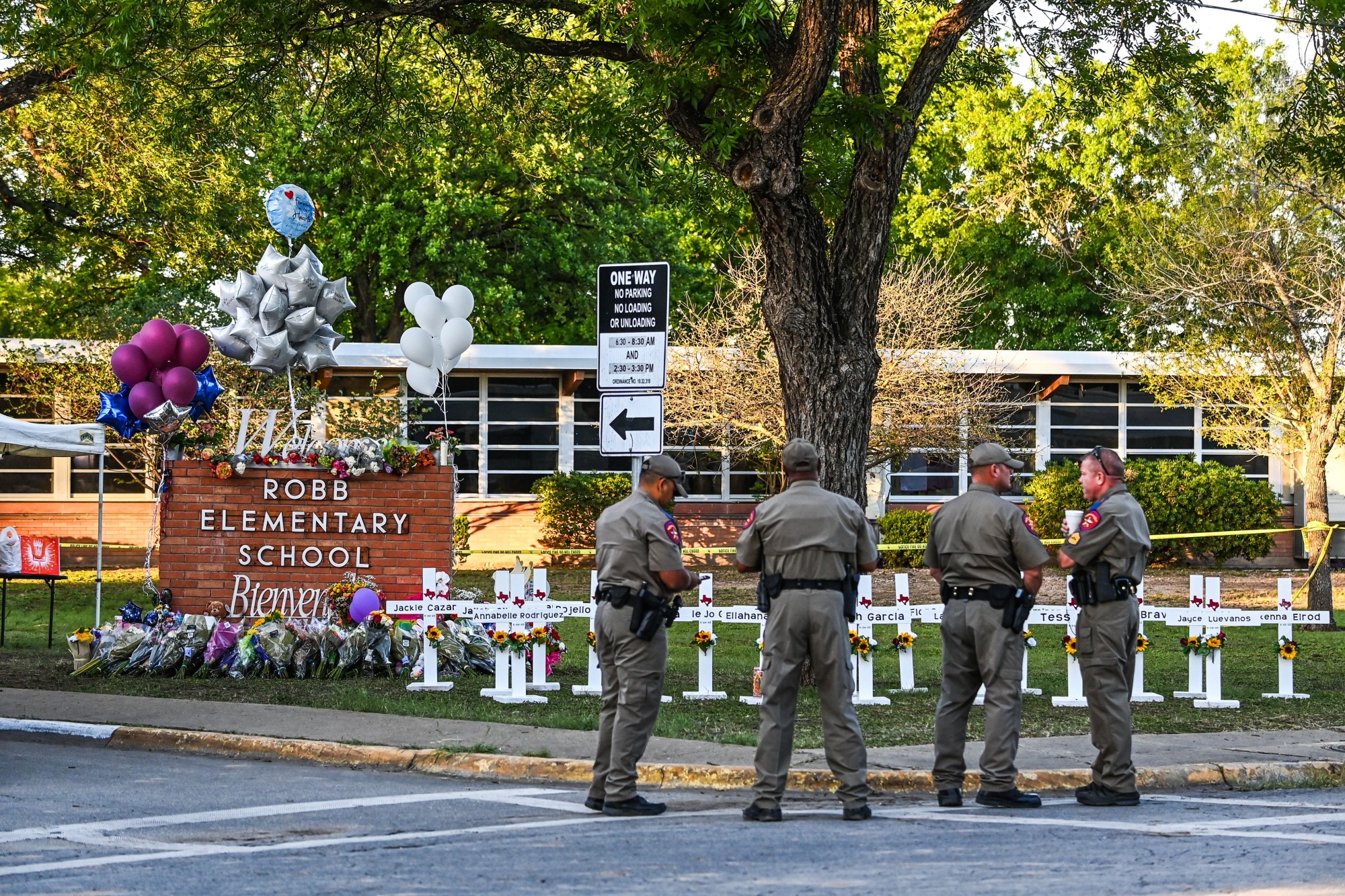 Police stand near a makeshift memorial for the shooting victims at Robb Elementary School in Uvalde, Texas, on May 26. Texas state and local police employees were sued over their botched response to the massacre. Photographer: Chandan Khanna/AFP
The US Supreme Court kept Biden's student-loan relief plan on hold. The court, controlled by a 6-3 GOP-appointed supermajority, declined to lift a lower court decision to block the program. It did however grant a White House request for fast-track review of a lawsuit challenging Biden's effort to forgive student loans for millions of Americans. The case, filed by six Republican-controlled state governments, could see a ruling by June. Twenty-six million borrowers applied for forgiveness before the courts intervened, and the Department of Education has approved forgiveness for 16 million. Borrowers could be forgiven up to $20,000 each under Biden's plan.
Bloomberg continues to track the global coronavirus pandemic. Click here for daily updates.
 What you'll need to know tomorrow
For four of the past five years, British bettors have lost more than $17.1 billion (£14 billion) on online casino games, sports betting and other forms of gambling. Fully 60% of the industry's profits come from only 5% of its customers, and as many as 138,000 people in England are classified as problem gamblers—as well as 36,000 children aged 11-16. About 400 suicides, 8% of the total in England, are estimated to be linked to gambling each year, while it disrupts the lives of many more through broken marriages, bankruptcy, homelessness and crime. Now, with more and more states liberalizing gambling laws, one of the fathers of UK online betting says the scourge is coming for America. 
Get the Bloomberg Evening Briefing: If you were forwarded this newsletter, sign up here to receive it in your mailbox daily along with our Weekend Reading edition on Saturdays.
Like getting this newsletter? Subscribe to Bloomberg.com for unlimited access to trusted, data-driven journalism and subscriber-only insights.
Looking for a group subscription? Help your team stay on top of today's business landscape with our discounted group subscription options.
Before it's here, it's on the Bloomberg Terminal. Find out more about how the Terminal delivers information and analysis that financial professionals can't find anywhere else. Learn more.
Older messages
Wednesday, November 30, 2022
Bloomberg Evening Briefing View in browser Bloomberg Proposals to rein in corporate America's galaxy-sized profits may be easy for C-suite executives sitting on fat bags of cash to dismiss, but
Tuesday, November 29, 2022
Bloomberg Evening Briefing View in browser Bloomberg China said it would bolster vaccinations of senior citizens, a move regarded by health experts as crucial to reopening an economy that's been
Monday, November 28, 2022
Bloomberg Evening Briefing View in browser Bloomberg The global economy looks shaky and some of the world's biggest names are firing thousands of employees. For those workers, there's little
Saturday, November 26, 2022
Bloomberg Weekend Reading View in browser Bloomberg For investors keen to see the US Federal Reserve slow the size of its interest rate hikes, this week offered some hope. The bad news is that Fed
Friday, November 25, 2022
Bloomberg Evening Briefing View in browser Bloomberg Beneath the surface of a Wall Street still crowded with bears, some money managers are reacting to the latest signs that a "Fed pivot" has finally