Finimize - 🇺🇸 The US is over-employed
Hi Reader, here's what you need to know for December 5th in 3:05 minutes.
🚀 Sallie Krawcheck has a history of starting things well, including Ellevest, the robo-advisor investment platform that's electrified the world of finance. So it's pretty fitting that she's the one kicking off the Modern Investor Summit tomorrow. Join us to find out how the most powerful woman on Wall Street is preparing for 2023. Get your free ticket
Today's big stories
The US economy added more jobs than expected last month, sparking concerns about further rate hikes

These three things might make you think differently about bitcoin – Read Now

Twitter offered advertisers tasty incentives in a bid to lure them back to the platform
Bad News, You're Hired
What's Going On Here?
According to data out on Friday, the US economy added more jobs than expected last month.
What Does This Mean?
The headlines might make it sound like jobs are hard to come by these days, but mass layoffs at the likes of Meta and Twitter are the exception, not the rule. So sure, the retail, transportation, and warehousing sectors shed workers last month – but leisure, hospitality, and healthcare more than plugged the gap. All in all, the US economy actually added 263,000 jobs in November, breezing past the 200,000 that economists predicted. Plus there are still far more vacant positions than there are workers to go around, so employers are continuing to up wages to attract applicants. No wonder average earnings jumped 0.6% from October to November – the most in a year, and around double expectations.
Why Should I Care?
For markets: Fed up.
The US economy has now added an average of 392,000 new jobs a month this year – a fact that'll do little to calm the Federal Reserve (the Fed), which hammered home last week that job growth's still far too rapid. And now, with rising wages threatening to boost inflation again, all the Fed's hard work could be in jeopardy. That means another 0.75 percentage point hike might be in the cards later this month – a suspicion that sent US markets tumbling when the news broke.

The bigger picture: Putting food on the table.
Inflation's a worry across the pond too, where surging prices are set to make this year's Christmas dinner the most expensive Brits have tasted in at least ten years. Data out on Friday showed that the typical holiday meal will cost 22% more this year than last, as the cost of festive staples from turkey to Yorkshire puddings keeps ballooning. And at 14% more this year, even a cruelty-free vegan option is painful.

Snoop into Berkshire Hathaway's trades
Taking a bit of inspiration from the world's top traders can't hurt.
And you could do a lot worse than checking the holdings of some of the world's biggest asset management firms – Berkshire Hathaway and Soros Capital, to name a couple.
You can do that with moomoo, and that's just the start: you can also access high-tech tools like heat maps, stock comparison metrics, and technical indicators – all in one handy app.
On top of that, you'll enjoy extended trading hours, easy market access, earnings alerts, and super-fast trading.
You can get up to 15 free stocks – each worth up to $2,000 – if you open and fund an account, and you could even win up to $60,000 in moomoo's holiday sweepstakes if you sign up today.
Holiday Magic Sweepstakes Rules
NO PURCHASE OR INVESTMENT NECESSARY. Open to legal residents of the 50 United States (D.C.) 18 years or older who have a user account with moomoo.com. Must have a moomoo user account to enter and a brokerage account to accept the prize. The promotion ends on 1/15/23. See Official Rules for how to enter by mail, prize descriptions, and all details. Void where prohibited.
Free Stock Bonus: The $2,000 value is based on the market price at the time of the gift. Terms and Conditions apply; please visit https://www.moomoo.com/support/topic490 for details. Level 2 data is free to moomoo users that have an approved brokerage account with Moomoo Financial Inc. Securities offered through Moomoo Financial Inc., Member FINRA/SIPC. Investing involves risk and the potential to lose principal. Trading during Extended Hours: Trading Sessions carries unique risks, such as greater price volatility, lower liquidity, wider bid/ask spreads, and less market visibility, and may not be appropriate for all investors.
Addled Over Ads
What's Going On Here?
Twitter's offering all kinds of carrots to lure advertisers back to the platform, according to reports out late last week.
What Does This Mean?
Twitter's feeling the burn right now. As the economy cools and margins tighten, companies are cutting back on advertising budgets left, right, and center. But the cuts are also personal. See, ever since Musk began to relax the platform's moderation policies, brands have been shunning the big blue bird. And we're not talking about small fry: United Airlines, General Motors, and Mondelez are just some of the companies that have stopped running ads on the platform, putting a serious dent in Twitter's $5 billion business. That's bad news for Musk, who's on the hook for $1 billion in yearly interest payments after borrowing big to buy the firm. His solution: offer big spenders all kinds of incentives, like matching spending over $500,000 and boosting impressions for high-rolling firms.
Why Should I Care?
The bigger picture: Actions have consequences.
Maybe firing half of Twitter wasn't so clever: the ads team is now so small that some companies reportedly lack a contact at Twitter, which will hardly help boost sales. What's more, experts aren't sure the firm's incentives will actually have much effect. A hard-won reputation can be destroyed in seconds – and advertisers might decide that Twitter's discounts aren't worth the risk of being associated with questionable content (tweet this).

Zooming out: Tesla aims low.
Musk's got to be careful not to forget about Tesla, his other little hobby horse. Data out last week showed that the firm's still sitting atop the EV throne in the US, with a 65% market share – but that number's down from 79% back in 2020. Still, Musk's got a plan: he recently announced that Tesla has a sub-$30,000 car in the pipeline, which he'll be counting on to win buyers at the lower end of the market.
"This is my answer to the gap between ideas and action – I will write it out."
– Hortense Calisher (an American novelist and short-story writer)

Learn from the best, forget the rest
The crypto market is always moving and changing, so your investment strategy probably should too.
That's easier said than done though, or it was until 3Commas came along…
Their platform, which uses automated bots to make trades, lets you see which strategies have worked best in different market conditions. So you can pick and choose which one to use when.
Whether the market's going up, down, or moving sideways, you can set 3Commas bots up to profit.
And because you can connect to most major exchanges from within the 3Commas platform, you can easily manage all your crypto activities from one place.
You'll even an exclusive 60% discount for Finimize readers if you sign up today.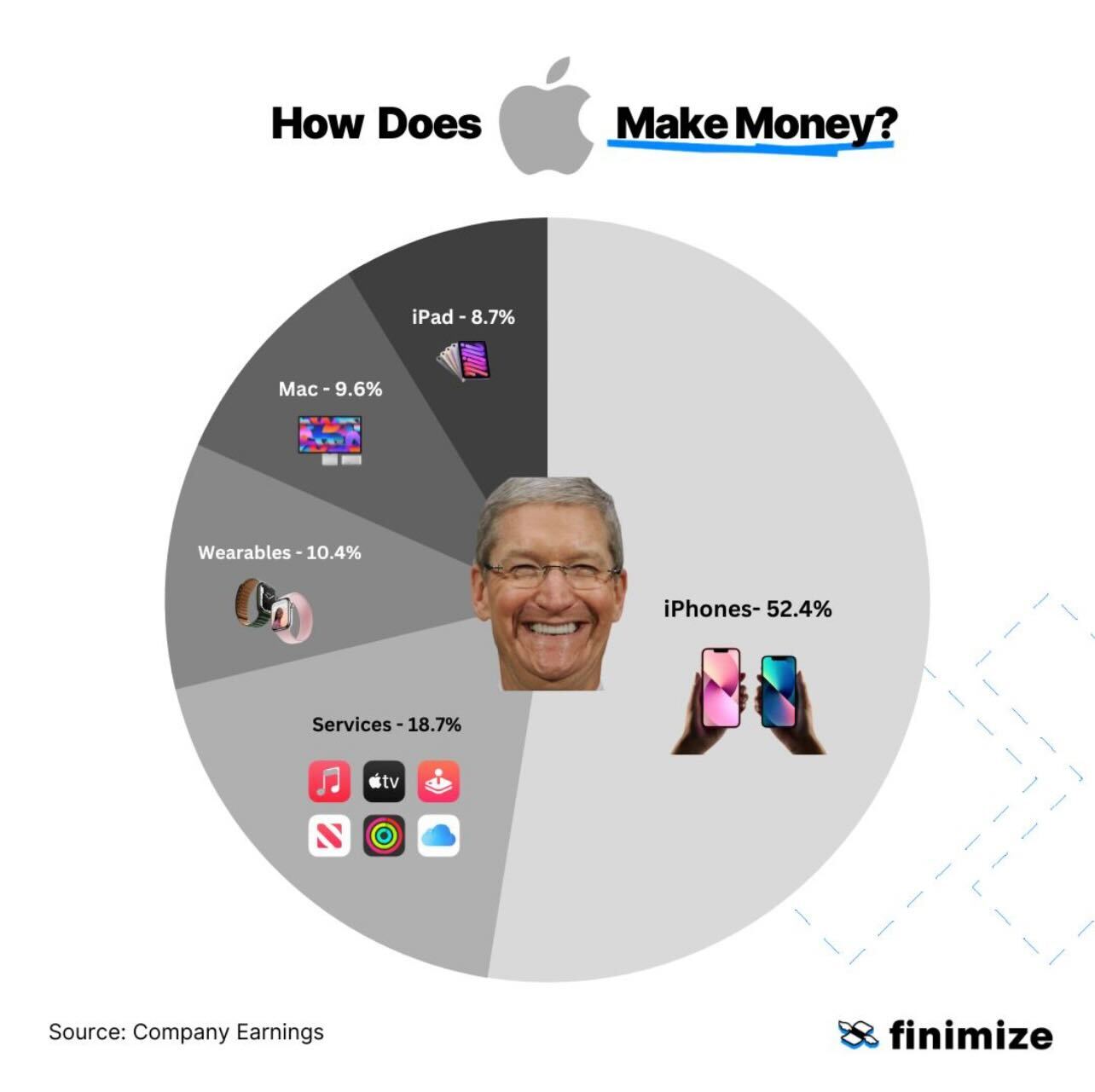 Here's how the biggest company in the world makes its money. The $2 trillion giant raked in an eye-watering $90 billion in revenue last quarter, with a gross margin of 42.3%. Over half of that came from the sale of its flagship product, the iPhone. But as sales of those gadgets start to slow, Apple could find itself relying on its highly profitable services division to plug the gap – so don't be surprised if the segment grows in the future. For more, follow Finimize on Instagram.
Thanks for reading Reader. If you liked today's brief, we'd love for you to share it with a friend.
Older messages
Thursday, December 1, 2022
Salesforce's good results didn't stop shares dipping | House prices kept on slipping | TOGETHER WITH Hi Reader, here's what you need to know for December 2nd in 3:13 minutes. ❷ Two days
Wednesday, November 30, 2022
Klarna's determined to put its losses behind it | Covid played havoc with Chinese business | TOGETHER WITH Hi Reader, here's what you need to know for December 1st in 3:07 minutes. 🌳 Let's
Tuesday, November 29, 2022
EasyJet admitted to another loss this year | HSBC auctioned off its Canadian operations | TOGETHER WITH Hi Reader, here's what you need to know for November 30th in 3:10 minutes. 🛍 Luxury normally
🤫 Psst, we might be past peak inflation
Monday, November 28, 2022
Chinese ecommerce platform Pinduoduo throve last quarter | Prices might finally be about to ease up | Finimize Hi Reader, here's what you need to know for November 29th in 3:11 minutes. ❄️ This
🇨🇳 China stumbled on the starting blocks
Sunday, November 27, 2022
Daily Covid cases hit an all-time-high in China | Holiday sales got the US het up but left Europe cold | TOGETHER WITH Hi Reader, here's what you need to know for November 28th in 3:03 minutes. ⛷