Your Location Changes Your Google Sheets
Hi,
Do you know the "Locale" of your Google Sheets?
Weird question, right?
People ask me all sorts of questions, from around the world. When I write a formula for them, sometimes they get a formula parse error in their sheets. Or if I try to copy a formula from a forum, I too get that same error.
Where we are located, our location, changes the Google Sheet's delimiter in formulas. Watch this video for more
Better Sheets members can watch now on BetterSheets.co/videos.
Everyone else, you got a few hours until you can watch it on YouTube!
I listed all 72 locations (Locales), and what changes based on that location.
​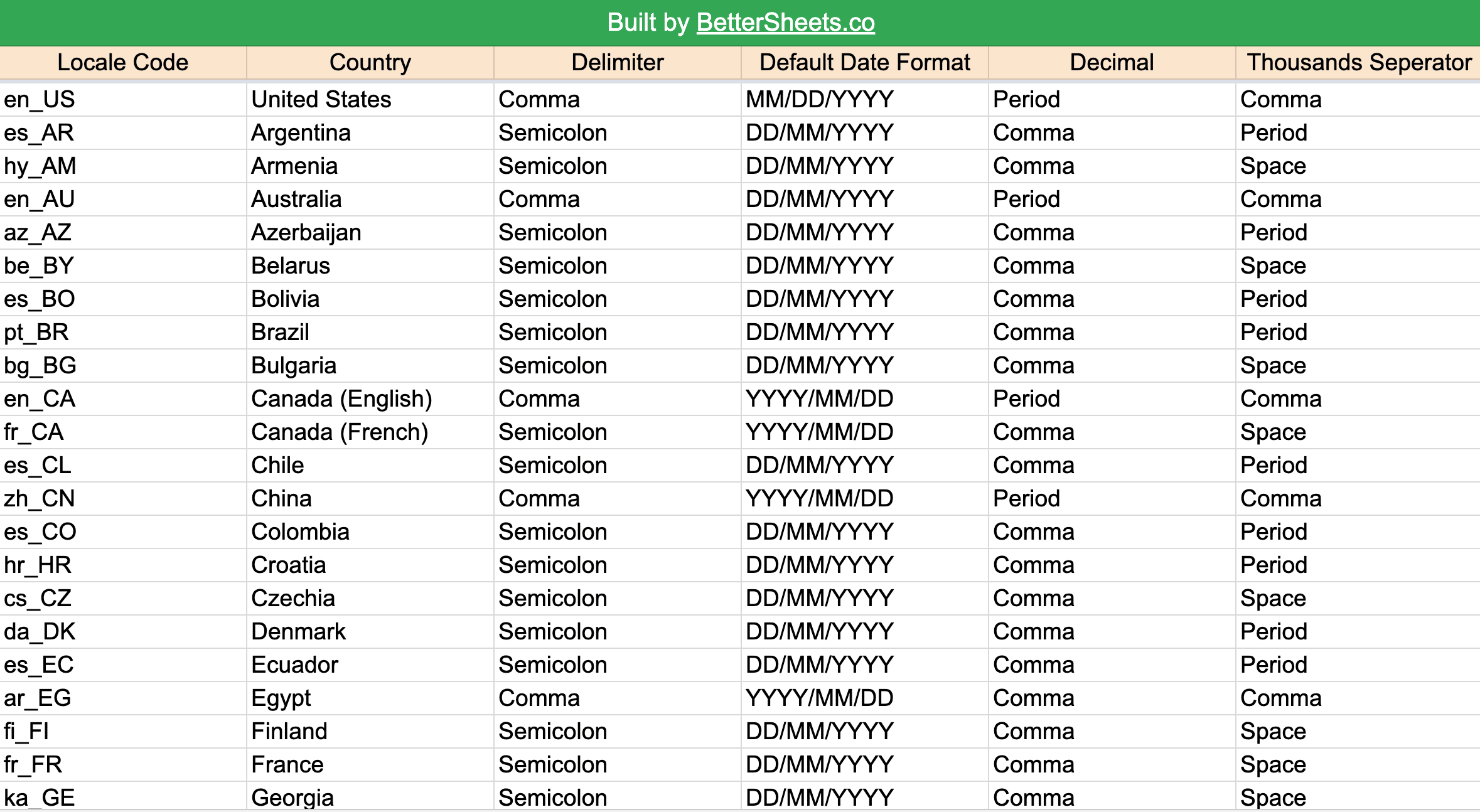 There's also a handy tool for you in case you need to switch out your formula delimiters.

Older messages
Email Yourself From a Google Sheet
Thursday, December 1, 2022
Learn how to email yourself a cell of data from a Google Sheet every single day. ‌ ‌ ‌ ‌ ‌ ‌ ‌ ‌ ‌ ‌ ‌ ‌ ‌ ‌ ‌ ‌ ‌ ‌ ‌ ‌ ‌ ‌ ‌ ‌ ‌ ‌ ‌ ‌ ‌ ‌ ‌ ‌ ‌ ‌ ‌ ‌ ‌ ‌ ‌ ‌ ‌ ‌ ‌ ‌ ‌ ‌ ‌ ‌ ‌ ‌ ‌ ‌ ‌ ‌ ‌ ‌ ‌ ‌ ‌ ‌
Wednesday, November 30, 2022
Better Sheets Friends, Thanksgiving is the holiday of generous portions. Heaping mounds of mashed potatoes. Gluttonous amounts of deals, discounts, and dollars. Leftovers for days. If you didn't
Tuesday, November 29, 2022
Entire Learn to Code in Google Sheets course is free today ‌ ‌ ‌ ‌ ‌ ‌ ‌ ‌ ‌ ‌ ‌ ‌ ‌ ‌ ‌ ‌ ‌ ‌ ‌ ‌ ‌ ‌ ‌ ‌ ‌ ‌ ‌ ‌ ‌ ‌ ‌ ‌ ‌ ‌ ‌ ‌ ‌ ‌ ‌ ‌ ‌ ‌ ‌ ‌ ‌ ‌ ‌ ‌ ‌ ‌ ‌ ‌ ‌ ‌ ‌ ‌ ‌ ‌ ‌ ‌ ‌ ‌ ‌ ‌ ‌ ‌ ‌ ‌ ‌ ‌ ‌
90% off 2 Products | Better Sheets Black Friday Day 7
Sunday, November 27, 2022
What is discounted today? ‌ ‌ ‌ ‌ ‌ ‌ ‌ ‌ ‌ ‌ ‌ ‌ ‌ ‌ ‌ ‌ ‌ ‌ ‌ ‌ ‌ ‌ ‌ ‌ ‌ ‌ ‌ ‌ ‌ ‌ ‌ ‌ ‌ ‌ ‌ ‌ ‌ ‌ ‌ ‌ ‌ ‌ ‌ ‌ ‌ ‌ ‌ ‌ ‌ ‌ ‌ ‌ ‌ ‌ ‌ ‌ ‌ ‌ ‌ ‌ ‌ ‌ ‌ ‌ ‌ ‌ ‌ ‌ ‌ ‌ ‌ ‌ ‌ ‌ ‌ ‌ ‌ ‌ ‌ ‌ ‌ ‌ ‌ ‌ ‌ ‌ ‌ ‌