Morning Brew - ☕ How do you measure, measure an ad?
Today is Friday. Today in We Didn't Know This Job Existed, Netflix is hiring a flight attendant to work on its fleet of jets. Huge news for anyone who dreams of serving ginger ale to the cast of Stranger Things.
In today's edition:
—Kelsey Sutton, Minda Smiley, Jack Appleby
Francis Scialabba
There's no way around it: conversations around media measurement aren't exactly, well, sexy. But in a year where marketing budgets stand to face scrutiny in an economic downturn, the media industry's long-elusive white whale—aka its ability to effectively measure ad views and performance across video platforms—finds itself at a turning point.
Back up: In 2021, Nielsen was stripped of its accreditation for its TV service by the Media Ratings Council, an org that audits media measurement companies. As we wrote last year, that decision "marked an inflection point that prompted broadcasters to envision, for a brief moment, a world without Nielsen at its center." At last year's upfronts, major networks went into negotiations armed with measurement alternatives.
In the last few weeks, there's been a flurry of measurement news and announcements from companies across the ecosystem. Some of the biggest news in measurement land includes:
Netflix expanded its relationship with Nielsen to measure streaming and linear TV audiences in the US, Mexico, and Poland.

Samba TV, a Nielsen competitor, is offloading its media sales business and will instead focus solely on measurement.

Nielsen's TV ad ratings replacement, Nielsen One, officially debuted its ad measurement tool, which promises to tally ad viewership "across screens."

Fox, NBCUniversal, Paramount, TelevisaUnivision, and Warner Bros. Discovery formed a joint industry committee with OpenAP and the Video Advertising Bureau trade group aimed at establishing a third-party measurement certification process that could stand to boost Nielsen alternatives.

Warner Bros. Discovery struck a deal with measurement firm VideoAmp to measure audiences, which it plans to use in addition to Nielsen figures.
The developments, which come as pre-upfront conversations ramp up, seem to underscore just how essential it is for the media advertising ecosystem to have multiple reputable options to measure the reach and effectiveness of advertisements on streaming services as usage continues to climb and as companies like Netflix and Disney+ build out ad offerings.
Rewind: At CES, many meetings with advertisers and agencies inevitably went back to how investment will be measured this year. "That conversation that we're having is, how do you protect your full-funnel marketing investment [and] make it accountable to your actual business in 2023?" Tim Lardner, a client strategy partner at the agency PMG, recently told Marketing Brew.
Both platforms and networks alike have shown they are "willing to invest in resources for measurement differently, because they know that partners are fighting that fight" for ad budgets, Lardner said.—KS
Katie Gatti, author of our Money with Katie newsletter, is obsessed with personal finance—specifically the loopholes, nuances, and big questions that traditional advice tends to lack. Her weekly newsletter takes a spicy approach to spending habits, investing best practices, tax strategies, credit card hacks, and more.
It's time to start manifesting your financial freedom. Sign up today and get simple, practical ways to live a rich life delivered straight to your inbox for free.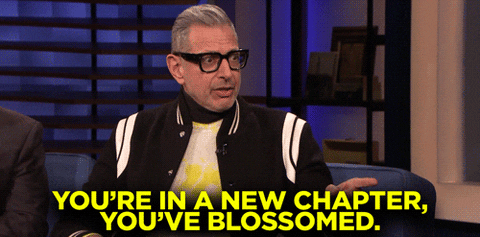 Conan/TBS via Giphy
In C-suite land, it seems like many marketing execs have chosen to start 2023 with a clean slate, aka a new job. There's been a flurry of CMO moves in the past few weeks. To recap:
Heading out: Adobe's longtime CMO hung up her hat after a 16-year run this week, and R/GA's CMO is leaving the agency for a new role, according to Ad Age.
Zooming out: "While new CMOs taking the helm at the beginning of the year is nothing earth-shattering, brands will quickly scoop up heavy hitters who have extensive depth and breadth of experience in leading transformative growth amidst challenging environments," Sally Witzky, senior director and analyst at Gartner, told us.
Plus, she said "more key talent is available" right now as layoffs occur across brands and agencies occur. "Another way to say that is that the marketing executive talent pool is richer for the moment. But as they land jobs like these, we would expect fewer to be as available again. This would include both CMO-level executives and key direct reports they wish to recruit to help them implement the transformations they need to lead."—MS
Francis Scialabba
I had so much fun clacking away at Twitch. As a senior creative strategist, I worked directly with brands and agencies to build wackadoo creative ideas for our streamers. Even crossed off a few dream brands I'd always wanted to work like the NBA and Monster Energy.
When I wasn't brainstorming, I'd be in Q&As with brands dipping their toes into Twitch. And inevitably, most brands would ask me the same question:
"Should we start a Twitch channel?"
No. Please don't. I'm begging you. I'm not saying your brand shouldn't be on Twitch (they should, I'll show you how), but no, do not start a branded Twitch channel. Click here to keep reading.—JA
Francis Scialabba
There are a lot of bad marketing tips out there. These aren't those.
Time to network: LinkedIn's case for why the platform should be a "strategic priority" right now.
How much is too much?: Here's how often you should be posting on Instagram.
Excel to excel: How the software can help your SEO strategy.
Creative freedom: Get over a million stock footage clips, templates, and more with Storyblocks. One subscription provides unlimited downloads with the industry's most straightforward licensing: Download and use what you want, where you want. Forever.*
$250 for your thoughts: Complete this 2-minute survey to help us keep making content you love, and you'll be entered for a chance to win a $250 AmEx gift card. Talk about a win-win.*
*This is sponsored advertising content.
BeReal is a newer social app that's gaining popularity. Founded in 2019, it has recently picked up steam. Download our exclusive report to learn best practices and find out which brands are experimenting with the platform.
Which headlines are real marketing news, and which one is fake?
Keep scrolling for the answer.
Catch up on a few Marketing Brew stories you might have missed.
1. Better luck next time, partner.
Key phrases
Older messages
Friday, January 20, 2023
Tech giant=solar giant? January 20, 2023 Emerging Tech Brew TOGETHER WITH Revela Happy Friday. You know what they say: The more you know, the better you'll be. Good news for you? We figured out how
Friday, January 20, 2023
How the US plans to avert a default...for now January 20, 2023 View Online | Sign Up | Shop 10% Off Morning Brew TOGETHER WITH The Ascent Good morning. It's a winter Friday, and you know what that
Friday, January 20, 2023
Why California's storms won't solve its drought problem... January 11, 2023 View Online | Sign Up | Shop 10% Off Morning Brew TOGETHER WITH Babbel Good morning and Happy National Milk Day—the
Friday, January 20, 2023
Plus, three insights from execs at CES. January 11, 2023 Emerging Tech Brew TOGETHER WITH West Monroe Happy Wednesday. Here's some perspective on TSMC's dominant position atop the semiconductor
Friday, January 20, 2023
Pre-upfront talks at CES. January 11, 2023 Marketing Brew TOGETHER WITH Salesforce It's Wednesday. In what can only be considered the most obvious collaboration since hydrogen and oxygen, Ben