Morning Brew - ☕ Dancing on my own
It's Monday. Tim Hortons settled a class-action lawsuit just as you might expect it to: By offering a free coffee and donut to mobile-app users after the company allegedly collected their location data.
In today's edition:
—Katie Hicks, Jeena Sharma
Francis Scialabba
CMOs aren't exactly known for staying in one place very long.
But that's not necessarily a bad thing: Richard Sanderson, marketing, communications, and sales practice leader at executive search and consulting firm Spencer Stuart, told us that short tenure "does not equal failure," as the firm found that many chief marketers who left between 2019 and 2021 went on to a "similar or bigger role."
Big picture: As executives consider their next step, some are considering whether they want to work full time—or, at least, full time for one company. Enter the "fractional" CMO.
Some see the role as a great opportunity for employees looking for flexibility and different opportunities, and for companies looking to potentially save money.
Wholly fractional
Chief Outsiders is a staffing firm that was created in 2009 to connect businesses with fractional CMOs.
Deborah Fell, managing partner at Chief Outsiders, told us that the firm has worked with more than 1,550 companies to date and saw 25% revenue growth last year.

"When we started, we were explaining what we meant by fractional and explaining the whole concept of how this could work," she said. "We're not doing any more education."
Zoom in: Kristine Ford, fractional CMO at canned-seafood brand Scout, told us she recently decided to take on the role at 20 hours per week in search of work-life balance. "I do think that, especially for smaller companies or companies that don't want to be in a position of potentially laying people off later, if there's a lot of fluidity and fast growth, fractional can be a really wonderful way to be smart about staffing up," she said.
Read the full story here.—KH
It's a new year, spirits are high, and…sales are low? While the holiday season is one of the most significant moments for retailers—bringing in nearly $800 billion annually—that sales rush doesn't last forever. The months that follow can pose a serious financial challenge for businesses that aren't prepared to combat it. Revitalize your sales with Retail Brew's guide.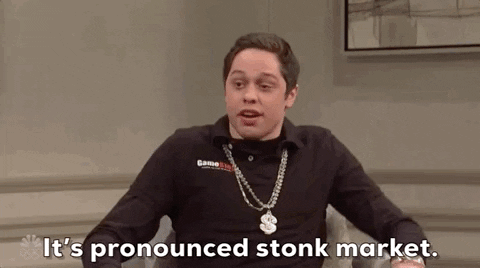 Saturday Night Live/NBC via Giphy
We all know the drill: When the market gets tough, marketing is often first on the chopping block.
Based on quarterly results from platforms and media companies, one could conclude that a number of advertisers are, in fact, pulling back spend:
Some companies, like Match Group, told investors that they reduced their marketing spend in the last quarter. Others, like SiriusXM, said they've started making marketing cuts and plan to continue doing so in the coming months.
But then…there are companies like McDonald's, which attributed revenue growth to its marketing investment (in addition to "strategic menu price increases"). On its earnings call, CEO Chris Kempczinski said McDonald's is "in the strongest position it's been in years," due in part to its "best-in-class marketing engine." The fast-food giant highlighted last year's Cactus Plant Flea Market and McRib campaigns as particularly successful.
And while some platforms are seeing slowdowns, podcast streamers appear to be less affected. Despite missing estimates, Spotify reported a 14% YoY growth in quarterly ad-supported revenue and a "mid-30% range" YoY growth in podcast revenue.
Agency holding group Publicis also reported 9.4% growth in organic revenue. While CEO Arthur Sadoun acknowledged some "traditional marketing spend cuts at the local level here and there," he said the company has not seen "a major change in client behavior when it comes to their spend so far." Other agency holding companies, like Omnicom and IPG, are set to release their Q4 results in the coming week.
So what's the overall takeaway? Like Nancy Meyers's 2009 sleeper hit, for now, it's complicated.—KH
Forever 21/Bolt
Retail Brew's Jeena Sharma recently talked to Forever 21's CMO about the company's new "one-click checkout solution." Read a snippet below or click here for the full story.
"If you look at a normal checkout, you go into your cart, create an account, a username and password, and once you do that, you then have to go through and fill out the steps," Jacob Hawkins, chief marketing, digital, and omni officer at Forever 21, told Retail Brew. "It ends up being a five-step process. The nice piece with this is literally you go on…you've already created all your information there. You select your ship, [and] your default billing information pops up, and you're right through it in one click. So it just abbreviates the process dramatically."
Francis Scialabba
There are a lot of bad marketing tips out there. These aren't those.
Reels: Four logo design trends you might want to keep an eye on this year.
Listen up: A series of podcast marketing stats live inside this infographic.
Magnifying glass: A closer look at DOJ's Google lawsuit.
Go glocal: The top-down approach to branding just doesn't work anymore. Frontify's report with WARC dives into all things global brand governance, plus how you can execute your global brand strategy and empower local markets.*
*This is sponsored advertising content.
Tumblr
An Oreo ad from the '60s. We'd like to see this doctor's credentials.
Catch up on a few Marketing Brew stories you might have missed.
Key phrases
Older messages
Monday, February 6, 2023
Why Biden waited to bring down the Chinese balloon... February 06, 2023 View Online | Sign Up | Shop 10% Off Morning Brew TOGETHER WITH Huel Good morning. One small formatting update before we get into
Sunday, February 5, 2023
British Columbia embarks on a controversial experiment... Together with Apollo Global Management February 05, 2023 | View Online | Sign Up | Shop 10% Off The fabled green comet. Dan Bartlett/AFP/NASA/
Saturday, February 4, 2023
Why it looks like the laws of economics no longer apply... February 04, 2023 View Online | Sign Up | Shop 10% Off Morning Brew TOGETHER WITH Droplette Good morning. On this day 19 years ago, Harvard
Friday, February 3, 2023
Beauty brands reformulate to be clean and vegan. February 03, 2023 Retail Brew TOGETHER WITH Printful Enterprise Hello there. Is your schedule so packed you can't even remember the last time you
Friday, February 3, 2023
Plus, retailers and robots. February 03, 2023 Emerging Tech Brew TOGETHER WITH Vanta Happy Friday. Meta reported earnings Wednesday night, and in a surprising turn of events given the state of the tech