Foundr - 75% Off - Limited Time
Hi ,
Right now during our Biggest Birthday Sale Ever, we're giving you…
75% off any of these 10 courses below…
Plus you get to choose another one absolutely FREE!
As a bootstrapped business, we started from humble beginnings and 10 years later we're still here. All made possible by people like you and our incredible community.
We want to help you create a business that can say the exact same thing! So right now take advantage of the best deal we've ever offered and the shortcuts you need to build your own business right now…not later.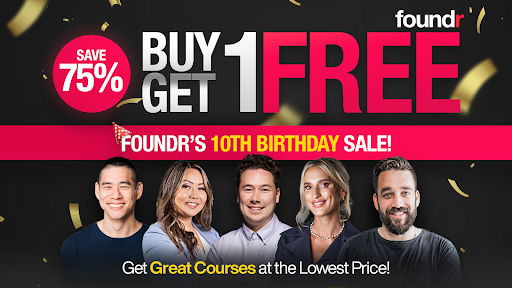 Here are the 10 premium courses you can choose for free:
START & SCALE YOUR ONLINE STORE 
Shopify Build-A-Business winner and 4x multi-million dollar founder Gretta van Riel gives you her exact step-by-step formula for launching million-dollar ecommerce brands from scratch.
Using what we call the "Instagram Domination Method" helped take us from zero to more than 3.5M followers while adding 500 to 1,000 new followers every single day. It will quickly help you grow to 10k followers and beyond.
$100M spend on Facebook ads, 150+ different businesses, 1 proven formula. That's the insane resume of one of the world's most renown Facebook advertisers, Nick Shackelford. His unique system will help you consistently create high-converting Facebook ads.
In this course, we've brought in 5 world class ecommerce founders to do a deep dive into each of their unique "scaling superpower". In this 9+ hour monster program, they'll help you scale your ecommerce store to the million-dollar mark and beyond.
Tommie Powers is referred to as the "OG" of YouTube advertising. He helped take Organifi from $0 to $30M in 3 years and his ads have generated well over $500M in revenue for his clients and partners. If you're ready to finally crack YouTube ads, this is for you.
Melisa Vong has started, scaled, and sold 2x multi-million dollar brands on Amazon while generating more than $20,000,000 in sales. In this course you'll get her step-by-step framework for helping beginners "replace their 9-5 income" with Amazon FBA.
This course contains the exact roadmap our team has used to create 100 different online courses and build a multi-million dollar company from scratch! Turn your unique knowledge into a 2nd income stream or add even more value to your community with your own course.
Reach the fastest-growing new audience online to quickly grow your business by leveraging the decade's newest marketing trend: short-form videos. This course reveals a step-by-step proven framework to creating TikTok ads that sell while emulating the look and feel of organic posts.
Learn how to meet 10-20 highly qualified leads every week almost free with AJ Cassata's smart outreach system.Costs next to nothing to use and works without you needing ads, marketing experience, a social media presence, or even an email list.
Learn how to go from a "one person shop" to starting your own highly profitable digital agency. Award winning agency owner Dee Deng will show you how to create a sustainable business on your terms with just one funnel and 2-3 lighthouse clients.
Remember, during this special "BUY 1 GET 1 FREE" Birthday deal…
When you purchase one of the courses above at 75% off…
You'll get another one of your choosing at no additional cost!
We've helped thousands of students build life changing business with just the ideas from one of these courses, and now is your chance to get two for less than the price of one.
Don't miss out on this deal.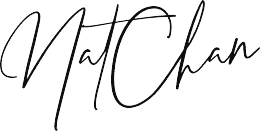 Nathan Chan
CEO, Founder of Foundr
P.S. For the next few days only, when you buy a course we're giving you another one for free. That even includes all the special bonuses and private communities.
Click on the course specific links above for more details.
FYI: Deal ends for good Mar 5th.
P.P.S. If you're not interested to hear more about our Birthday Special, click here and we will only send you relevant content. 
Key phrases
Older messages
Monday, February 27, 2023
The proven step-by-step blueprint. Hi , Our industry-leading Start & Scale program has helped thousands become their own boss by launching their dream ecommerce business. Like Renee who made $12k
Buy 1 For 75% Off + Get 1 Free
Sunday, February 26, 2023
Start your business even faster. Hi , 10 premium foundr programs absolutely free… When you take advantage of our Buy 1 Get 1 Free Birthday Sale! If you want to quickly build your dream business while
Saturday, February 25, 2023
Bringing back the biggest sale we've ever done… Hi , It's baaaackkk! This was one of the most popular deals we ever made and many of you have been constantly asking us to re-release it as you
She HATED me before I launched foundr
Friday, February 24, 2023
And she never tried to even hide it… Hi , 10 years ago I was working full-time in IT. I had a job I didn't like and a boss who hated me. I'm not joking, she seriously hated me. So naturally,
Yes, horses made Nadine quit her 9-5
Thursday, February 23, 2023
She turned her passion into $40k/mo. Hi , Since she was a young girl, Nadine has always loved horses. So while still working a full-time office job, she launched an online store selling horse saddles.