Demand Curve - The Growth Newsletter #110
The Growth Newsletter #110

Hey everyone! 
This week we cover averted gazes, TikTok growth, and gamified free trials.
But first I want to announce some upcoming changes to the newsletter.
Ultimately, we want the value ratio for our readers to be super high. So as of April we'll be shifting to just a couple, small, text-only sponsor mentions at the top of each newsletter.

(We'll also be switching to self-serve, more affordable sponsorships for those interested.)
Thanks for being a reader and supporting DC! We're a scrappy bootstrapped team who's constantly playing around and experimenting. And our north stars are: 1) high-quality and novel content, and 2) giving more value than we take.
If you ever have feedback or ideas for us, please hit reply. We read every email :).
As always, if you don't find this valuable, you can unsubscribe at the bottom of this email. If you like it, tell your friends to subscribe here. It's the number one way to support the newsie.
–Neal
Together with Vanta
Do you need a SOC 2?
Vanta, the leading Trust Management Platform, has a one-of-a-kind program where they'll work closely with you to get your SOC 2 in just 2 weeks.
Close more deals, hit your revenue targets, and start laying a foundation of security best practices. Due to the white-glove support offered, spots are limited.
Complete the form to learn more and see if you qualify.
1. Sometimes eye contact isn't ideal
Insight from Katelyn Bourgoin.
In a previous newsletter, we shared an AI tool that maintains eye contact in videos.
But eye contact isn't always the best option.
Studies show that ads using averted gazes lead to more attention toward the product, and more memorable ads.
We're hardwired to notice faces. And when you see eyes looking over at something else, you're naturally drawn to look, too.
See for yourself 👀
This same tactic can be used on landing pages and product photos. Use your models' eyes to make people look where you want them to—your product, your CTA, or where you want them to go next.
This can also apply to social media profile photos. The direction your profile photo faces can make it either feel like you've got your back to your post, or like you're facing it.
Which of these looks better? I bet you it's the first one.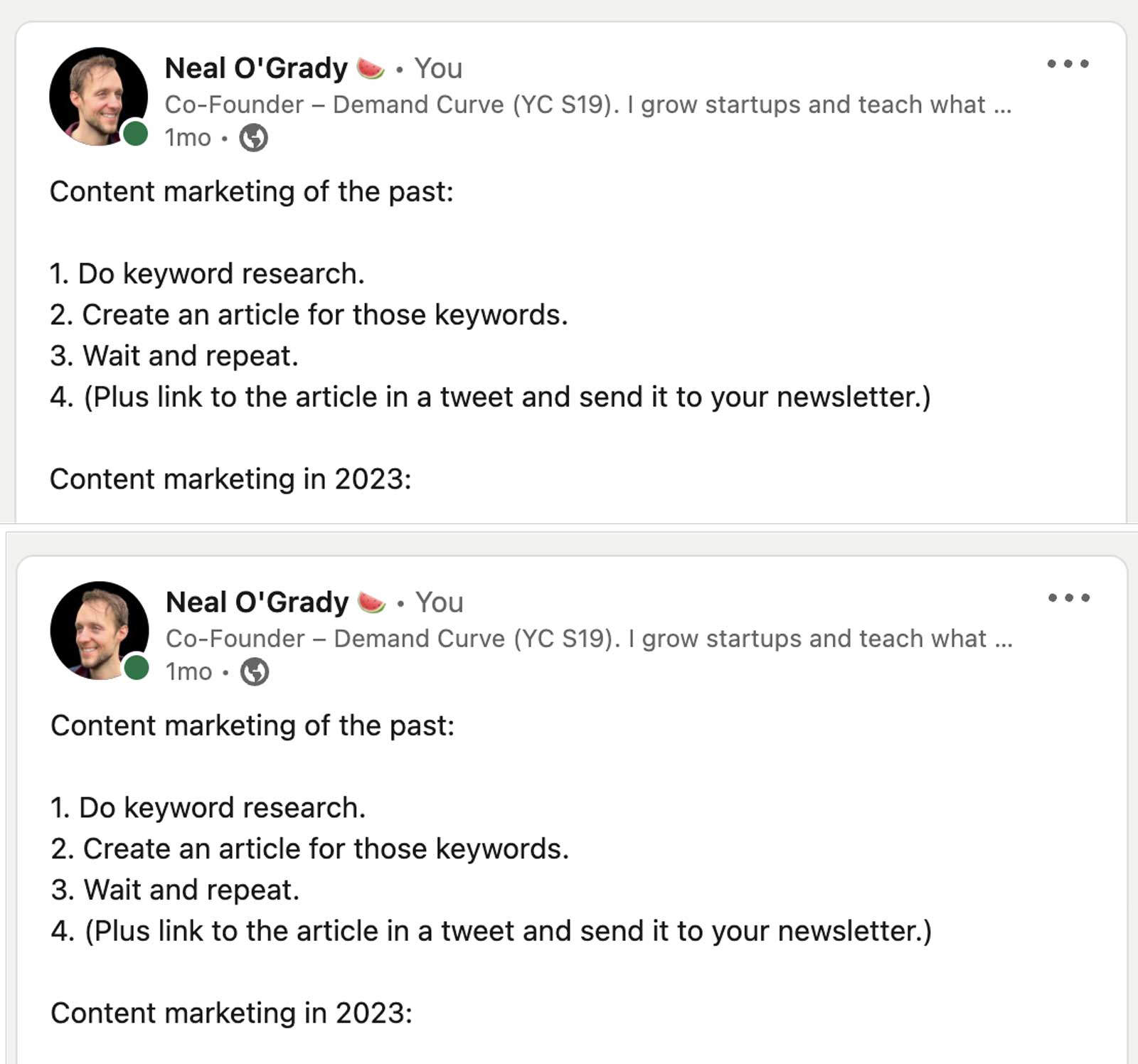 2. Lessons from 55k TikTok followers in six weeks
Insight from Nat Eliason.
Nat Eliason grew his TikTok account from 400 to 55,900 in just six weeks.
The key to his growth? Well, there wasn't one—you can't easily "game" TikTok.
Instead, here are seven of Nat's findings that'll raise your chances of success.
🎯 Choose a niche where you have an "unfair advantage." Think hard about what would make your content hard to replicate. Nat chose non-fiction books since he has detailed notes about 300+ books.
Ali Abdaal's unfair advantage for his "how to get into medical school" YouTube channel was that he was already in medical school.
🧠 Take a SEO-inspired approach to content ideation. First look through the top 5-10 accounts in your niche and see what topics have done well. Then type those topics into the search bar—you'll see variations appear below, just like Google's related keywords. Also look at the search results' "Others searched for" section for ideas.
🐑 Don't prioritize making videos for the latest trends. Yes, creating for the latest viral trend can help get more views, but these trend-inspired videos often don't explain why your account is worth following. They often get lots of engagement—but few followers.
Make these vids only if a trend fits your content, topic, and style.
🖥️ Edit your footage on a computer, not your phone. It's a lot more efficient and powerful. Nat recommends using Final Cut Pro or Adobe Premiere. But use TikTok to add captions.
🚀 Your videos need strong hooks to actually take off. The first 2-3 seconds are the most important. We talked about hooks last week.
🪝 Also include a hook in the description. It'll give people another reason to watch in case they read the description first. Example: The description for a video giving three tips on something could say, "The 3rd helped me the most."
💬 Commenting on other videos won't help your own account performance. It's helpful, however, for connecting with other creators. Just focus on making really good videos.
3. Gamify your free trials
Insight from Swipe Files.
When we think of product gamification, we usually think of B2C apps and referral programs—Duolingo being one of the shining examples of gamification done right.
Turns out gamification can also work for B2B SaaS products.
Just take a look at the B2B scheduling software company Deputy. It gamifies onboarding tasks as part of its free trial:
What do users earn for completing tasks? Extra days for their trial.
It's a total win-win: Users get to extend their trials and along the way, become more likely to reach the "aha" moment of product activation. Aka the turning point where the odds of becoming a paying customer spike—because they saw actual value from the product.
If you offer a free trial for a SaaS product, consider giving this strategy a shot.
News you can use:
Podcast we're loving: Marketing Against the Grain*

Kipp Bodnar (HubSpot CMO) and Kieran Flanagan (Zapier CMO), lead you down the rabbit hole of marketing trends, growth tactics, and innovation. These are not your typical Twitter-thread-regurgitated marketing tactics. These are new methods, with unfiltered examination of successful fresh ideas.
Check out their episode: The 5 Marketing Mistakes that are Killing Your Business

Here at DC, we're huge advocates for the importance of brand, so we're big fans of this episode. Kipp and Kieran break down why hiring solely for experience is wrong, why "Best Practices" aren't always the best, and other common brand misconceptions.
*Sponsored by Hubspot
Top new marketing jobs
If you're looking for a top growth role, check out the opportunities below from our job board.
What did you think of this week's newsletter?
Loved it | Great | Good | Meh | Bad
If you enjoyed this, please consider sharing it with a friend. The number one way to support us is to share us with fellow founders and marketers.

Who's Demand Curve?
We're on a mission to help make it easier to start, build, and grow companies.
We share high-quality, vetted, and actionable growth content as we learn it from the top 1% of marketers. We democratize senior growth knowledge.
How we can help you grow:
See you next week.
— Neal, Grace, Joyce, Dennis, and the DC team.
© 2023 Demand Curve, Inc. All rights reserved.
4460 Redwood Hwy, Suite 16-535, San Rafael, California, United States
Unsubscribe from all emails, including the newsletter, or manage subscription preferences.

Key phrases
Older messages
New Sprint: Creative Strategy (20% off)
Monday, March 6, 2023
Hey there, Paid marketing is dying. Most marketers think this is true. They see things like: random spikes in growth but nothing meaningful metrics constantly going in the wrong direction And no matter
Tuesday, February 28, 2023
Emotional hooks, value prop stories, and useful ChatGPT prompts. ‌ ‌ ‌ Demand Curve The Growth Newsletter #109 Read on our site Hello and welcome! This week we cover emotional hooks, value prop stories
Wednesday, February 22, 2023
Free invites, "so what?", and network bootstrapping. ‌ ‌ ‌ Demand Curve The Growth Newsletter #108 Read on our site Welcome to another week! I know. The logo is weird. That was my best
Tuesday, February 14, 2023
Interface Interruption, spy recruitment, and warm outreach. ‌ ‌ ‌ Demand Curve The Growth Newsletter #107 Read on our site Hello everyone, welcome to another week. Two groups of people were extremely
Tuesday, February 7, 2023
Viral weirdness, instant gratification, and pattern interrupts. ‌ ‌ ‌ Demand Curve The Growth Newsletter #106 Read on our site Hello. Hi. Hey. Howdy. Greetings. Salutations. Wassup. Happy February to