Morning Brew - ☕ Mansions for sale
| TOGETHER WITH | |
| --- | --- |
Good morning. On this day in, well, we honestly have no clue what year, the One Ring was destroyed in the fires of Mount Doom, leading March 25 to be celebrated around the world as Tolkien Reading Day.
Let the anniversary of the One Ring's destruction inspire you to use today to try and let go of anything that may be weighing you down, or consuming your thoughts, or letting you understand the speech of evil creatures, or extending your life indefinitely, or allowing you to manipulate the wills of other beings, or transporting you into the wraith-realm.
—Sam Klebanov, Neal Freyman, Jamie Wilde, Abby Rubenstein
| | | | |
| --- | --- | --- | --- |
| | Nasdaq | 11,823.96 | |
| | | | |
| --- | --- | --- | --- |
| | S&P | 3,970.99 | |
| | | | |
| --- | --- | --- | --- |
| | Dow | 32,237.53 | |
| | | | |
| --- | --- | --- | --- |
| | 10-Year | 3.376% | |
| | | | |
| --- | --- | --- | --- |
| | Bitcoin | $27,376.25 | |
| | | | |
| --- | --- | --- | --- |
| | Activision | $84.39 | |
*Stock data as of market close, cryptocurrency data as of 3:00am ET. Here's what these numbers mean.
Markets:

Stocks closed out a wild week of ups and down on an

upswing

yesterday, with the markets overcoming continued concerns about the banking industry.

Stock spotlight:

Activision Blizzard got a boost after UK regulators said they no longer believed that Xbox-maker Microsoft buying the company would hurt competition in the console gaming market. By narrowing the scope of their investigation, they removed one hurdle standing in the way of the deal closing.
Lena Wagner/Getty
If you're in the market for a 12-bedroom near your celebrity crush, now might be the best time to put in an offer. High-end homeowners in Los Angeles are racing to sell their properties before a so-called mansion tax kicks in on April 1.
What's with the tax?
LA residents voted to pass the additional real estate sales tax on luxury properties last November. Proceeds will go toward expanding the supply of affordable housing in the city and helping people at risk of homelessness.
Sellers will pay a 4% city tax on transactions over $5 million but under $10 million.

Homes that go for $10 million or more will be taxed at 5.5%.

The city expects the measure to raise $672 million for its housing programs.
Mansions hit the market
The impending tax prompted many homeowners to hurriedly pitch a "for sale" sign in their front yards to avoid steep payments later. For example, the seller of this $44.5 million listing with serious amenities (wine cellar, spa, sauna, and movie theater) could be on the hook for over $2.4 million if it fails to sell by next Saturday.
Some sellers are offering steep discounts to attract buyers: The owner of a 260-acre undeveloped tract in Bel Air is willing to slash $2 million off the price for anyone who's ready to close a deal before April 1.
Industry not pleased
The fiercest resistance to the tax came from folks in the real estate business; particularly, realtors and developers.
Real estate agent Emil Hartoonian told The Hollywood Reporter he expects luxury homes to fall in value, as they'll be sold at a discount to offset the tax.

Critics say the tax could inhibit new construction since the extra costs will also be imposed on commercial and multifamily developments.
But proponents note the tax will affect only 4% of homes in LA and could help fix its housing crisis. (Beverly Hills is its own incorporated city and not impacted by the change.)
Big picture: LA is home to over 69,000 unhoused people, and the city consistently ranks as one of the least affordable housing markets in the country.—SK
The most common joint disease in the world causes debilitating pain, robbing patients of the joys of life. The villain? An incurable cartilage-degrading disease called osteoarthritis (OA). Now this villain has met its match.
Cytonics' flagship medical device treatment for OA targets the disease using a naturally occurring protein found in patients' blood, providing long-term relief by promoting cartilage regeneration. Now they're developing a more potent pharmaceutical solution capable of eradicating the disease entirely.
Cytonics' resume speaks for itself:
8,000 patients successfully treated with their flagship FDA-approved OA therapy 

22 US and international patents protecting their proprietary technologies

backed by Johnson & Johnson®
Join them on their mission to eradicate OA by investing ahead of phase 1 human clinical trials. But don't wait—invest in Cytonics before the March 30 deadline.
NOAA/NASA EPIC Team
A "city-killer" asteroid will pass by Earth today. Although this type of asteroid gets its unfriendly name because it's technically big enough to wipe out a city (it's somewhere between 131 and 328 feet in diameter), astronomers say there's no need to fear a Don't Look Up-type disaster. Instead, the asteroid, known as 2023 DZ2, will float harmlessly by us about halfway between the Earth and the moon at roughly 17,400 miles per hour. NASA says the benign flyby presents a good opportunity to measure and learn about the asteroid.
The US and Canada reached a deal on asylum-seekers. President Biden traveled to Canada to meet with Prime Minister Justin Trudeau, and the pair announced an agreement to try to address the use of a popular unofficial border crossing between New York and Quebec. Previously, migrants who made it across the border at unofficial crossing points without getting stopped were able to stay in Canada to seek asylum., but the new policy—in effect today—calls for people without US or Canadian citizenship to be sent back to the US within 14 days of crossing the border without permission.
Everyone's moving money around. Regulators around the globe have been working overtime to keep the collapse of Silicon Valley Bank from spiraling into a full-blown banking crisis, but depositors are still wary of keeping their money in institutions that suddenly look a lot less stable than they used to. In the US, ~$550 billion has been yanked out of smaller and regional banks and put into large banks and money market funds in the weeks since SVB and Signature imploded, a recent estimate by JPMorgan determined.
Daniel Roland/Getty Images
Is it even a Friday in March 2023 if a bank's stock isn't tanking over concerns of a default?
German giant Deutsche Bank kept the streak alive yesterday when its shares sank 8.6%. What sparked the sell-off? A Thursday night jump in the company's credit default swaps, which act as insurance for bondholders against default risk.
Coming less than a week after Credit Suisse was forced into a humiliating takeover by rival UBS, Deutsche Bank's stock drop sparked some worries that it could be the next iconic European lender to crumple.
But hold your comparisons. While both banks have been in restructuring mode, Deutsche Bank has successfully steered its ship into calmer waters. It's just come off its most profitable year since 2007, and it hasn't seen a recent outflow of deposits like Credit Suisse had.
Which is why the sell-off befuddled many Wall Street experts. Citigroup analysts called it an "irrational market" and suggested that "media headlines" could be spooking depositors.​​
Bottom line: Analysts are using "irrational" to describe the market post-SVB collapse, but maybe the better word is "hangry." Make one wrong move, however small, and it'll snap at you.—NF
Award-winning trading. Enjoy a smoother trading experience with Fidelity. They have real-time alerts and insights to help when you want to buy + sell, and Fractional Shares let you purchase a li'l slice of your favorite companies + ETFs. Plus, trading stocks + ETFs is commission free and their mobile app is easy to use. Open your account.
Hannah Minn
Call ChatGPT Pennyworth, because it can now order groceries for select users on Instacart, book travel on Expedia and Kayak, and make restaurant reservations on OpenTable. The artificially intelligent tool's creator, OpenAI, added support for a wide variety of plug-ins yesterday—multiplying ChatGPT's use cases by roughly one gazillion.
The update doesn't just pad ChatGPT's personal assistant resume. It also connects the AI tool to real-time info from the web.
Previously, when a user asked ChatGPT to write an essay about Selena Gomez and Hailey Bieber, for example, ChatGPT could only reference the information it was originally trained on.

But now, it can look up and use the latest tea circulating online.
In addition to the apps already mentioned, ChatGPT ChatGPT can now sync up to FiscalNote, Klarna, Milo, Shopify, Slack, Speak, Wolfram, and Zapier. OpenAI is also hosting two plug-ins for the Chatbot to use, one that allows ChatGPT to browse the web and another to interpret the coding language Python.
One example of how that all comes together: ChatGPT could find a recipe by browsing the web and add its ingredients to Instacart.
Looking ahead…the new functionality is only available for select users at the moment, but once OpenAI works out any v1 issues, it's planning a wider rollout. It'll also add more plug-ins.—JW
Lacey Terrell/Prime Video

Stat: The fictional 1970s band Daisy Jones & the Six is finding real musical success in 2023. Songs from Aurora—the real album recorded to go with the Amazon Prime series based on the novel that invented the fake band—have been streamed 30+ million times. The band's Fleetwood Mac-style jams hit No. 1 on iTunes, and it's become the first band from a scripted series to rise to the top of Billboard's emerging artists chart (take that, Partridge Family).
Quote: "Peanut butter…a liquid has no definite shape and takes a shape dictated by its container."
The TSA has once again waded into the sticky debate over whether or not peanut butter is a liquid, and it's maintaining its unpopular stance that your Skippy is in a fluid state. The agency reiterated its unsolid opinion after podcaster Patrick Neve tweeted, "I tried to take peanut butter through airport security. TSA: Sorry, no liquids, gels, or aerosols. Me: I want you to tell me which of those things you think peanut butter is." But, despite the internet's quest for nut butter justice, you'll still need to put it in your checked baggage or those travel-sized containers.
Read: The internet loves bad news—and that's bad. (The Atlantic)
Think fast: This game tests your reaction time.
Dinosaurs, epic battles, and stirring songs: Scientists compiled a list of video clips that'll give you the chills.
AI images are getting good: Here's how to spot a deepfake.
Leave the oven off: Recipes for cookie dough that's safe to eat raw.
No more nasty trash: Keep your kitchen — and the planet — clean with Mill. Leaders from Nest and Apple created this smart bin so you can turn would-be food waste into food for chickens. Learn more.*
*This is sponsored advertising content.
Brew crossword: With clues about science, literature, sports, and geography, today's crossword will put your general knowledge to the test. Play it here.
Open House
Welcome to Open House, the only newsletter section that is desperately motivated to sell. We'll give you a few facts about a listing and you try to guess the price.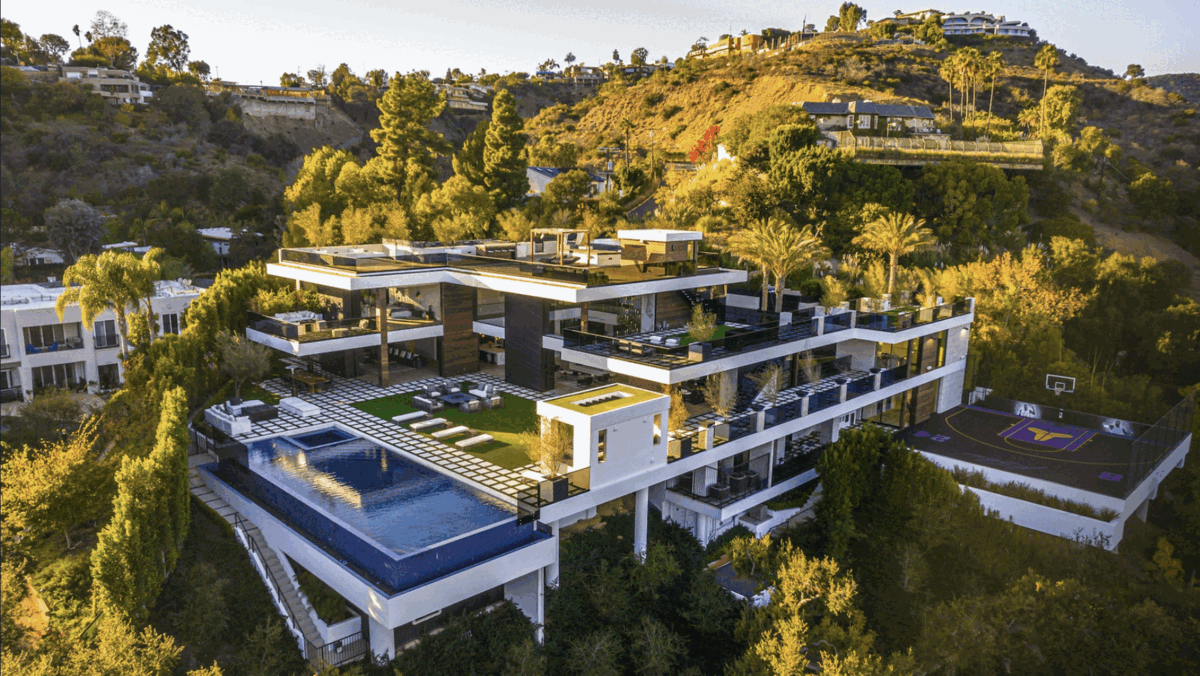 Ikon Advisors
Today's mega mansion is a roughly 16,700-square-foot property in LA that boasts a 10-foot-wide fireplace and a 70-foot-long infinity pool. And as you may have heard, LA's about to enact a mansion tax, so the current owners are in a time crunch to sell. Amenities include:
7 beds, 11 baths

Kobe Bryant-themed basketball court

Bunch of inside walls covered in living moss
How much for this Brentwood bargain?
Prepping for one of those dreaded conversations at work? That's where we come in. The Brew's one-week online course, Difficult Conversations at Work, gives you the tools to effectively, confidently, and effortlessly communicate to solve issues. Enrollment closes on Monday, March 27, at noon ET. Register now.
Don't be scared of personal finance—embrace it. Subscribe to Money Scoop and get smarter about your money.
IT teams are no strangers to burnout. Get a CIO's take on preventing it and keeping your team motivated. Read more.
✢ A Note From Cytonics
This is a paid advertisement for Cytonics' Regulation CF Offering. Please read the offering circular at invest.cytonics.com.
✳︎ A Note From Fidelity
$0.00 commission applies to online U.S. equity trades and exchange-traded funds (ETFs) in a Fidelity retail account only for Fidelity Brokerage Services LLC retail clients. Sell orders are subject to an activity assessment fee (from $0.01 to $0.03 per $1,000 of principal). Other exclusions and conditions may apply. See Fidelity.com/commissions for details. Employee equity compensation transactions and accounts managed by advisors or intermediaries through Fidelity Institutional® are subject to different commission schedules. 
ETFs are subject to market fluctuation and the risks of their underlying investments. ETFs are subject to management fees and other expenses.
Fidelity Brokerage Services, Member NYSE, SPIC. © 2023 FMR LLC. All rights reserved.
Key phrases
Older messages
Friday, March 24, 2023
Can packaging solve the soggy french-fry dilemma? March 24, 2023 Retail Brew TOGETHER WITH Flowspace Hello, and happy Friday. We know reading the news can seem like an exercise in managing anxiety
FW: 📅 Group discounts now available
Friday, March 24, 2023
Join us on May 11th Hi there, Your work day is nearly over, but the clock is still ticking ⏱️ to buy discounted tickets to The Brief in NYC on May 11th. Here at the Brew, we're fans of efficiency.
Friday, March 24, 2023
All eyes on TikTok. March 24, 2023 Marketing Brew TOGETHER WITH Intuit Mailchimp Happy Friday. First it was Wendy's selling its own version of the snack wrap, now Dunkin' is selling breakfast
Friday, March 24, 2023
Some consumers are reportedly opting to not connect their internet-enabled devices at all. March 24, 2023 Emerging Tech Brew TOGETHER WITH AT&T Welcome to Friday. People keep asking if we're
Friday, March 24, 2023
Congress unloads on TikTok's CEO... March 24, 2023 View Online | Sign Up | Shop 10% Off Morning Brew TOGETHER WITH SmartAsset Good morning. Wanna retire young? Be more like Ash Ketchum. The beloved