Foundr - [48 hours to go] 's digital agency?

Hi ,
In less than 48 hours, this Digital Agency Owners' Sale where you get a 75% discount and a full Foundr course for free comes to an end. (more on the free course in a second!)

Yup, we're keeping it short and sweet. 
Only for those who want to start or grow their digital agency real fast! 
Now, granted, just enrolling today won't magically get you the award-winning creative agency you've been dreaming about these days.
There's work to do.
On the very top of the things to do is creating a list of clients that you would love to have.
You'd be surprised how many agency owners… the struggling ones, I should add… work without this list.
It's a simple list but should not be based on who can get you the most revenue and recognition.
Instead, ask this:


What kind of clients get you excited?



What quick wins can you deliver to build your reputation fast?
Next on your to-do would be ways to book a meeting with these clients.
Even if it's just you offering to provide value, a face-to-face meeting can do wonders to boost your morale. 
Especially when you're starting new.
Plus, it helps you grow your network. 
Which is the next thing on your to-do list. 
As an agency owner, you need to always be thinking in terms of network. 
The bigger the network, the higher the chances of success.
💡Now, a little tip: an often overlooked aspect of meeting people and building your network is your wardrobe—you have to upgrade yours because people do judge the book by its cover. 
You can do years of trial and error on all of these things…
Or get it all handed over to you on a silver platter here.

Dee Deng, founder of Right Hook Digital, an award-winning digital agency, which hit $250K...in monthly revenue (monthly!) in just 14 months…guides you step-by-step through all of it in the Ignite Your Digital Agency course.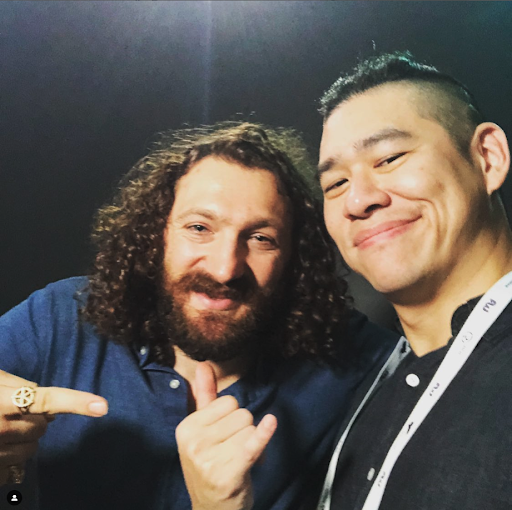 Dee Deng and the ecommerce legend Ezra Firestone.
And there's more.
Do you know there's a way to find your ideal clients and book meetings even if you…
Don't have a large following or email list?

Don't have the money to advertise?

Don't even have a website or any reputation whatsoever?

Don't have any prior marketing experience?
You bet there is!
That's what our other instructor, AJ Cassata, uses to grow his clients' businesses and also reveals in his Find Your Dream Clients course.

In this course, you'll discover how to meet 10-20 new, high-paying prospects every week with a simple smart-outreach-system, an active marketing strategy that combines LinkedIn, cold email, and "evergreen tactics" to land you your ideal prospects no matter what niche you're in.
Interesting?
The course is also included FREE as part of the sale here.
In short, there has never been a better time to get started with building or growing your digital agency.

You can get started at the lowest price ever!
48 hours left—please see before it expires.
Build smart and build fast!
Key phrases
Older messages
Friday, March 24, 2023
Join the sale and find out. Hi , Yesterday we announced a brand new sale for Digital Agency Owners that saves you 75% on one of our best courses on the topic and unlocks another one completely free.
Thursday, March 23, 2023
for future agency owners. Hi , Wanna start or grow your own digital agency? Yes, I Do You get a 75% discount and a full Foundr course free when you do it this weekend. Here's why we're doing
Notice: Coaching spots nearly full
Wednesday, March 22, 2023
For ecom entrepreneurs only. Hi , If I lost everything and was dropped off penniless on a random street corner… What'd be the first thing I'd do to make it all back as fast as possible? This is
Tuesday, March 21, 2023
Build an ecommerce empire. Hi , Our hands-on ecommerce coaching program not only gets results… But because you're working with a seasoned ecommerce entrepreneur who's already made the mistakes
For serious entrepreneurs only
Monday, March 20, 2023
Foundr's best kept secret… Hi , Only a handful of people know this, but over the last year here at foundr we've been quietly working on one of our biggest ecommerce projects ever… And it's