Foundr - 🚀 Massive New Announcement!
Hi ,
This may be one of the most important announcements you'll hear from me this year. 
We're launching a big Spring Mid-Season Deal for foundr+!
You get everything at the lowest price ever!
>>> Go here now for all the details.
If you want to have the confidence and competence to build any business faster…
The connections and network to succeed in any economy or recession…
And a proven system that'll leave your friends and family wondering how you replaced your full-time income or scaled your existing company so quickly…
Then this is the most no-brainer opportunity you've ever seen from us.

Seriously, in our nearly 10 years of helping thousands of people start and grow businesses, this is the BEST DEAL we've ever made. No questions about it.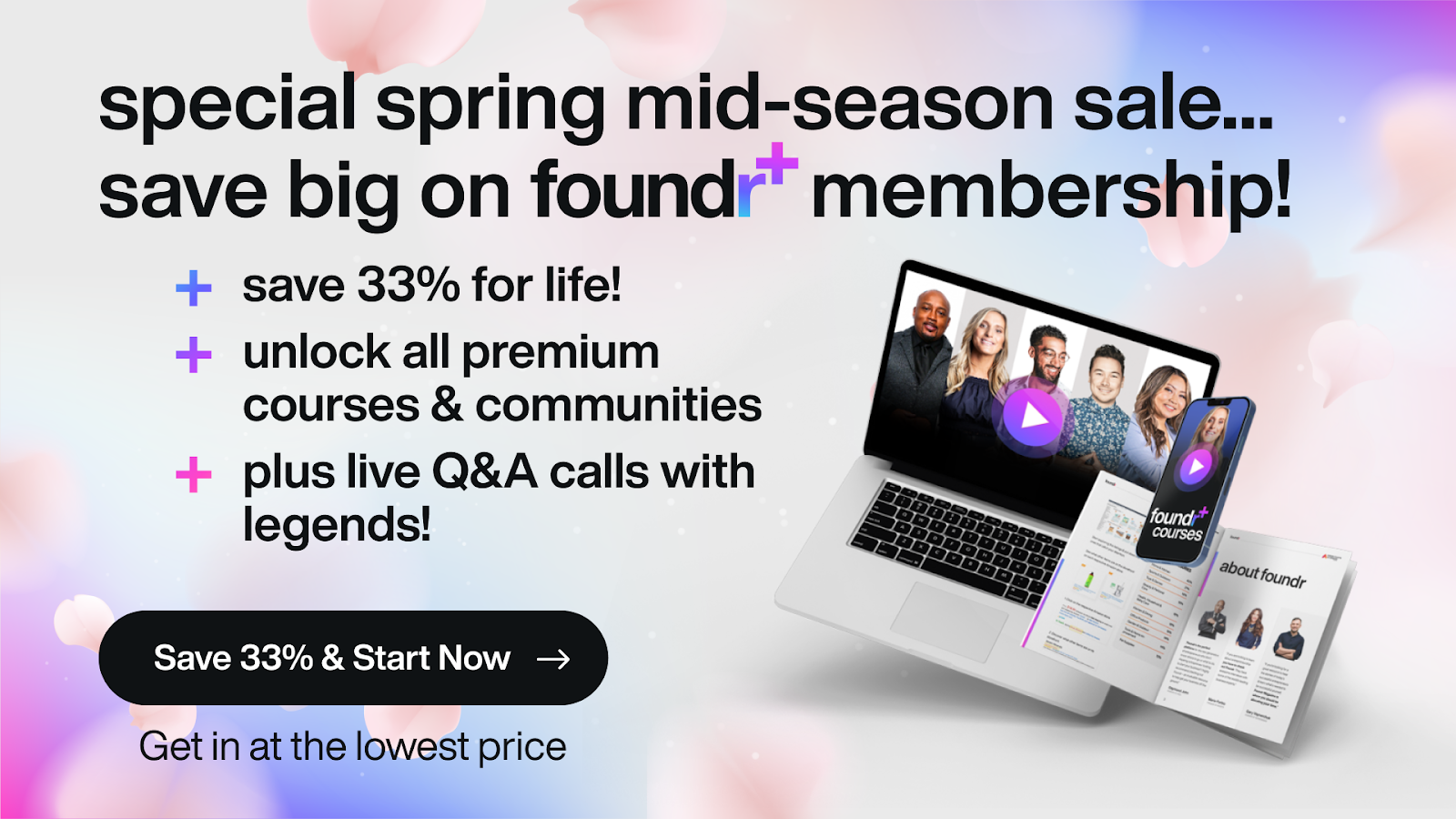 Let's Build.
Nathan Chan
CEO

P.S. Since this is truly the best deal we've ever offered, please make sure to read all of the deal details on this page here. I want you to see everything you're getting. If you have questions, ask support right on the page, don't wait as the deal will expire soon.
P.P.S. If you're not interested to hear about our Foundr+ Membership, click here and we will only send you relevant entrepreneurial content.
Key phrases
Older messages
[video] It's not that hard (proof)
Friday, April 21, 2023
watch this Hi , To prove that just one new idea can change your life in 2023 faster than you ever thought possible, I want to introduce you to some special entrepreneurs… Meet the inspiring six-figure
🔮 My Biggest Ecommerce Secret!
Thursday, April 20, 2023
recipe of my 4 multi-million dollar brands Hi , You may have wondered… How can I be creating 4 multi-million dollar brands from scratch in some of the most competitive markets like teas, watches, drink
Wednesday, April 19, 2023
My BIGGEST ecom mistake ever Hi , I remember the day I lost $1.3 million and it was the biggest mistake I've made in business so far. I was devastated! Go see what happened And while it's a bit
AVOID These Manufacturing Mistakes
Wednesday, April 19, 2023
The man behind 2500+ ecom products Hi , Countless entrepreneurs waste money sourcing a product overseas the wrong way. They get hustled by a supplier, are sent bad samples, deal with all kinds of
Wednesday, April 19, 2023
This week only… Hi , Just because someone's used Alibaba to source one product, from one factory, in one niche, sometimes even just one or two times, doesn't mean their advice is safe to follow