Morning Brew - ☕ What's that all about?
| TOGETHER WITH | |
| --- | --- |
It's Tuesday. Welcome to a whole new world of cable television: Yesterday, Fox News abruptly ousted prime-time host Tucker Carlson, while CNN parted ways with host Don Lemon in a similarly unceremonious fashion.
In today's edition:
—Ryan Barwick, Katie Hicks
Francis Scialabba
Gary Stubblefield was a local celebrity in Carl Junction, Missouri. Whether serving as a city alderman, realtor, or member of the Carl Junction Chamber of Commerce, he was a common fixture, cooking burgers alongside the co-hosts of a local newscast, or dancing at a local event to raise money for an arts program.
"He was a pillar of the community of Carl Junction," Steve Scott, a reporter and co-host at KZRG, a radio station serving the area, said. Scott estimates that he'd interviewed Stubblefield a minimum of 50 times since 2004.
When Stubblefield died in March, Facebook lit up with memorial posts from friends and family, while obituaries ran in several local publications and television stations.
Obituaries for Stubblefield are also on YouTube, like a video titled "Gary Stubblefield passed away, family, Carl Junction community mourn his death." Instead of featuring the sorts of photos and anecdotes you might expect from a news outlet, the video features a man who encourages viewers to subscribe to the YouTube channel before reading what appears to be part of an obituary for Stubblefield.
Like sites that copy and republish obituaries, which seem to rely on online searches for people's deaths to attract traffic and ad dollars, some YouTube channels appear to be deploying a similar strategy.
Occam's razor would suggest that these videos are created for profit, intended to attract ad dollars by mining the complex and opaque systems of programmatic advertising. Marketing Brew saw ads for TurboTax and Virgin Atlantic play before the Stubblefield video, and ads for Wix, HBO's Succession, SeatGeek, and Jack Link's play across other similar videos.
Continue reading here.—RB
TOGETHER WITH PARAMOUNT GLOBAL
Building out the perfect media plan is as complicated as picking what to watch. But it can be done. The trick to achieving reach and scale for your brand and mastering the what-I'm-watching small talk? Stick to the hits.
Paramount delivers some of today's most popular content—for everyone, everywhere. That's right: We're talkin' about the most-watched programming, including big sports events, top comedies, iconic reality shows, enthralling dramas, and kid-friendly favorites.
Paramount is also home to Yellowstone, the most-watched show on TV; CBS, America's most-watched network for 14 years straight; and Paramount+, the country's fastest-growing streaming service.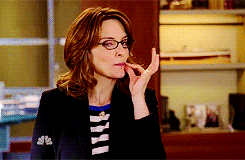 30 Rock/NBC via Giphy
Saturday was Earth Day, otherwise known as the day brands tell customers that they, too, care about the climate crisis (so long as it means you keep buying their stuff).
Over the years, the holiday has become a tentpole for marketers to share brands' environmental commitments. This year, not so much: While some brands and organizations, like Impossible Foods and The Paper and Packaging Board, released campaigns, the atmosphere seemed quieter overall.
And even leading up to Earth Day, sustainability messaging appeared to be trending downward. Data platform CreativeX, which analyzed 2.5 million ads from more than 1,000 brands between January 2020 and March 2023, found that sustainability messaging increased through December 2022 but fell 47% in the first few months of 2023. So what's changed?
Anastasia Leng, founder and CEO of CreativeX, said she thinks the dip in sustainability messaging has to do with budgetary pressure. "When there's an economic crisis and all of a sudden you've got less to work with than you had before, you go back to basics," she told Marketing Brew. "Some of these initiatives, which frankly should be part of your basics but still aren't, start to get ignored, or certainly decreased."
Read the full story here.—KH
Maria Vorovich
Each Tuesday, we spotlight Marketing Brew readers in our Coworking series. If you'd like to be featured, introduce yourself here.
Maria Vorovich is co-founder and chief strategy officer at research firm GoodQues. Throughout her career, she's worked at companies including Air Paris, Grey Group, and sparks & honey.
How would you describe your job to someone who doesn't work in marketing? It is one thing to collect information about people; it's an entirely different practice to connect with people, encouraging them to open up and share their truth. We believe research needs to be an active empathy practice. It is our job to foster understanding of people of different ages, life stages, geographic locations, ethnicities, interests, cultural backgrounds, motivations, and more—without judgment and with as little bias as possible. And if we can bridge the gap of understanding between big brands and their customers, we can create a better world where the brands become human-centric, existing to serve people rather than profits alone.
Favorite project you've worked on? The common misconception is that the sexier the category, the better the project. Many young people enter market research, marketing, and advertising hoping to work in beauty or automotive or luxury goods. The truth is that some of my favorite projects have been studying less glamorous topics such as spice cabinets, sexually transmitted disease attitudes, and opioid-induced constipation. The reason these projects stand out to me is that they were unapologetically human and radically raw, revealing people's insecurities, hopes, fears, and even dangerous decisions that they might not admit publicly.
Continue reading here.
There are a lot of bad marketing tips out there. These aren't those.
: Check those accounts ASAP—Facebook's ad systems encountered a bug over the weekend that caused some advertisers to see considerable overspend.
: This podcast episode covers three pillars of privacy-centric marketing.
: Read up on how to practice inclusive design in the social marketing sphere.
: Ready to go from marketing team member to marketing team leader? The Brew's Leadership Accelerator is here to help you grow your team, yourself, and your impact. Our next cohort begins in May. Apply now.
Brace for impact: Undertone's High Impact advertising solutions are built to drive full-funnel results. From display and CTV to awareness and performance, see how Undertone's cross-channel solutions can deliver for your brand.*
*This is sponsored advertising content.
Who said B2B marketing couldn't be playful and innovative? While the B2B space often gets a reputation for being less glamorous, that doesn't mean it's lacking in opportunities to stand out and grab attention—just ask Angelique Temple, chief marketing officer at WeTransfer.
Angelique will be speaking at The Brief on how to keep B2B strategy one step ahead, especially in today's wild world of tech.
Don't miss out on this incredible opportunity to learn from one of the industry's top experts.
Next week, platforms including YouTube, Meta, and TikTok will take part in the IAB's annual NewFronts. Which ad agency started the NewFronts?
Huge

360i

Digitas

Barbarian
Keep scrolling for the answer.
Catch up on a few Marketing Brew stories you might have missed.
3. Digitas. According to Digiday, two Digitas execs "proposed the idea of a digital-focused conference" in 2008. In 2013, the IAB started hosting the annual event to get more agencies involved.
Key phrases
Older messages
Tuesday, April 25, 2023
Plus, the right way to celebrate failure and these companies jump on Craigslist April 25, 2023 View Online | Sign Up | Shop 10% Off Raise Good morning. With Succession in full swing, we've got all
Tuesday, April 25, 2023
Cable news looks different today... April 25, 2023 View Online | Sign Up | Shop 10% Off Morning Brew TOGETHER WITH Monogram Good morning. After three high-profile departures in the last 24 hours, TV
Monday, April 24, 2023
Streamers are obsessed with blue. April 24, 2023 Marketing Brew TOGETHER WITH Impact.com It's Monday. Seems like some brands had a pretty rough Earth Day this year: KLM told a Dutch court it would
Monday, April 24, 2023
eBay's authentication process gains traction with sneakerheads. April 24, 2023 Retail Brew Let's begin the week by poring over something Europeans are pouring out. For beer connoisseurs, Miller
Monday, April 24, 2023
What it takes to successfully shoot something into space April 24, 2023 Emerging Tech Brew TOGETHER WITH Monogram It's Monday. Welcome back to the workweek, mates! Today we're introducing our