🎉 the best deal ever for my Start & Scale program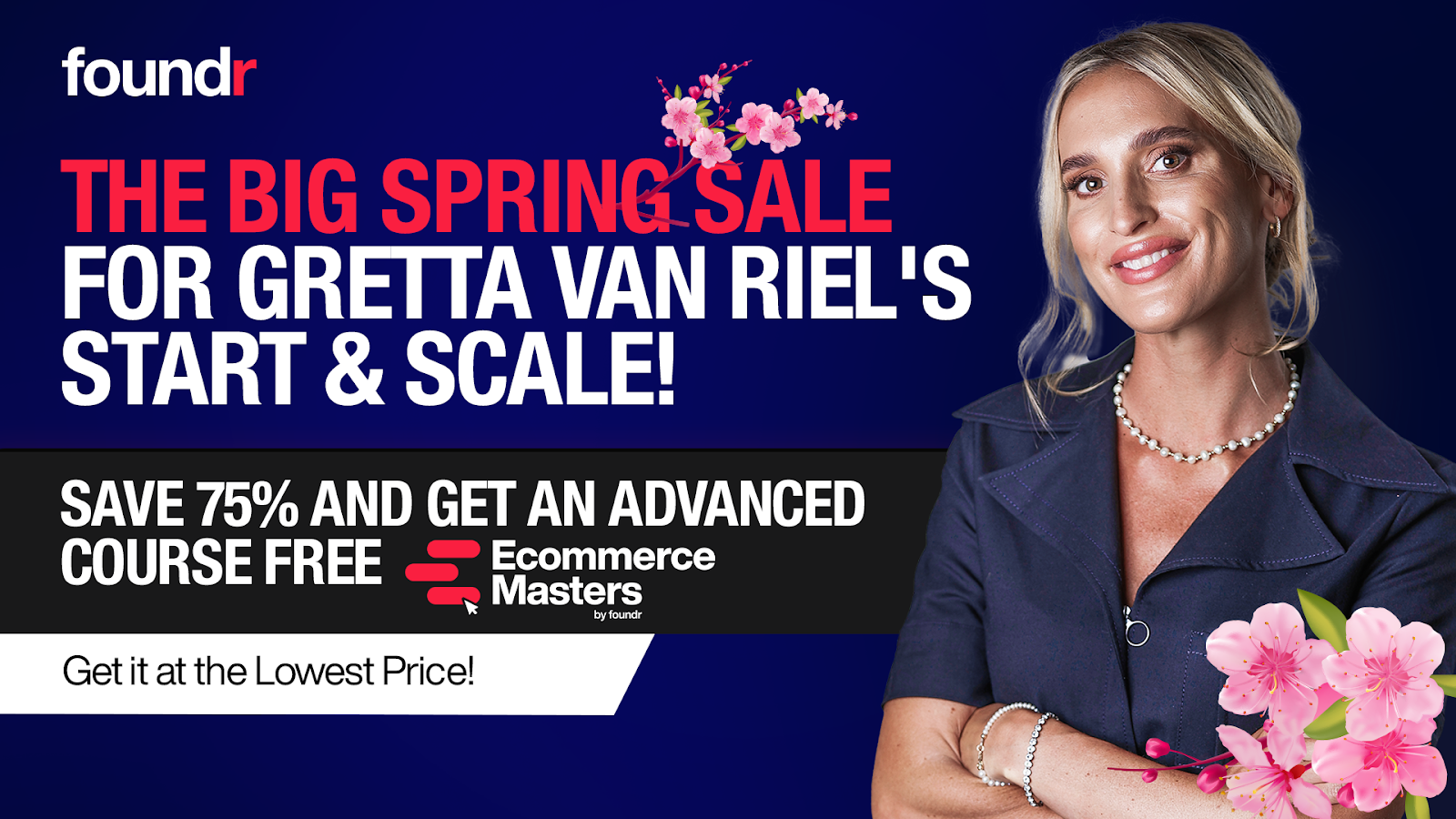 Imagine how fast you can replace your full-time income…
By simply following more than 50 in-depth training videos containing my step-by-step advice for quickly finding your idea and building your own profitable online store…
Plus all of the exclusive ecommerce extra bonuses, the private community with 20k+ members, and a special bonus worth $1,997…
That's already helped thousands of people just like you escape soul-sucking 9-5 jobs and predictably create multi-million-dollar ecommerce brands from anywhere in the world…
All for 75% OFF the normal price!
On top of that…Foundr has decided to give you their full 9+ hour Ecommerce Masters advanced program (normally $2,997)…FOR FREE!
Starting today, you'll follow my proven framework for finding products that sell in any economy and starting profitable online brands from scratch…
Save time, money, and headache in 2023 by avoiding all the mistakes I've already made along the way…
And get the support, motivation, and incredible connections inside the private Start & Scale community.
All for less than $1.36 a day!
After that, the price quadruples back to normal.
If you've been wanting to be your own boss and replace your income with your own online business, this is by far the best deal you'll ever see from us for this program.
Those who take full advantage of the program and get outside their comfort zones will create their best and most exciting year yet in 2023. 
No matter the economy. 
Will you be one of them?
If you're starting from ground zero every single time…when your employer goes out of business, when your team's made redundant, when your manager leaves the company, when you move over to a new state…how can you build something that lasts?
Start something that lasts today.
Gretta van Riel
P.S. This step-by-step system works. We're confident that if you put in the work and follow this proven framework, Start & Scale will quickly help you start a profitable online store just like it has for thousands of others.
P.P.S. If you're not interested to hear about our Spring Promo, click here and we will only send you relevant entrepreneurial content.
Key phrases
Older messages
🛒 How I grew my ecom brand to $600k/month
Friday, May 19, 2023
from my mum's kitchen table Hi , I was 22 years old, working at a full-time corporate job and pretty much living paycheck-to-paycheck. I've never started a business before and I just had $24
Thursday, May 18, 2023
recipe from my 4 multi-million dollar brands Hi , You may have wondered… How can I be creating 4 multi-million dollar brands from scratch in some of the most competitive markets like teas, watches,
Wednesday, May 17, 2023
My BIGGEST ecom mistake ever Hi , I remember the day like yesterday, when I lost $1.3 million in one day and it was the biggest mistake I've made in business by far. Watch the full story here. And
Tuesday, May 16, 2023
Still possible to do it Hi , You will never be 'ready.' Start where you are. And improvise as you go. You'll be surprised where it takes you. At least, that's what happened to me with
Can we help you with Ecommerce?
Tuesday, May 16, 2023
Get clear on where to start… Hey , want our help in knowing the best products to sell and businesses to start in 2023? YES NO, I'M NOT To your success, Team Foundr PS We're leaving the door