Foundr - 🚨 6 hours to go - Memorial Day sale
Hi ,

In 6 hours, we'll be closing doors to this: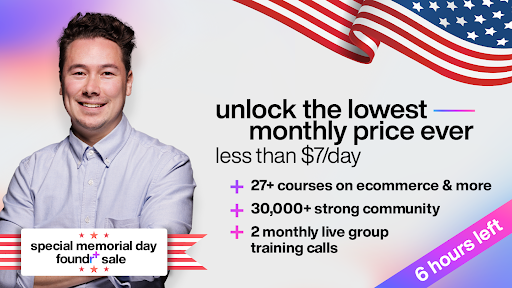 Foundr+ will help you:
Start a business from scratch 

Scale your existing business

Unlock your full revenue potential

Master in-demand skills

Increase your income

And take confident action
All for less than $7 a day!
Even though you'll only pay this low monthly fee, you'll still get everything:
🚀 Our entire course catalog (27 and growing) plus all future courses…
🚀 2 live group coaching events with world-renowned instructors monthly…
🚀 Like-minded community of 30k+ supportive entrepreneurs…
🚀 Exclusive deals from 100+ must-have software services and tools…
It gives you the content, coaching, tools, and community to confidently (and quickly) build your dream business in any economy.
If you're willing to put in the work, foundr+ will absolutely help you get results faster.
Last Chance To Take Advantage Of The Memorial Day Sale
Let's build.
Nathan Chan
CEO
P.S. How bad do you want it, ? I bet you'll be able to find an hour every day to study and master the frameworks and strategies from proven world-class entrepreneurs.
And it costs less than $7 a day during this Memorial Day sale!
P.P.S. opt out text and link here

Key phrases
Older messages
⏰ 12 hours left for Memorial Day sale
Thursday, June 1, 2023
ends today Hi , Keeping it short… Just 12 hours to go! Grab your special Memorial Day deal for foundr+ our flagship membership that grants you instant access to… 27 premium cutting-edge courses on
Fwd: 🇺🇲 24 hours left for 's Memorial Day savings
Thursday, June 1, 2023
hurry up and claim the deal Hi , Just a friendly reminder that less than 24 hours from now we'll be removing this special Memorial Day deal for our flagship foundr+ membership. Even though you'
🇺🇲 big foundr+ sale for 48 hours only
Wednesday, May 31, 2023
Memorial Day Hi , 48 hours left. We can only keep this special Memorial Day deal for our new foundr+ membership till 11:59 pm this Thursday. Costs less than $7 a day… And will make it easy for you to
Your challenges are 100% real. Let's talk!
Tuesday, May 30, 2023
Stay open and win Hey , want our help in knowing the best products to sell and businesses to start in 2023? YES NO, I'M NOT To your success, Team Foundr This email was sent to newsletterest1@gmail.
💗 [72-hours left] Memorial Day sale
Tuesday, May 30, 2023
some think I've gone insane Hi , We've spent hundreds of thousands of dollars creating our courses… Our students have earned millions of dollars after studying them… Yet today, I'm inviting