Foundr - BUY 1 GET 1 FREE

Hi ,
You know what I believe is the best investment? 
It's not… 
📈 stocks + bonds
🏠 real estate
🥇 gold
🚗 cars
✨ or any material goods
I believe investing in YOURSELF is the smartest move a person can make. Every single one of the 30k+ members of my community can all tell you this is true: if you don't invest in yourself NOW, you likely never will. 
That is, invest in learning proven frameworks.
Using proven frameworks is how we've been able to help THOUSANDS of people just like you build profitable online businesses.
They work!
Which is why we decided to launch our Summer Sale…
And give you the chance to save 75% and choose ONE FREE PROVEN FRAMEWORK from any of the 11 options listed here!
In fact, you wanna know the single biggest regret my community members and friends have? 
It's that they didn't start sooner. 
Take Emma Burke, for example: 
"Spending money on courses will be the greatest investment!
I have just completed the Start & Scale course and am working through How to Run Facebook ads. The S&S course was fantastic. I have an existing e-commerce business which I am looking to scale and open in new territories. S&S is aimed at new startups but I am a believer that you can always learn something new from experts. This I did, I have implemented a number of changes into the business and already seen success. Sometimes when you are juggling cash flow you question whether it's worth paying for these courses, but I think it's the best investment in yourself and your business."
Or Stephen Bradeen: 
"Fantastic courses, helped us scale our store to 6 figures and now we are taking more to get to 7. The organization and efficiency in the lessons combined with the workbook is very easy to digest and take action on. TY Foundr!"
Or Jennifer Cai, Founder of ZenBody, who said:
"After joining Start & Scale, I no longer felt the need for a 'mentor' because I could see the next few steps that I needed to take in front of me… Gretta and the S&S course have become my virtual mentors in e-commerce." 
Now I love every single one of these people but… 
They're not special. 
Everything they've achieved, everything they're feeling, everything they've earned is available to you, too. 
But only if you take action and make that investment in yourself . 
And the best part is that you can make that investment for 75% OFF.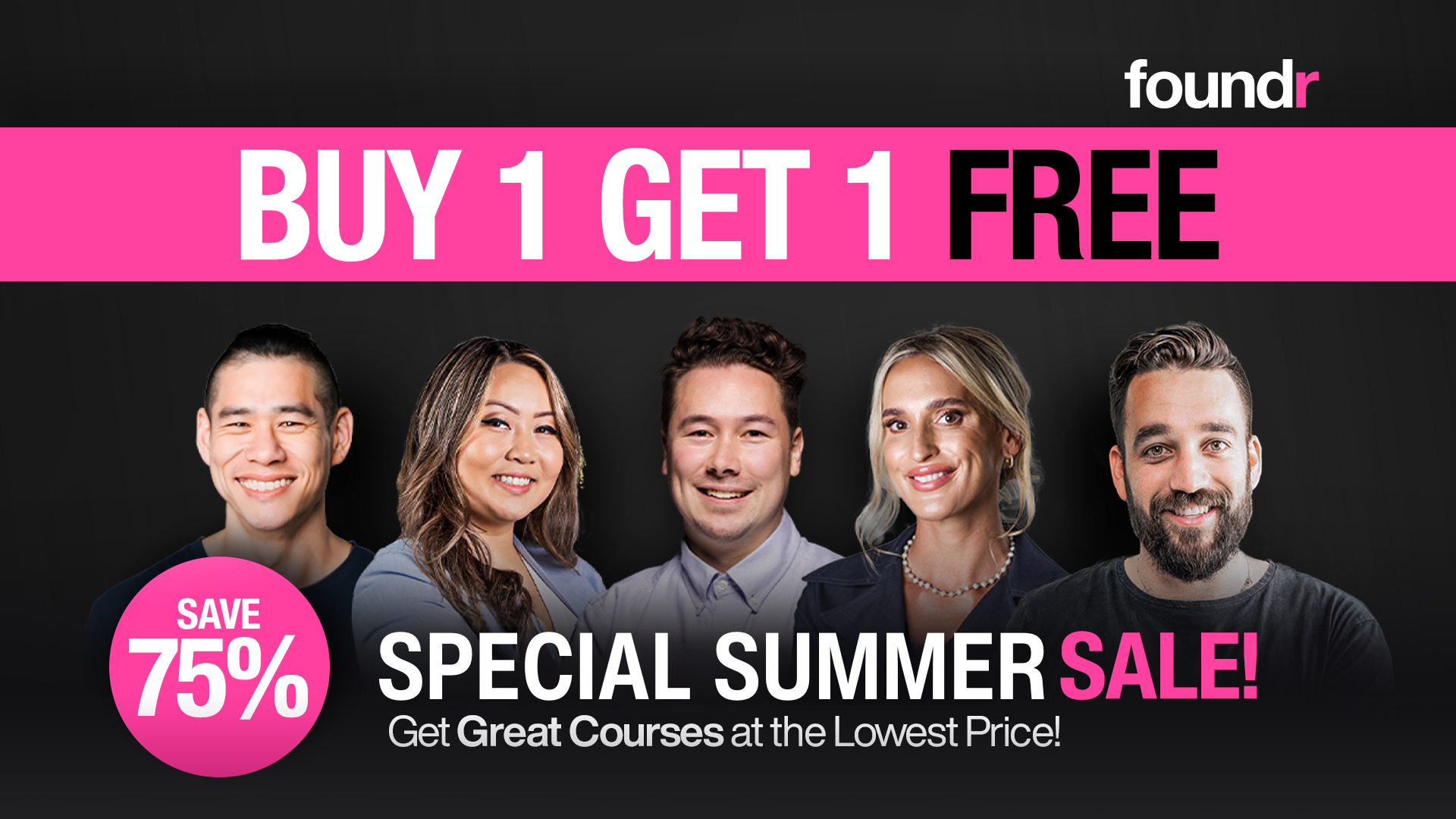 Choose any of our most popular courses (which normally sell for between $1,997 and $2,997) and receive lifetime access for just $497. And choose a second course, completely on us. 
That's TWO courses for just $497. And trust me when I say that this is the LOWEST you'll ever see these courses go. (Honestly, it's almost criminal to be giving you life-changing information at such a low cost). 
So if you're ready to change the course of your life, just tap here. 
Let's build your business 💪
Nathan Chan
CEO
P.S. Did you see 👀 We've added The Product Sourcing Blueprint to our list of top courses, meaning you can get the playbook to sourcing a completely unique, scalable product absolutely free when you take action now!
If you're not interested in our exclusive access into Buy 1 Get 1 Free Promo, no worries at all. Click here to only receive relevant content from us. 
Older messages
Monday, August 14, 2023
Important info about the next 3 days Hi , ❗ALERT ❗ In T-minus 72 hours, our BOGO Summer Sale is gone for good! Like… if you try and purchase one of our most popular courses in 72 hours and 1 second,
Monday, August 14, 2023
The time is now, Hey , I've got an incredibly important message for you from the man, the myth, the LEGEND John Cena himself: John's coming to you with this special message because you
Monday, August 14, 2023
It's decision time, , can you feel it? The end is near!! Well, the end of our BOGO sale, that is! As of this very moment, you have 24 hours left to claim one of our most popular, results-driving
12-hr Notice] Get your Summer BOGO deal
Monday, August 14, 2023
Don't miss out Hi , Get your Summer BOGO deal before it disappears in just 12 hours and grab any of our proven frameworks for a huge 75% discount and get another one completely free. With over 30k
Monday, August 14, 2023
Final Summer sale email Hi , The end of our Big Summer Sale has arrived… So this is your last chance to take action, invest in your skills, and ensure you thrive in whatever recession-conditions are