Foundr - 75% Off Our New Branding Course!
Hi ,
If you're reading this email right now, I know three things about you…
You want to be known, liked and trusted by your audience.


You don't want to just attract any clients and customers — you want the right ones.


And you want to truly make an impact in your industry.
Did I get those right?
If so, the smartest thing you can do is develop a rock-solid personal brand.
And there's no better way to do that than working with Rory Vaden — the 8-figure entrepreneur, brand-building genius and instructor of our newest course Monetize Your Personal Brand.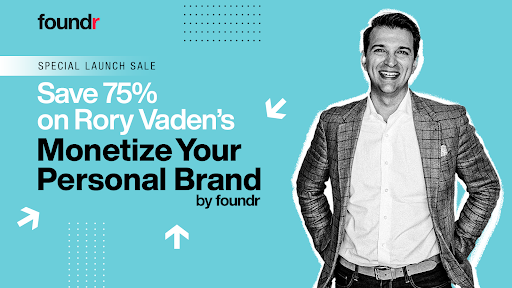 Here's the deal…
Foundr's strict "no-guru" policy means we only work with world-class experts who have actually done what they teach at the highest level. 
Rory is no exception.
In fact, we're so confident that this program will be transformative for your life and business that we're willing to bet our own money on it.
That's why we're sponsoring 75% of the retail price as our special gift to you during the launch (normally $1997 — now just $497).
Consider this email your $1,500 coupon.
And not only that: to give you ultimate peace of mind, we're offering a 100% money-back guarantee in the first 15 days. 
You literally have nothing to lose — except the opportunity to build a personal brand that changes your life and business forever.
Now is your time to step up, stand out, and truly make a difference in your industry. 
Older messages
_____ Is Like Cash In The Bank
Wednesday, August 16, 2023
Do you have it? Hi , In 2023, a personal brand is one of the most powerful forms of currency you can have. It's not just about having a nice profile on social media. It's a legitimate "cash in
Do you have this "X-factor"...?
Tuesday, August 15, 2023
(You Need This Tool) Hi , In a world bursting with talent and competition, learning how to stand out from the crowd is the difference between a quiet career, scraping by in obscurity…and a thriving,
Tuesday, August 15, 2023
Don't miss this Hi , I wanted to give you a quick reminder as we noticed you haven't taken action on our big Summer sale. It's officially closed but we've kept the link open only for a
Monday, August 14, 2023
becoming wealthy + well-known Want to know something scary, ? Even if you're smart, talented and work extremely hard at what you do — it's easier than ever to get overlooked in today's
$1.36 to launch your own business
Monday, August 14, 2023
The lowest price you'll ever pay Hi , What if you could spend just $1.36 and learn everything you need to know about starting and scaling your successful e-commerce store starting tomorrow… AND