Foundr - Don't overthink this…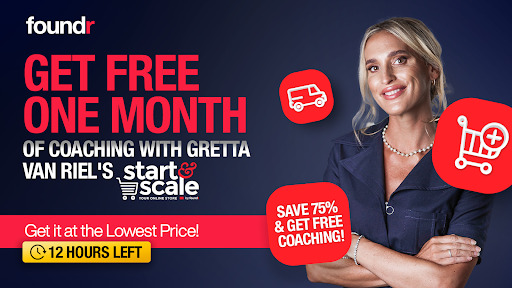 But since there's less than 12 hours left until enrollments close…
If you want me to show you how to find a product idea and turn it into a profitable online business in just 12 weeks or less using a proven, step-by-step system…
And you want live coaching from our Start & Scale certified ecommerce coach Natasha Giannetti who's started and sold her own 7-figure store plus helped another one exit for $28M…
Now is the time to invest in your present to change your future!
Reminder: your live coaching starts on September 3rd at 7pm US Eastern.
With all of these never-before-offered exclusive bonuses…
You'll have the coaching, content, and community you need to quickly replace your full-time income with your own online store and forever become your own boss.
At just $1.36 a day, it's by far the best ecommerce deal we've ever put out.
Note: It really does end in just 12 hours from now.
Don't build alone.
Gretta van Riel
P.S. As part of this special offer we're giving you our entire Ecommerce Masters program for free! Normally $2,997 this beast of a program contains 9+ hours of advanced ecommerce content from 5 different world-class entrepreneurs.
To see everything you're getting for just $1.36 a day, click here within 12 hours.
P.P.S. If you're not interested in our exclusive access into SAS Promo, no worries at all. Click here to only receive relevant content from us.
Older messages
Sunday, August 27, 2023
+ free ecommerce coaching Hi , Quick email letting you know there's just 24 hours left to claim your free ecommerce coaching with Start & Scale allowing the Foundr team and I to help you know
48 Hours Left For Free Coaching
Saturday, August 26, 2023
Ecommerce Success Guaranteed Hi , There's a good chance you're reading this email right now because you've wanted to start an online store for a long time. So…why haven't you done it
Friday, August 25, 2023
and this was the tipping point Hi , You might doubt your ability to succeed in business right now — and I totally understand. Because when I was just getting started…. I was JUST. LIKE. YOU. It feels
Thursday, August 24, 2023
super limited opportunity Hi , I won't lie to you and tell you that starting a business is easy. It's NOT. You're going to have to work hard. But the formula for winning BIG is very simple.
"$105k in 3 months! Let's go!"
Wednesday, August 23, 2023
From home. Living the dream. Hi , One of the biggest reasons people never start their ecommerce store is because they believe one of the following myths: #1: "Every market is oversaturated" or… #2: "