Bloomberg - Evening Briefing - Time is running out
With two days left before a likely US government shutdown, more collateral damage is coming into view. The refusal by far-right Republicans to deal also threatens to delay publication of key economic data—something that will test the trust of policymakers and investors in less-regarded economic indicators. Without critical figures like the Labor Department's monthly employment report and a key inflation gauge from the Commerce Department, data from private-sector sources will move into the spotlight. Some of these indicators—including gauges of business activity from the Institute for Supply Management, private payrolls from ADP Research Institute and existing-home sales from the National Association of Realtors—have informed Federal Reserve officials in their quest to tame the worst inflation in a generation. Others do so indirectly by feeding into government reports. Yet, when any policy missteps could be enough to derail America's seeming path to a soft landing, the Fed's emphasis on decisions as "data dependent" becomes more precarious. "It's not like there are all these perfect substitutes laying around," said Michael Pugliese, a senior economist at Wells Fargo. "It's hard to replace both the quantity and the quality of that gold-standard data." —David E. Rovella
Here are today's top stories
Federal prosecutors charged a former employee of Goldman Sachs and Blackstone with securities fraud for allegedly tipping his friends to more than half a dozen deals. The charges detail how the group made more than $400,000 on trades passed around on messaging apps like Signal as well as Xbox chat. The latest complaint marks at least the fifth incident involving a Goldman Sachs employee in recent years.

BlackRock is the latest exchange-traded fund issuer to try and clone JPMorgan's biggest active strategy. The BlackRock Advantage Large Cap Income ETF tracks dividend-paying stocks in addition to selling S&P 500 call options. The new fund resembles the $29 billion JPMorgan Equity Premium Income ETF, which has already spurred a bunch of copycats.
Tesla was sued by the US Equal Employment Opportunity Commission for allegedly creating a hostile work environment for racial minorities at its California factory. The electric-vehicle maker co-founded by Elon Musk subjected Black workers "to severe or pervasive racial harassment," the agency said, and unfairly retaliated against workers who complained. The agency's probe predates a separate lawsuit by California's civil rights agency, accusing Tesla of ignoring "rampant racism" against Black workers at its factory in Fremont, California, and other facilities throughout the state. California officials alleged Tesla turned a blind eye to years of complaints about racial slurs at its plant, where the electric automaker produces the Model S, X, 3 and Y.
China Eastern Airlines ordered 100 C919 single-aisle planes from Commercial Aircraft Corp of China, dealing a potential blow to Boeing. The order is worth $9.9 billion at list prices, but a significant discount has been applied. Meanwhile, Boeing's orders have dried up in China, its most important export market, partly due to tensions between Washington and Beijing.
Johnson Controls, a provider of air-conditioning equipment and building security systems, fell the most in almost two months after disclosing a cyberattack that's disrupted part of its internal information systems. Shares dropped as much as 5.7% Thursday morning, its biggest intraday decline since Aug. 2, though it pared losses later. 
Uber, DoorDash and GrubHub lost an attempt to block a New York City rule setting minimum pay of $18 an hour for food delivery workers. The companies joined forces to fight the rule benefitting those people who bring you that late-night cheeseburger in the rain. The case is one of several the delivery companies have launched in recent years to stymie efforts by the city to rein in their operations, including a 2021 challenge to a cap on commissions the apps collect from the restaurants who make the food the workers deliver.
George Soros' $25 billion charity is on the cusp of a transformation that will reshape its operations, slash its staff and test whether his son Alex is ready to head one of the world's biggest and most influential philanthropies. Alex, who was named official successor to his billionaire father at the Open Society Foundations in June, has revealed only a few details of the overhaul, which will include a five-month freeze on new donations starting in October and a minimum 40% staff cut.
What you'll need to know tomorrow
The Republicans behind the looming US government shutdown have said the conflict, like that of the default they almost triggered in the spring, is about reducing America's budget deficit. But the discretionary spending they're targeting doesn't include the three elephants in the room: Social Security, healthcare and defense. The cost of servicing US debt—largely attributable to those three—has surged in recent years. At some point, the failure to tackle America's large and growing budget deficit is going to hit the wallets of ordinary Americans. And hard. In the Bloomberg Originals mini-documentary America's Looming Debt Spiral, we spell out the potentially dire consequences that may flow from the continued inability of the world's largest economy to manage its finances. The path back to fiscal prudence is getting longer, the consequences of doing nothing are becoming worse—and time is running out.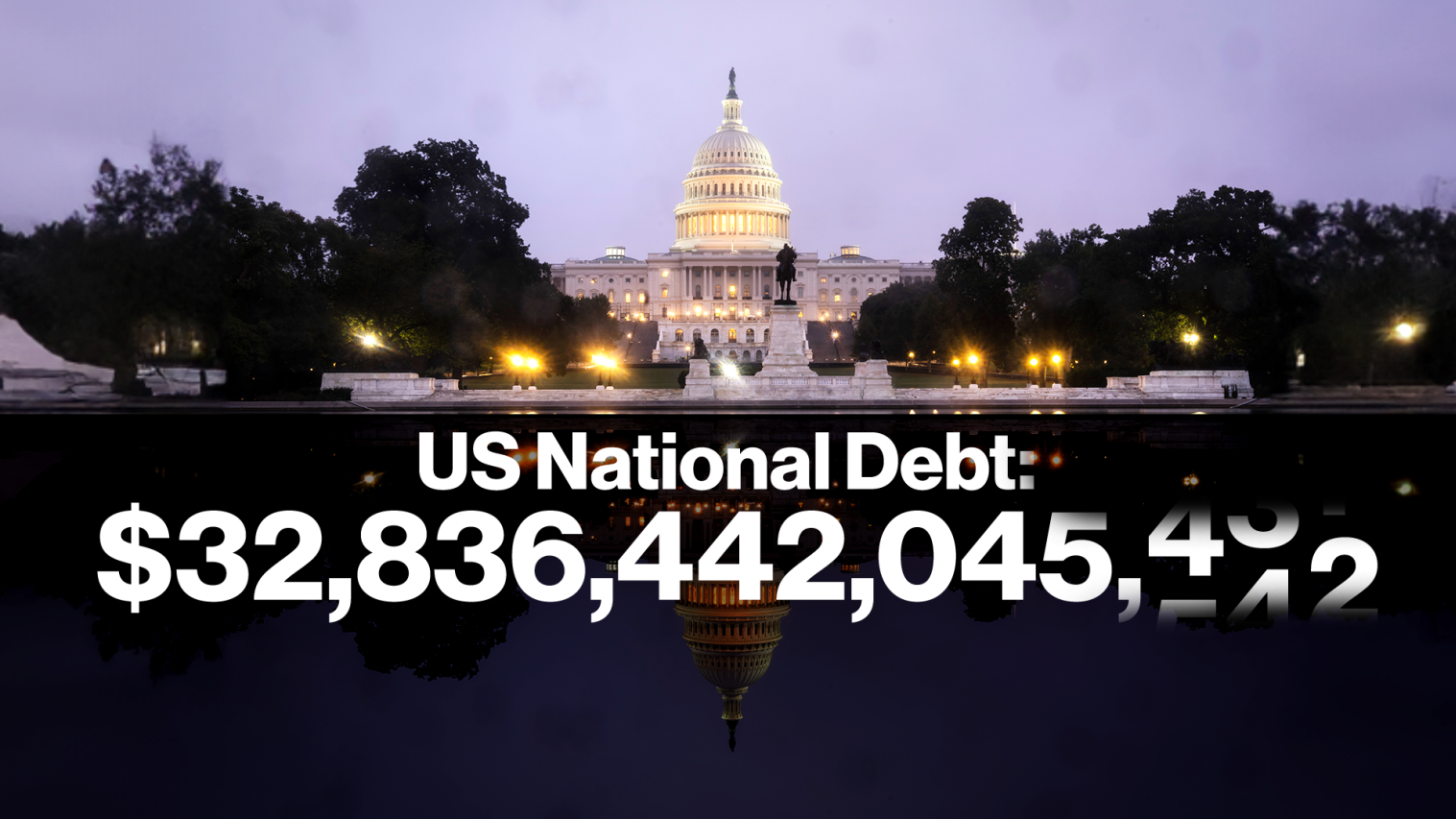 Bloomberg Originals: America's Looming Debt Spiral
Get the Bloomberg Evening Briefing: If you were forwarded this newsletter, sign up here to receive Bloomberg's flagship briefing in your mailbox daily—along with our Weekend Reading edition on Saturdays.
Bloomberg Screentime in Los Angeles: Our award-winning journalists cover the intersection of Hollywood and Silicon Valley every day. Now we're bringing this coverage to life with a new event. Join us Oct. 11-12 for Bloomberg Screentime, a conference that will gather the moguls, celebrities and entrepreneurs defining the next phase of pop culture. Lucas Shaw hosts and guests will include Netflix's Ted Sarandos, Insecure creator Issa Rae, Endeavor's Ari Emanuel, YouTube CEO Neal Mohan and many more. Register here.
Like getting this newsletter? Subscribe to Bloomberg.com for unlimited access to trusted, data-driven journalism and subscriber-only insights.
Before it's here, it's on the Bloomberg Terminal. Find out more about how the Terminal delivers information and analysis that financial professionals can't find anywhere else. Learn more.
Want to sponsor this newsletter? Get in touch here.
Older messages
Wednesday, September 27, 2023
Bloomberg Evening Briefing View in browser Bloomberg So who pays the price if Congressional Republicans shut down the US government? Such an event—which looks increasingly likely—would inflict
Tuesday, September 26, 2023
Bloomberg Evening Briefing. View in browser Bloomberg The US Federal Trade Commission sued Amazon Tuesday, bringing the hammer down on the e-commerce giant for allegedly monopolizing online marketplace
Monday, September 25, 2023
Bloomberg Evening Briefing View in browser Bloomberg Wall Street's masters of the universe have long argued they can spend money more efficiently than the US government ever could. Now, a handful
Saturday, September 23, 2023
Bloomberg Weekend Reading View in browser Bloomberg After overseeing the most aggressive monetary tightening cycle in decades, several central banks, including the US Federal Reserve and Bank of
Friday, September 22, 2023
Bloomberg Evening Briefing View in browser Bloomberg The United Auto Workers' unprecedented strategy to simultaneously target all three legacy carmakers is showing results. The union said that it