Palestinian refugees trapped in an indefinite exile
| | | |
| --- | --- | --- |
| US Edition - Today's top story: Gaza bombing adds to the generations of Palestinians displaced from their homes View in browser | | US Edition | 1 November 2023 |
Top headlines
Lead story
Over 1.4 million Palestinians have been displaced after Israel's bombardment of the Gaza Strip in retaliation for Hamas' attack. With essential supplies running out, humanitarian agencies are warning of disease outbreaks in this densely populated area.
But this is not the first time that Palestinians have been forced to flee. A mass exodus occurred during the 1948 Arab–Israeli War, which Palestinians call the Nakba, or the catastrophe. Another took place following the 1967 Arab–Israeli War – known as the Naksa, or the setback.
Today, there are some 5.9 million Palestinian refugees – nearly half of the global Palestinian population. University of Memphis anthropologist Michael Vicente Perez, who has been researching Palestinian displacement for the past 20 years, explains the daunting challenges they face as "stateless refugees denied the ability to return to their homeland or the right of compensation."
[ Science from the scientists themselves. Sign up for our weekly science email newsletter. ]
Kalpana Jain

Senior Religion + Ethics Editor/ Director of the Global Religion Journalism Initiative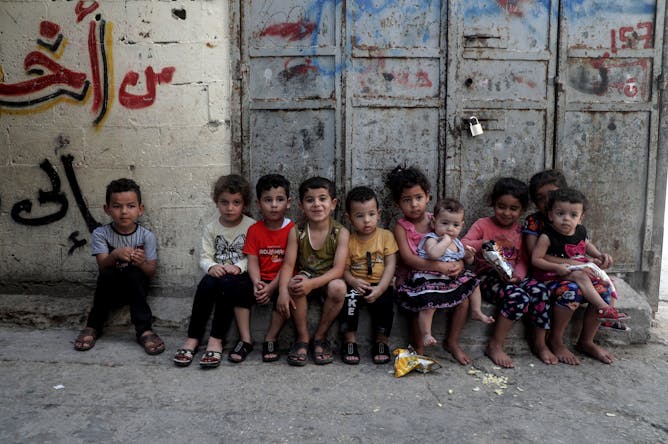 A scholar who has studied Palestinian refugees for 20 years explains the history of their displacement and the stakes involved for those living in an indefinite exile.
Politics + Society
The hospital blast site has largely been cleared, Hamas says. But a forensic scientist explains what other evidence independent experts could look to while conducting an investigation.

Israeli Prime Minister Benjamin Netanyahu has presided over disasters before – and remained in power. But is the intelligence failure preceding the Hamas attack so big that this time he won't?
Health + Medicine
Health care providers often dismiss endometriosis pain as 'all in your head' − which can delay a correct diagnosis and treatment for years.
Science + Technology
Psychology researchers have focused on the idea that people form friendships with those who are similar, familiar and nearby. But how do individual people pick those who will become their friends?

From math to evolutionary game theory, looking at cancer through different lenses can offer further insights on how to approach treatment resistance, metastasis and health disparities.

Only after a species is identified and listed by taxonomists can it be protected. Yet we still don't have one globally agreed-upon list of every species. A new 74-nation survey points to the solution.
Economy + Business
As Rupert Murdoch prepares to hand over the keys to his media empire, what will his legacy be?
Ethics + Religion
For some people, the decision over how to dispose of their body represents one last adventure – and one last consumer choice, a scholar explains.
Arts + Culture
Led by a Black businessman named Bob Douglas, the New York Rens, who played their first game on Nov. 3, 1923, became one of the best basketball teams in the country.
Older messages
The story behind Halloween's creepiest song 👻
Tuesday, October 31, 2023
+ GOP house dysfunction is all part of the plan ‌ ‌ ‌ ‌ ‌ ‌ ‌ ‌ ‌ ‌ ‌ ‌ ‌ ‌ ‌ ‌ ‌ ‌ ‌ ‌ ‌ ‌ ‌ ‌ ‌ ‌ ‌ ‌ ‌ ‌ ‌ ‌ ‌ ‌ ‌ ‌ ‌ ‌ ‌ ‌ ‌ ‌ ‌ ‌ ‌ ‌ ‌ ‌ ‌ ‌ ‌ ‌ ‌ ‌ ‌ ‌ ‌ ‌ ‌ ‌ ‌ ‌ ‌ ‌ ‌ ‌ ‌ ‌ ‌ ‌ ‌ ‌ ‌ ‌ ‌ ‌ ‌
Water as a source of hope in the Middle East
Monday, October 30, 2023
+ UAW's tentative deal with Ford and Stellantis ‌ ‌ ‌ ‌ ‌ ‌ ‌ ‌ ‌ ‌ ‌ ‌ ‌ ‌ ‌ ‌ ‌ ‌ ‌ ‌ ‌ ‌ ‌ ‌ ‌ ‌ ‌ ‌ ‌ ‌ ‌ ‌ ‌ ‌ ‌ ‌ ‌ ‌ ‌ ‌ ‌ ‌ ‌ ‌ ‌ ‌ ‌ ‌ ‌ ‌ ‌ ‌ ‌ ‌ ‌ ‌ ‌ ‌ ‌ ‌ ‌ ‌ ‌ ‌ ‌ ‌ ‌ ‌ ‌ ‌ ‌ ‌ ‌ ‌ ‌
The ethics of viewing images of war
Friday, October 27, 2023
+ teaching AI to obey the law ‌ ‌ ‌ ‌ ‌ ‌ ‌ ‌ ‌ ‌ ‌ ‌ ‌ ‌ ‌ ‌ ‌ ‌ ‌ ‌ ‌ ‌ ‌ ‌ ‌ ‌ ‌ ‌ ‌ ‌ ‌ ‌ ‌ ‌ ‌ ‌ ‌ ‌ ‌ ‌ ‌ ‌ ‌ ‌ ‌ ‌ ‌ ‌ ‌ ‌ ‌ ‌ ‌ ‌ ‌ ‌ ‌ ‌ ‌ ‌ ‌ ‌ ‌ ‌ ‌ ‌ ‌ ‌ ‌ ‌ ‌ ‌ ‌ ‌ ‌ ‌ ‌ ‌ ‌ ‌ ‌ ‌ ‌ ‌ ‌ ‌
'Buy to rent' affects Black homebuyers more
Thursday, October 26, 2023
+ how often do you lie? ‌ ‌ ‌ ‌ ‌ ‌ ‌ ‌ ‌ ‌ ‌ ‌ ‌ ‌ ‌ ‌ ‌ ‌ ‌ ‌ ‌ ‌ ‌ ‌ ‌ ‌ ‌ ‌ ‌ ‌ ‌ ‌ ‌ ‌ ‌ ‌ ‌ ‌ ‌ ‌ ‌ ‌ ‌ ‌ ‌ ‌ ‌ ‌ ‌ ‌ ‌ ‌ ‌ ‌ ‌ ‌ ‌ ‌ ‌ ‌ ‌ ‌ ‌ ‌ ‌ ‌ ‌ ‌ ‌ ‌ ‌ ‌ ‌ ‌ ‌ ‌ ‌ ‌ ‌ ‌ ‌ ‌ ‌ ‌ ‌ ‌ ‌ ‌ ‌