Morning Brew - ☕ Just Skimming the surface
| PRESENTED BY | |
| --- | --- |
Good afternoon, everyone. It's fairly rare that theme parks make headlines, so worth noting that Six Flags and Cedar Fair have agreed to a merger deal that will create a new $8 billion company. This is nice and all, but if this doesn't mean they can't cut down the wait time on El Toro, then what's even the point?
In today's edition:
—Jeena Sharma, Erin Cabrey
Skims
Skims, the purveyor of modern shapewear for women, is ready to play ball with the NBA…get it? The Kim Kardashian-founded brand landed a multiyear deal that will make the retailer the official underwear partner of the NBA, WNBA, and US Basketball. The news comes on the heels of the brand's announcement of a men's collection that debuted on October 26.
Most recently valued at $4 billion, Skims quickly became popular among women for its range of body-positive underwear and shapewear, and now wants to extend the experience to men with an underwear line featuring briefs, undershirts, boxers, and leggings.
But why?
"This is the natural path for them, as it is with most brands," Brian Ehrig, partner in the consumer practice of consulting firm Kearney, told Retail Brew via email. "They start off with success in one category, and need to continue to find growth so they pursue category expansions."
Keep reading here.—JS
Here's a feel-good story worth reading: 2 companies recently teamed up to make the schoolwear industry more inclusive and open to all walks of life.
The companies in question? We're talkin' about the HSBC x French Toast collab.
Here's the scoop: French Toast, a long-term client of HSBC, created an adaptive fashion line that better serves a more diverse range of students, including people with disabilities.
HSBC loved their commitment to inclusivity and decided to step in and support their financial needs. Together, HSBC and French Toast have helped innovate schoolwear into a more equitable and inclusive industry. Talk about a wardrobe full of smiles.
Get the full story here.
VIEW Press/Getty Images

CEOs were on the go in October, with a slew of retailers and brands from Costco to Olaplex replacing their top execs. Here are the month's most notable moves:
Costco CEO Craig Jelinek will

step down

at the end of the year, the retailer announced, set to be replaced by president and COO Ron Vachris. Vachris, who started at Costco decades ago as a forklift driver, will be just its second CEO after the retailer's co-founders.

After retiring last year, former Dollar General CEO Todd Vasos was

reinstated

as its chief exec, replacing Jeff Owen, who served at the retailer for under a year. The move was aimed at restoring "stability and confidence" in the

struggling company

, according to a statement from the company's board.

Rite Aid filed for Chapter 11 bankruptcy,

replacing

its interim CEO Elizabeth Burr with Jeffrey Stein as CEO and chief restructuring officer.
Keep reading here.—EC
Alo Yoga
Activewear has been having a moment for quite some time now. Just look at brands like Lululemon and Athleta.
But Alo Yoga, the workout brand popular with celebrities, might be well on its way to that level with a potential investment that values the retailer at $10 billion, Reuters reported.
Color Image Apparel, the parent company of the brand that has often been seen on celebrities including Rosie Huntington-Whiteley and Gisele Bündchen, is reportedly working with investors including private equity firms and sovereign wealth funds to work out a deal that could include selling a stake in the company, sources told Reuters.
Keep reading here.—JS
Happiness, tailored to perfection. Here's a glow-up you need to hear about: HSBC partnered with French Toast, a school uniform brand, to help 'em level up their inclusive, adaptive fashion line. Together they're changing schoolwear for the better. Learn more.
Today's top retail reads.
Fresh digs: Walmart is scheduled to reopen more than 100 remodeled stores this Friday. (USA Today)
Downtown doom spiral: When it comes to concerns regarding downtown office vacancy rates and rents, the bigger cities like New York and San Francisco get a lot of the attention. But the places where this is a real cause for concern are the cities where it's a problem that predates the pandemic. (The Atlantic)
Luxury tour: Bal Harbour Shops, one of Miami's most iconic luxury shopping destinations, is now spreading the love with a pop-up tour across the country. (Forbes)
Smile styles: Ready for uplifting news? HSBC partnered with school uniform brand French Toast to support their inclusive, adaptive fashion line and help students from all walks of life feel good in their clothes. Learn more.*
*A message from our sponsor.
Are you an exec looking to make your next career move or join a board of directors? We've partnered with ExecThread, where you can find thousands of confidential job opportunities and board roles that aren't listed anywhere else. Check out positions like:
The numbers you need to know.
Social commerce might be all the rage, particularly for younger shoppers, but it turns out retailers and social media platforms may have to change their approach.
Although 60% of US shoppers are willing to pay $100 on a product purchased on social media, 53% said they are also having a harder time trusting products sold through those channels, according to a study from AiBUY. And this is not a generational split; 52% of Gen Z and Millenials expressed the same concerns.
A majority (63%) said they don't make purchases through social media because of concerns regarding scams, while 57% shared concerns with sharing their checkout information, counterfeit, or low-quality products (55%), lack of privacy safeguards (47%), and unclear return policies (46%).
"While social media has been around for nearly two decades, the concept of shopping directly through social platforms is still very new, so it comes as no surprise we're seeing this reluctancy to purchase," said Randy Bapst, CEO of AiBuy. "With 45% of social media users in the US open to the concept, there is ample untapped opportunity for brands who are not already leveraging the space, and for those that are, to tailor their approach moving forward."
This is not to say that there is no demand for social commerce. Nearly a third of respondents (29%) said that social commerce gives a more personalized experience than traditional e-commerce. Plus, almost a quarter (24%) said they make more impulse buys through social media platforms.
AiBuy highlights the largest motivating factors for social commerce including discounts or promotions (27%), ad targeting based on interests (21%), and finding the least expensive options available (23%).
"We're hopeful that as new technologies emerge to strengthen the customer path to purchase and overall user experience, trust will increase, and this concept of social shopping will become more mainstream," Bapst said.
Share Retail Brew with your coworkers, acquire free Brew swag, and then make new friends as a result of your fresh Brew swag.
We're saying we'll give you free stuff and more friends if you share a link. One link.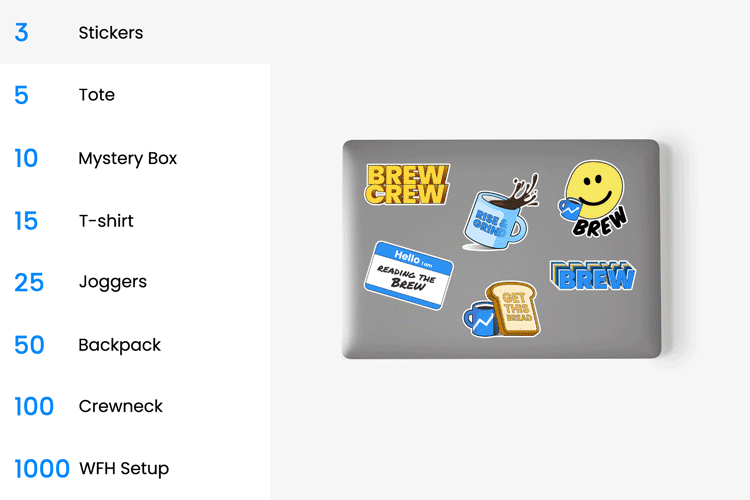 Your referral count: 2
Click to Share
Or copy & paste your referral link to others:
retailbrew.com/r/?kid=303a04a9
Older messages
Thursday, November 2, 2023
Why wind is a tough business... November 02, 2023 View Online | Sign Up | Shop 10% Off Morning Brew PRESENTED BY EnergyX Good morning. It's not just another day in the life for Beatles fans,
Wednesday, November 1, 2023
The future of the IP address as an identifier. November 01, 2023 Marketing Brew PRESENTED BY SurveyMonkey It's Wednesday. Halloween has once again come and gone, and S&P Research estimated that
Wednesday, November 1, 2023
Can fit-tech tools reduce returns? November 01, 2023 Retail Brew TOGETHER WITH Apple Business Connect Hello, hello. It's the first day of November, which means it's time to swap your 12-foot
Wednesday, November 1, 2023
For tech workers, the M–F office grind is dead. https://ad.doubleclick.net/ddm/trackimp/N4789.3407870MORNINGBREW/B25262188.379014446;dc_trk_aid=570157629;dc_trk_cid=153466431;ord=0123456789;dc_lat=;
Wednesday, November 1, 2023
Why homeschooling is booming in the US... November 01, 2023 View Online | Sign Up | Shop 10% Off Morning Brew PRESENTED BY Facet Good morning. Dan Toomey here—Morning Brew's resident TikTok boy.