Will Supreme Court draw the line on gun rights?
| | | |
| --- | --- | --- |
| US Edition - Today's top story: Supreme Court justices consider whether to uphold law that keeps guns out of the hands of domestic abusers View in browser | | US Edition | 7 November 2023 |
Top headlines
Lead story
Between journalism jobs, I ran the state anti-domestic violence coalition in Maine. There I learned very quickly that domestic violence victims fear one threat above all others: an abuser with a gun. Abusers in a rage don't care about the law – and if they've got a gun, the next step may well be murder.
That's why Congress passed a law almost 30 years ago to prohibit the possession of a gun by someone under a domestic violence restraining order. But things got complicated in the past year, after the new conservative majority on the Supreme Court revolutionized the court's approach on a range of issues, from abortion to guns, religion and race.
Scholar Morgan Marietta of the University of Texas at Arlington says those rulings constituted a "constitutional revolution."
"When the court announces a new principle … citizens and lawyers are not sure of the full ramifications of the new rule," writes Marietta. "How far will it go?"
Today's gun case, U.S. v. Rahimi, may help sketch out the limits of those rights, says Marietta, "identifying the stopping point of the recent changes in Second Amendment doctrine."
We have more about deadly gun violence in America in a story by criminologist Alex Knorre, who has uncovered the distressing fact that "for some youg men, it can be safer to be in the U.S. military at war than living at home in the most violent neighborhoods of Philadelphia and Chicago."
Today we are launching "The Conversation on Guns," the fourth book in our Critical Conversations series published by Johns Hopkins University Press. "The Conversation on Guns" explores the role of guns in U.S. society and the impacts of gun violence.
Naomi Schalit

Senior Editor, Politics + Democracy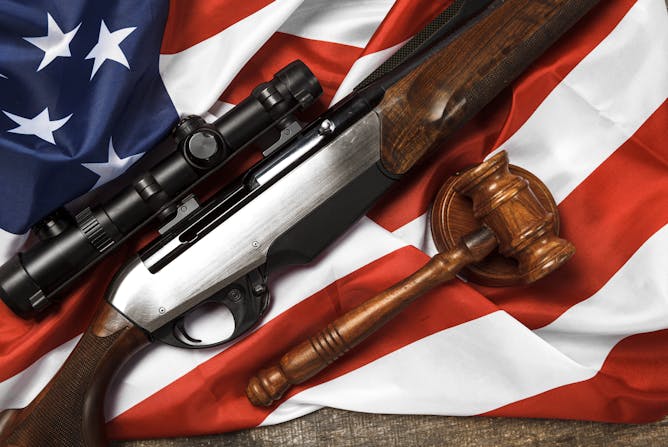 An important tool in the fight against domestic violence is under scrutiny in a major US Supreme Court case.
Science + Technology
'Living materials' made with genetically engineered bacteria and Jell-O-like gel could make pollutants in water bodies nontoxic.

Most people can draw from tens of thousands of words in their memory within milliseconds. Studying this process can improve language disorder treatment and appreciation of the gift of communication.
Economy + Business
The share of low-income US families who sometimes or often didn't have enough food to eat fell from 24.5% to 22.5% between late April and late July of 2020, a research team found.

The downfall of the onetime multibillionaire holds lessons for investors and regulators alike.
Politics + Society
People talk about genocide in a few different ways, ranging from technical to colloquial – but a war of words does not replace a path to peace, a genocide scholar writes.

Political scientists have begun to investigate ways AI can help people understand politics better and get more voices into the public sphere.

Mass shootings account for only about 3% of gun homicides in the US
Environment + Energy
The best science is not always the best engineering when it comes to building codes. It's also a problem across the US, as an engineer who works on disaster resilience explains.
International
While the US is still primarily focused on countering Chinese influence in the region, Australia is making a real impact with its Pacific Engagement Visa.
Older messages
Monday, November 6, 2023
+ chalking up to become a pool reporter ‌ ‌ ‌ ‌ ‌ ‌ ‌ ‌ ‌ ‌ ‌ ‌ ‌ ‌ ‌ ‌ ‌ ‌ ‌ ‌ ‌ ‌ ‌ ‌ ‌ ‌ ‌ ‌ ‌ ‌ ‌ ‌ ‌ ‌ ‌ ‌ ‌ ‌ ‌ ‌ ‌ ‌ ‌ ‌ ‌ ‌ ‌ ‌ ‌ ‌ ‌ ‌ ‌ ‌ ‌ ‌ ‌ ‌ ‌ ‌ ‌ ‌ ‌ ‌ ‌ ‌ ‌ ‌ ‌ ‌ ‌ ‌ ‌ ‌ ‌ ‌ ‌ ‌ ‌ ‌ ‌
Why are there no Black majority-owned teams in the NBA?
Saturday, November 4, 2023
+ will Bibi's career survive this political disaster? ‌ ‌ ‌ ‌ ‌ ‌ ‌ ‌ ‌ ‌ ‌ ‌ ‌ ‌ ‌ ‌ ‌ ‌ ‌ ‌ ‌ ‌ ‌ ‌ ‌ ‌ ‌ ‌ ‌ ‌ ‌ ‌ ‌ ‌ ‌ ‌ ‌ ‌ ‌ ‌ ‌ ‌ ‌ ‌ ‌ ‌ ‌ ‌ ‌ ‌ ‌ ‌ ‌ ‌ ‌ ‌ ‌ ‌ ‌ ‌ ‌ ‌ ‌ ‌ ‌ ‌ ‌ ‌ ‌ ‌ ‌ ‌
Thursday, November 2, 2023
+ Biden's new rules for AI ‌ ‌ ‌ ‌ ‌ ‌ ‌ ‌ ‌ ‌ ‌ ‌ ‌ ‌ ‌ ‌ ‌ ‌ ‌ ‌ ‌ ‌ ‌ ‌ ‌ ‌ ‌ ‌ ‌ ‌ ‌ ‌ ‌ ‌ ‌ ‌ ‌ ‌ ‌ ‌ ‌ ‌ ‌ ‌ ‌ ‌ ‌ ‌ ‌ ‌ ‌ ‌ ‌ ‌ ‌ ‌ ‌ ‌ ‌ ‌ ‌ ‌ ‌ ‌ ‌ ‌ ‌ ‌ ‌ ‌ ‌ ‌ ‌ ‌ ‌ ‌ ‌ ‌ ‌ ‌ ‌ ‌ ‌ ‌ ‌
Palestinian refugees trapped in an indefinite exile
Wednesday, November 1, 2023
+ King Bibi's reign at risk? ‌ ‌ ‌ ‌ ‌ ‌ ‌ ‌ ‌ ‌ ‌ ‌ ‌ ‌ ‌ ‌ ‌ ‌ ‌ ‌ ‌ ‌ ‌ ‌ ‌ ‌ ‌ ‌ ‌ ‌ ‌ ‌ ‌ ‌ ‌ ‌ ‌ ‌ ‌ ‌ ‌ ‌ ‌ ‌ ‌ ‌ ‌ ‌ ‌ ‌ ‌ ‌ ‌ ‌ ‌ ‌ ‌ ‌ ‌ ‌ ‌ ‌ ‌ ‌ ‌ ‌ ‌ ‌ ‌ ‌ ‌ ‌ ‌ ‌ ‌ ‌ ‌ ‌ ‌ ‌ ‌ ‌ ‌ ‌