Morning Brew - ☕ Get up and grow
| PRESENTED BY | |
| --- | --- |
Good afternoon, everyone. Many believed the day would never come, but after more than a decade, the next Grand Theft Auto game…is getting a trailer next month. For the uninitiated, GTA VI could be one of the biggest mass purchasing events of next year, considering its predecessor has sold more than 185 million copies. It's just like the Eras Tour, but for gamers.
In today's edition:
—Jeena Sharma, Erin Cabrey, Alex Vuocolo
Oak and Fort
Since its inception in 2010, Oak + Fort, the Vancouver-based modern lifestyle brand has relied on word of mouth and savvy social media marketing. Its main selling point that has helped the company survive at a time when many other fast fashion retailers are struggling has been pushing its "attainable luxury."
Now as the brand has grown to several physical locations in North America, it continues to find ways to keep up with the competition while trying to engage its Gen Z and millennial consumers across a range of marketing and social media platforms.
"As we're expanding our brick and mortar—which is such a great avenue for us to utilize our stores as just marketing efforts—we're also looking at a full funnel marketing approach which really consumes a mix of owned, earned, and paid strategies," Melorin Pouladian, Oak + Fort's SVP of operations, told Retail Brew, adding that word of mouth has been a pretty savvy strategy for the brand so far. Social media has been another winner for the brand.
Keep reading here.—JS
If you're a fan of simplifying, streamlining, and de-stressing, we think you'll like this one.
PayPal Braintree is the payments platform that does way more than process payments. And right now, they're offering solar-powered phone chargers to the first 240 people who take a meeting with a payments expert.
Want some more deets before you book? PayPal Braintree can help you:
increase revenue, streamline ops, and manage security

create data-driven, seamless customer experiences to grow your business across channels with a single, extensible vault

cut down on operating costs + help your biz stay agile by simplifying your commerce ecosystem
Schedule your meeting today to get your solar-powered phone charger.
Francis Scialabba
This Thanksgiving, consumers will continue to fill their shopping baskets with standard feast fare like turkey and pies, but as prices remain elevated, they're keeping an eye out for deals.
Whether they're making it all homemade or buying heat-and-eat, 90% of Thanksgiving meals are purchased from retail and made at home, according to data from consumer research company Circana's Thanksgiving Tracker. The holiday is "the second-largest food holiday of the year" behind Christmas, and last year, shoppers spent $2.8 billion more on food for Thanksgiving dinner than during an average week, per Circana.
According to consumer insights company Numerator's Holiday Preview, US shoppers will spend between $100 and $200 on Thanksgiving. Three-quarters will shop at grocery stores, 37% at mass retailers, and 29% at club or wholesale stores.
Keep reading here.—EC
Figs
Figs, the DTC apparel brand for healthcare professionals, last week opened its first brick-and-mortar location at the Century City Mall in Los Angeles, on the heels of a strong third quarter for the company.
It joins a growing number of DTC brands that are expanding their physical footprint, and while some are relying more on wholesale partners to get this done, others are opening their own retail outlets.
Keep reading here.—AV
Concise advice. Gather 'round the e-book campfire—it's time for stories from retail changemakers. NewStore gathered all the advice shared on their Endless Aisle podcast and consolidated it into 11 practical lessons about achieving success in omnichannel transformation. It's got guidance, inspo, and a great aesthetic. Get your copy.
Today's top retail reads.
Pay the piper: Garment workers overseas who manufacture a large portion of apparel sold domestically want higher pay, which means consumers, brands, or both are going to have to pay up. (the Wall Street Journal)
Time to Shein: As apparel giant Shein prepares for its IPO, the company's strong ties to China could complicate its plans to grow in the United States. (The Financial Times)
Out of pocket: Credit card debt in the United States has reached a record high as pandemic-era savings have dwindled over the past few years, and the effects could be significant. (ABC News)
Pay here: With PayPal Braintree, you can increase revenue, streamline ops, and manage security, all from one omnichannel payments platform. Oh, and snag a solar-powered charger when you take a meeting today.*
*A message from our sponsor.
Are you an exec looking to make your next career move or join a board of directors? We've partnered with ExecThread, where you can find thousands of confidential job opportunities and board roles that aren't listed anywhere else. Check out positions like:
The numbers you need to know.
We understand that you don't read Retail Brew for politics, but as we've learned over the past few years, brands and their political messaging have come under intense scrutiny.
Corporate activism has been front and center, given that about 1 in 5 consumers have boycotted a brand, according to a Morning Consult survey data collected between August 2019 and October 2023.
A majority of respondents (61%) said in 2019 that corporations should not get involved with political or cultural issues. That figure has declined slightly to 53% as of 2020 and has held at that same percentage in 2023.

The real divide brands should take note of, per Morning Consult, lies in the generational divide: 67% of boomers believe brands should remain apolitical, a figure that's only 39% for Gen Zers and millennials as of 2023.
"CEOs and other corporate leaders are going to have to weigh the risks involved with succumbing to that pressure with the increasing probability of blowback from the other side of America's generational and ideological divide," Morning Consult noted.
Among all US adults, the most important issues consumers believe brands should take a stand on include support for the police, diversity in the workforce, the environment/climate change, and gender equality/women's rights.
Gen Z adults, specifically, are more likely than the public, by double digits, to want brands to take stances on issues of race and racism in America, LGBTQ+ rights, access to abortion/contraception, and gun control.
"Corporate brands that want to be active on political, societal, and cultural issues should know that many public positions are likely to turn off a portion of the American public," Morning Consult said.
Share Retail Brew with your coworkers, acquire free Brew swag, and then make new friends as a result of your fresh Brew swag.
We're saying we'll give you free stuff and more friends if you share a link. One link.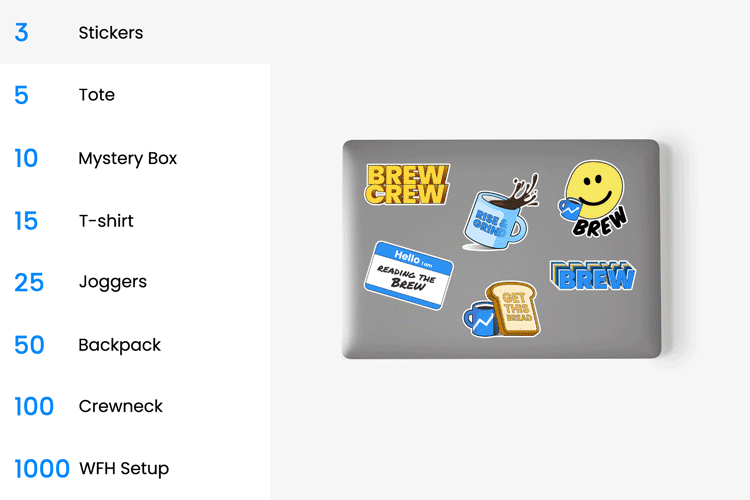 Your referral count: 2
Click to Share
Or copy & paste your referral link to others:
retailbrew.com/r/?kid=303a04a9
✢ A Note From PayPal
First 240 attendees, US 18+. Ends 11:59pm ET on 1/1/2024 while supplies last. Full offer terms apply.
Older messages
Thursday, November 9, 2023
Meta's AI restrictions on political ads. November 09, 2023 Marketing Brew TOGETHER WITH Apple Business Connect Happy Thursday, especially to SAG-AFTRA, which reached a tentative agreement with
Thursday, November 9, 2023
A new kind of aircraft is ready to fly... November 09, 2023 View Online | Sign Up | Shop 10% Off Morning Brew PRESENTED BY Autonomix Good morning. WeWork filing for bankruptcy this week showed us what
Wednesday, November 8, 2023
Big box retailers experiment with store formats. November 08, 2023 Retail Brew PRESENTED BY Stamped It's Wednesday. Keeping track of financials is critical to success in retail, and it doesn't
Wednesday, November 8, 2023
The year's best—and worst—rebrands. November 08, 2023 Marketing Brew PRESENTED BY SurveyMonkey It's Wednesday. Name a more powerful icon than the "I voted" sticker. We'll wait. In
☕ Your prescription is hovering
Wednesday, November 8, 2023
Medicine takes to the skies with Cleveland Clinic's new drones. November 08, 2023 Tech Brew PRESENTED BY Autonomix It's Wednesday, and about one year from today, Americans will have voted for