An Interview with Riley Tomasek of Standard Resume
Hello! What's your background, and what are you working on?
Hi! I'm Riley Tomasek, one of the founders of Standard Resume, an app that allows anyone to create a beautiful resume.
Before working on Standard Resume full time, I worked as a software engineer and founder. I co-founded Flight and worked as a software engineer for a few startups like Dropbox.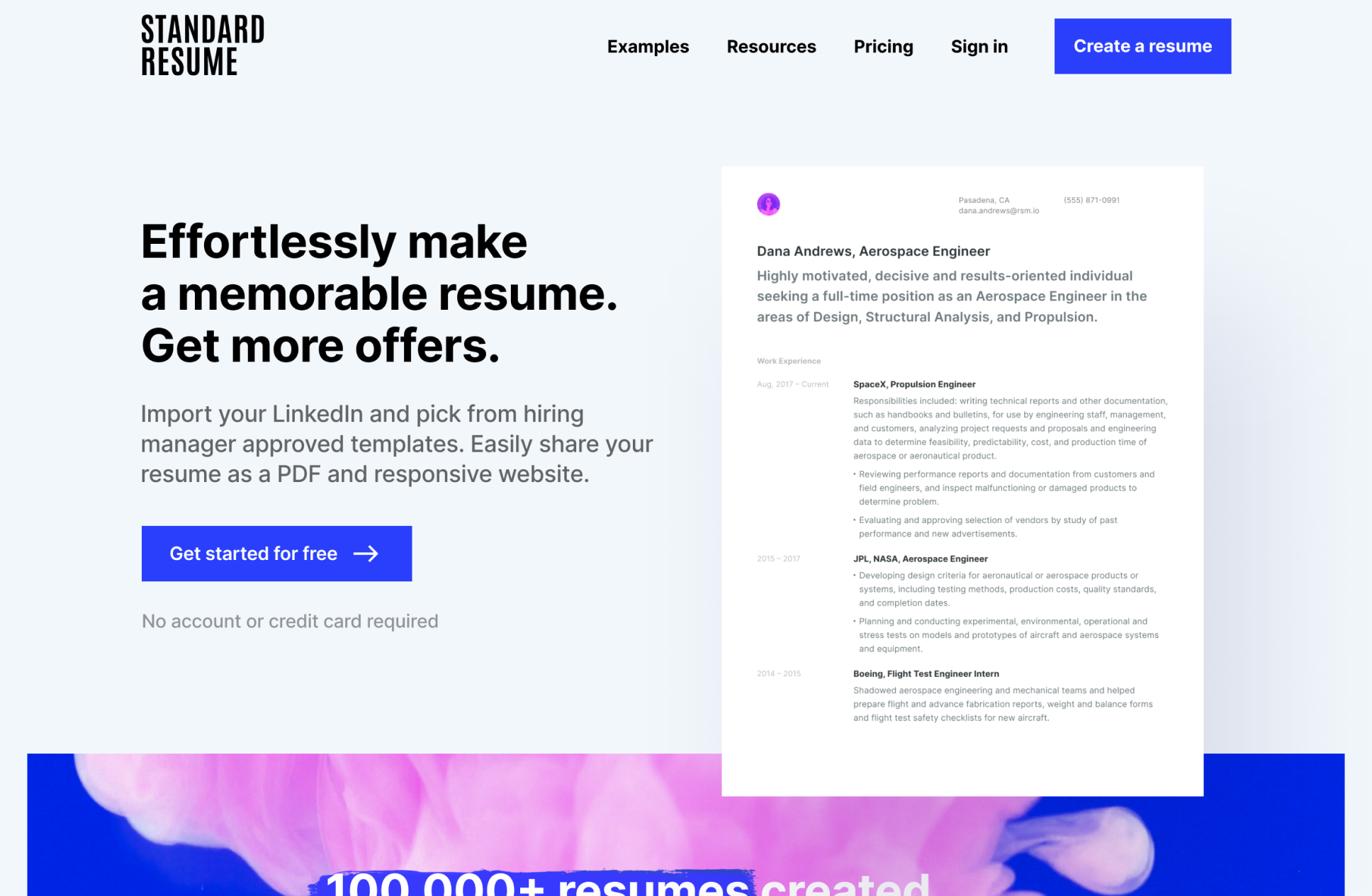 Standard Resume is a web app that makes it easy to create PDF and web resumes. Import your LinkedIn profile and pick from hiring manager-approved templates. Easily share your resume as a PDF and responsive website.
Standard Resume has helped create over 100,000 resumes and our monthly revenue is $3,000.
What motivated you to get started with Standard Resume?
Five years ago, I was applying for jobs and wanted a good looking resume. I tried a few existing solutions but didn't like them, so I ended up building something from scratch. It was a static website that could be printed to a PDF. My friends, Sari and Sinan, designed it and are now my cofounders.
We decided to build a simple editor that could generate resume websites and released it. A few weeks later, in May 2015, I woke up to a notification saying that Standard Resume had been posted to Product Hunt. Kevin William David posted it and we already had hundreds of upvotes.
"Validate everything as fast as you can. The best way to do this is by asking people to pay."
We ended up being the #1 product of the day and got several thousand new users. I started working at Dropbox shortly after, and we kept paying the bills, but otherwise ignored it.
Two years later, in June 2017, we decided to add a few of the most requested features as a paid subscription. We finished the features, set up Stripe for billing and continued running it as a side project.
In May 2020, I decided that I wanted to work on building something profitable and sustainable. I had enough of the baggage that comes with venture-funded startups. Standard Resume was still growing and this seemed like the perfect opportunity to give it a shot, so I've recently transitioned to making it a full-time project!
What went into building the initial product?
As I mentioned earlier, the first version was extremely simple. It was opinionated, had no customizations, and only had one resume template. Product focus combined with a straightforward tech stack made it quick to build. The first version took a couple of months of weekends and evenings.
When I started working on Standard Resume full time, we decided to rebuild the entire app. Knowing that I would have more time and energy to work on the app, we decide to make it a lot more powerful. This also meant it was more complicated to build.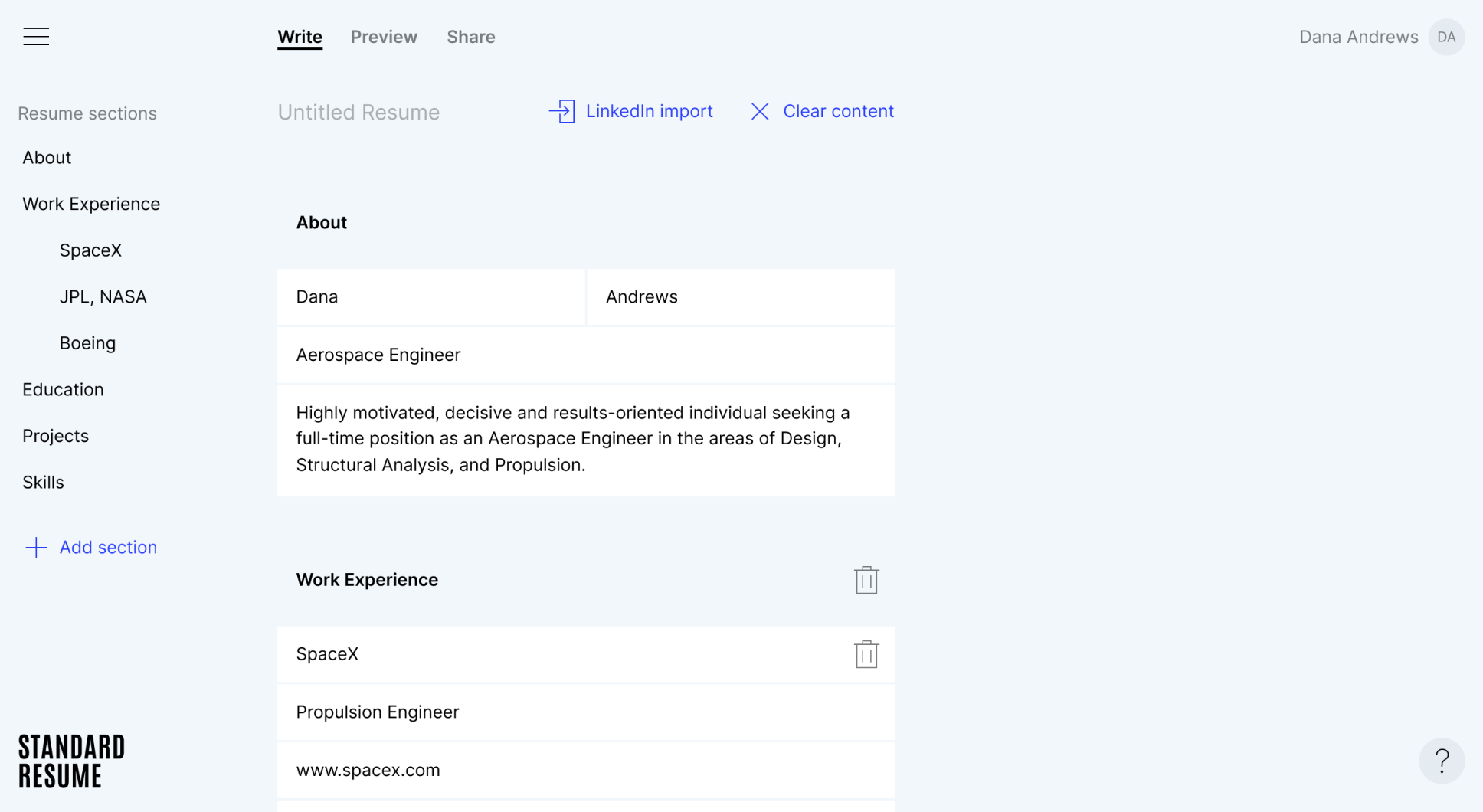 I have been working on it for about two months and we are almost ready for a full release.
What's your tech stack?
We use Firebase for our database, authentication, cloud functions, and app hosting. It allowed us to get started with very little overhead and maintenance.
The website runs on Next.js and Vercel. We wanted our marketing pages to be static, but also needed server rendering for the web resumes. The server rendering is for SEO and the static pages are for performance.
The app and website both use React and the usual libraries. What is traditionally handled by servers, is done by JavaScript Firebase cloud functions.
Our biggest tech challenge and the only major change has been PDF resume creation. We originally used a service to create the PDF resumes, but weren't able to make them match our designs. While working on the latest version of Standard Resume, we built a custom PDF renderer. It was a lot of work, but it allows us to generate PDFs that are far better than any of our competitors.
How have you attracted users and grown Standard Resume?
We've had two Product Hunt launches that were responsible for most of our growth. Our first launch week had 12,000 page views and leveled at 1,500/week. Our second launch had 10,000 page views and leveled around 4,000/week.
"Most people tell you what they think you want to hear when you ask for feedback, rather than the truth."
Other than Product Hunt, we've grown by word of mouth due to happy customers and a unique product. We are the only resume builder that can import your LinkedIn profile and turn it into a resume.
We recently started exploring several different growth strategies, including content marketing/SEO, sponsorships, and advertisements. So far, we have created a collection of resume examples and resume writing resources.
We don't have any results to share since it's early, but watch our product page for updates.
What's your business model, and how have you grown your revenue?
We are a freemium product that makes money through paid subscriptions. When we started charging in May 2017, our prices were $5/month or $20/year. We saw slow linear MRR growth to $440 after the first year. Our MRR continued to grow linearly to $1,000 in May 2019 and then picked up and grew to $2,700 in May 2020.
We have used Stripe since day one. It has been great and is something I would definitely recommend to anyone starting out. Stripe was fast to set up, and we have had no issues in the three years we've used it. Being able to quickly change prices was critical to increasing our MRR.
Most of our MRR growth over the last two years has come from pricing and product changes. By experimenting with the price, we were able to increase our MRR, without product changes. We also made some small changes to our freemium model that increased conversion.
What are your goals for the future?
Our current focus is on increasing traffic. We haven't spent much time on marketing and we think there are many opportunities for growth.
I don't believe in setting goals that are tied to specific outcomes, dates, or numbers. We continually reassess what's important to us and do our best to work on that. Jason Fried wrote an article that is well-aligned with our thinking on goals.
If you had to start over, what would you do differently?
We have a high churn rate because most people only need a resume for a couple of months every few years. We knew this from the beginning, but it's turned out to be a bigger problem than we initially thought.
Having a high churn rate has made it difficult for us to increase our customer lifetime value, which in turn means that we don't make very much money from each new customer. Many marketing channels cost more to acquire customers than we will make from them.
So if we started over, I would have put a lot more thought into how we could reduce churn. It's much harder to change your business model or product five years in.
Have you found anything particularly helpful or advantageous?
Having good analytics and a way to collect user feedback has been critical to our success. Analytics have kept us honest and made it easy to measure the impact of each change we made. User feedback helped us to prioritize what to work on and know when our changes solved the intended problems. I would definitely recommend setting up decent analytics and a way to collect user feedback as early as possible.
We've been very lucky to be where we are without working on customer acquisition. We owe a lot to the Product Hunt community for their early adoption and invaluable feedback.
What's your advice for indie hackers who are just starting out?
Make something that people actually need and charge for it. This sounds simple, but it's surprisingly hard to do. Most people tell you what they think you want to hear when you ask for feedback, rather than the truth.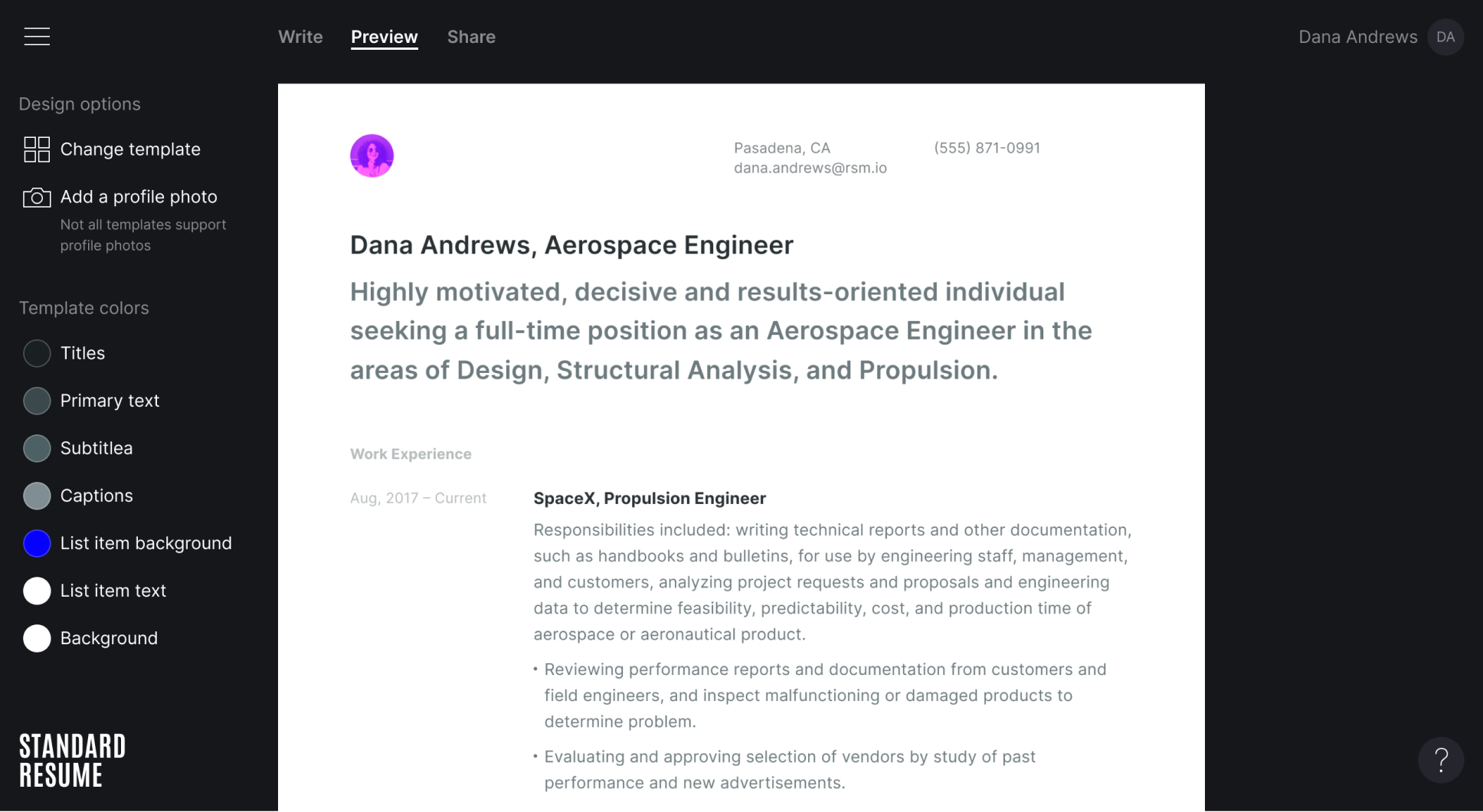 We were lucky because Standard Resume started by solving my own problem. If you aren't lucky enough to work on a problem of your own, make sure to validate everything as fast as you can. The best way to do this is by asking people to pay. It's a much better signal than anything that someone says, or even non-payment metrics like sign-ups and usage.
For more general advice, check out Naval's tweetstorm How to Get Rich (without getting lucky). It has a lot of wisdom that is directly applicable to starting companies.
Where can we go to learn more?
You can check out our website or Twitter to learn more.
To get in touch, you can also email me or follow me on Twitter.
Don't hesitate to add any questions or comments on the site.