SEO Digest #1: Core Update Insights, GoDaddy Merchants, 101 SEO Tips and more

Hi Reader,
We've handpicked top pieces of content from all around the SEO community from the past week. Here's everything you need to stay up to date on new developments in search.
Search updates straight from the source
Google announces e-commerce partnership with GoDaddy
GoDaddy merchants can now list and promote their products on Google directly from their GoDaddy Online Store. For anyone with an e-commerce website this is a great opportunity to grow your products' presence in search.
John Mueller says you don't have to disguise affiliate links (on two conditions)
On a recent #AskGooglebot segment John Mueller said it's fine to display affiliate links on two conditions. First, your website provides unique and valuable content. Second, affiliate links are declared with rel="nofollow" or rel="sponsored" attributes.
Keiko Lynn shares an actionable introduction to evergreen content
As a part of Google's Web Creator's series Keiko Lynn delivers a video on the basics of evergreen content. The video is packed with examples from personal experience and is an absolute delight to watch.
YouTube rolls out automatic video chapters
Splitting your videos into chapters is an essential part of YouTube SEO and also the part most creators were doing wrong. Starting now, you'll have an option to delegate this job to the platform, although it remains to be seen whether the algorithm will do a good enough job.
Updates from the rest of the SEO world
Rapid-fire insights from the summer of two core algorithm updates
Glenn Gabe shares early observations of the effects of the Page Experience update as well as real-life examples and actionable tips on mitigating these effects.
Too much lazy-loading may actually hurt your LCP score
Turns out, some CMS platforms lazy-load all of the images on the page, including the images above the fold, which often delays largest contentful paint. Fixing this issue improves your LCP score by an average of 7%.
Moz holds virtual MozCon with a strong speaker lineup
While the actual recordings from the conference are behind a paywall, all presentations are neatly summarized on Moz blog: day one recap, day two recap, day three recap. Some of the decks are also uploaded to SlideShare. Of particular interest are the E-A-T presentation by Lily Ray and indexability management presentation by Areej AbuAli.
Hottest threads from SEO forums
This week, SEO Reddit got excited about a longer-than-necessary list of SEO tips. Although the list gets repetitive at times, there are quite a few actionable tips in there.
BHW: Best way to steal content
As usual, BlackHatWorld is up to no good, trying to come up with a perfect formula for how to steal content and avoid detection.
Meme of the week
It's funny cause it's true. Credit goes to Izzi Smith of Twitter.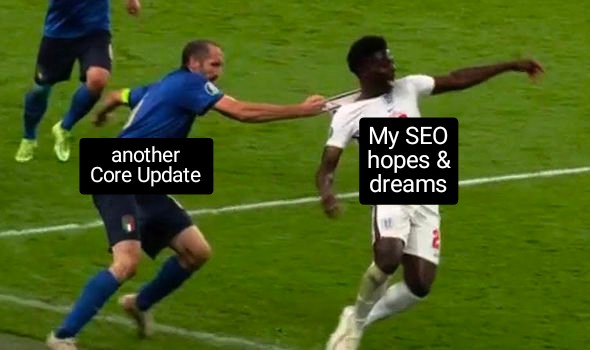 That's it for this week. Till next time :)
---
Liked the digest? Share it with your friends:
Facebook | Twitter | LinkedIn | WhatsApp | Email
You are receiving this email because you subscribed to Link-Assistant.Com news. If you do not want to receive our email again, click to unsubscribe.
Older messages

Page Speed Optimization Checklist
Friday, July 16, 2021
Boost your site's page speed to minimize the impact of Google's Core Web Vitals Hi Reader, While Core Web Vitals is still rolling out, it's likely that page speed will now play a bigger

E-Commerce SEO 2021: 5 Steps to Success
Tuesday, July 6, 2021
A simple (but complete) guide on how to do e-commerce SEO in 2021 Hi Reader, With 25% of all online sales coming from organic traffic, neglecting your store's SEO means losing money. To help you

WordPress SEO: 12 Tips to Grow Your Traffic
Tuesday, June 29, 2021
Learn 12 essential tips that will help optimize your WordPress site and boost its rankings Hi Reader, Just as any other website, your WordPress site needs a good SEO strategy to secure high rankings

[NEW] Backlink Analytics via API
Monday, June 28, 2021
Hi Reader, Did you know our backlink analytics is now available via an API? So you can integrate our backlink data into spreadsheets, reporting dashboards, or even into your own SEO tools. Our plans

4 Steps to Win a Featured Snippet on Google
Wednesday, June 23, 2021
Learn how to push your website to the very top of the search and boost your online visibility Hi Reader, Getting a featured snippet on Google is an excellent way to push your site to the very top of