📣 Opinionated: What the Texas Law Costs Women

The devastating cost of this regressive tax on women
At Ellevest, we believe that only good things happen when women have more money. Not just for women themselves, but for everyone (their families, the economy, and the men in their lives, to name a few).
The inverse of that, of course, is that negative things can (actually, do) happen when women have less money … and thus less power and autonomy.
And it's been tough-going of late, with the pandemic and the Andrew Cuomo allegations. But nothing feels quite as pit-in-our-stomach for the well-being of women+ as what's going on in Texas.
The anti-abortion law in Texas is many things, covered in detail by many dedicated journalists. But one thing I want to emphasize is that this law is a regressive tax on people who can give birth: Data shows that it will cost women more than men (to state the obvious), and it will cost women with less money even more by snowballing their financial hardship. In a 2018 study, researchers found that women who were refused abortions were nearly four times as likely to live below the federal poverty line four years later as women who had them. (And that was without the pandemic making things worse.)
When women have less money (and power and autonomy), it costs us all.
This will be true for Texas, perhaps especially when it comes to recruiting and retaining employees. According to one study, 56% of women and 54% of men say they would be discouraged from taking a job in a state that has restricted access to abortion. And that can have a direct, negative impact on the economy of the state.
Acts of financial self-care, such as saving and investing, can be subversive acts for women: Having been socialized that "women aren't good with money" and "women buy too many lattes," taking control of one's financial life flies in the face of these norms.
But it's also — of course — self-preservation.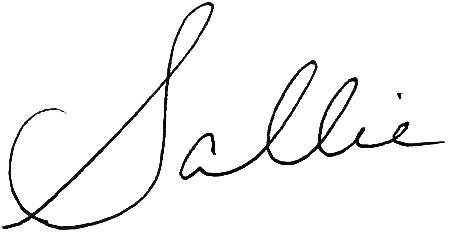 CO-FOUNDER & CEO
PS: If you're looking for ways to help women's rights organizations in Texas, here's a list to research and consider supporting.
The unraveling of "girlboss"
In a recent article for The Cut, Samhita Mukhopadhyay unpacked the full-blown phenomenon of #girlboss as a blueprint for ambitious women "hustling" to make it in the professional world. So we asked how you're feeling about the term "girlboss." Here's what you said:
"Being well rested and letting go of the glorification of hustle culture."
– Elle Raiser @chellyfrancis on what ambition looks like in the post-girlboss era. 💸 TL;DR: Women are still incredibly ambitious, but we've evolved past a catchy hashtag to define that ambition.
Knowledge is power, too
Arm yourself with the facts you need to have honest conversations about women+ and money — at home, at work, and even at the dinner table. (Sorry, Emily Post.)
Your money, your values
Join next week's small-group working session to identify your values and use them to make money decisions — like donating to causes that you love — feel even more meaningful.⁠
5 links to spend time with today
Financial wellness, peace of mind, a community of women+ lifting each other up.
All opinions and views expressed by Ellevest are current as of the date of this writing, for informational purposes only, and do not constitute or imply an endorsement of any third party's products or services.

Information was obtained from third-party sources, which we believe to be reliable but not guaranteed for accuracy or completeness.

The information provided should not be relied upon as investment advice or recommendations, does not constitute a solicitation to buy or sell securities and should not be considered specific legal, investment or tax advice.

The information provided does not take into account the specific objectives, financial situation, or particular needs of any specific person.

Investing entails risk, including the possible loss of principal, and there is no assurance that the investment will provide positive performance over any period of time.

Banking products and services are provided by Coastal Community Bank ("Coastal"), Member FDIC, pursuant to license by Mastercard International. Your Ellevest Spend and Ellevest Save Account deposits will be insured to the regulatory limits by the FDIC through Coastal Community Bank, Member FDIC.

Funds held in your Ellevest investment accounts are not FDIC insured, not guaranteed by Coastal, and may lose value. Ellevest does not guarantee investment performance.

Older messages
📌Snag Your Seat: This Week's Events
Tuesday, September 7, 2021
Plus, how to plan for the career you want. ‌ ‌ ‌ ‌ ‌ ‌ ‌ ‌ ‌ ‌ ‌ ‌ ‌ ‌ ‌ ‌ ‌ ‌ ‌ ‌ ‌ ‌ ‌ ‌ ‌ ‌ ‌ ‌ ‌ ‌ ‌ ‌ ‌ ‌ ‌ ‌ ‌ ‌ ‌ ‌ ‌ ‌ ‌ ‌ ‌ ‌ ‌ ‌ ‌ ‌ ‌ ‌ ‌ ‌ ‌ ‌ ‌ ‌ ‌ ‌ ‌ ‌ ‌ ‌ ‌ ‌ ‌ ‌ ‌ ‌ ‌ ‌ ‌ ‌ ‌ ‌ ‌ ‌ ‌
💸 Money Cheat Sheet: Do you feel good at work?
Thursday, September 2, 2021
Because you deserve to. ‌ ‌ ‌ ‌ ‌ ‌ ‌ ‌ ‌ ‌ ‌ ‌ ‌ ‌ ‌ ‌ ‌ ‌ ‌ ‌ ‌ ‌ ‌ ‌ ‌ ‌ ‌ ‌ ‌ ‌ ‌ ‌ ‌ ‌ ‌ ‌ ‌ ‌ ‌ ‌ ‌ ‌ ‌ ‌ ‌ ‌ ‌ ‌ ‌ ‌ ‌ ‌ ‌ ‌ ‌ ‌ ‌ ‌ ‌ ‌ ‌ ‌ ‌ ‌ ‌ ‌ ‌ ‌ ‌ ‌ ‌ ‌ ‌ ‌ ‌ ‌ ‌ ‌ ‌ ‌ ‌ ‌ ‌ ‌ ‌ ‌ ‌ ‌ ‌
🏢 Opinionated: How Are You Feeling About Work Right Now?
Tuesday, August 31, 2021
Plus, the career courses that can help you get more and why you should pencil in daydreaming. ‌ ‌ ‌ ‌ ‌ ‌ ‌ ‌ ‌ ‌ ‌ ‌ ‌ ‌ ‌ ‌ ‌ ‌ ‌ ‌ ‌ ‌ ‌ ‌ ‌ ‌ ‌ ‌ ‌ ‌ ‌ ‌ ‌ ‌ ‌ ‌ ‌ ‌ ‌ ‌ ‌ ‌ ‌ ‌ ‌ ‌ ‌ ‌ ‌ ‌ ‌ ‌ ‌ ‌
Pencil Us In: This Week's Events
Monday, August 30, 2021
Including: How to create an eye-catching resume. ‌ ‌ ‌ ‌ ‌ ‌ ‌ ‌ ‌ ‌ ‌ ‌ ‌ ‌ ‌ ‌ ‌ ‌ ‌ ‌ ‌ ‌ ‌ ‌ ‌ ‌ ‌ ‌ ‌ ‌ ‌ ‌ ‌ ‌ ‌ ‌ ‌ ‌ ‌ ‌ ‌ ‌ ‌ ‌ ‌ ‌ ‌ ‌ ‌ ‌ ‌ ‌ ‌ ‌ ‌ ‌ ‌ ‌ ‌ ‌ ‌ ‌ ‌ ‌ ‌ ‌ ‌ ‌ ‌ ‌ ‌ ‌ ‌ ‌ ‌ ‌
💸 Money Cheat Sheet: Oh Hey, Student Loans
Thursday, August 26, 2021
We didn't miss them (but here's how to prep!). ‌ ‌ ‌ ‌ ‌ ‌ ‌ ‌ ‌ ‌ ‌ ‌ ‌ ‌ ‌ ‌ ‌ ‌ ‌ ‌ ‌ ‌ ‌ ‌ ‌ ‌ ‌ ‌ ‌ ‌ ‌ ‌ ‌ ‌ ‌ ‌ ‌ ‌ ‌ ‌ ‌ ‌ ‌ ‌ ‌ ‌ ‌ ‌ ‌ ‌ ‌ ‌ ‌ ‌ ‌ ‌ ‌ ‌ ‌ ‌ ‌ ‌ ‌ ‌ ‌ ‌ ‌ ‌ ‌ ‌ ‌ ‌ ‌