Beyond the Boring - What makes stories powerful?

Hey Reader! 👋

I tend to be the quiet, observant one in group conversations.
Unless I have a strong opinion or something worthwhile to add, I don't speak (there's also a good chance I'm uninterested, completely zoned out, and daydreaming, but let's not talk about that! 😅)
Now that I'm no longer curating and summarising, I've been trying to decide what to write in my emails. I don't want to send you emails just to keep up an arbitrary cadence, but I also don't want to be forgotten or to forget I have a newsletter I'm supposed to (supposed to?) send! 😊
I figured I might use this channel to start a conversation with you.
I want to hear about your experience with online courses and how you think they can be improved. Your responses will directly influence what I write about in Beyond the Boring.
This week, I'm thinking about storytelling. 🎭
What makes stories powerful for teaching?
It's generally accepted that stories are powerful teaching tools, but why?
And how do you effectively incorporate storytelling into the curriculum and the student learning experience?

Stories are powerful because they make learning fun and interesting, but more importantly, they make ideas stick by connecting the dots and putting concepts into context so we can make sense of them.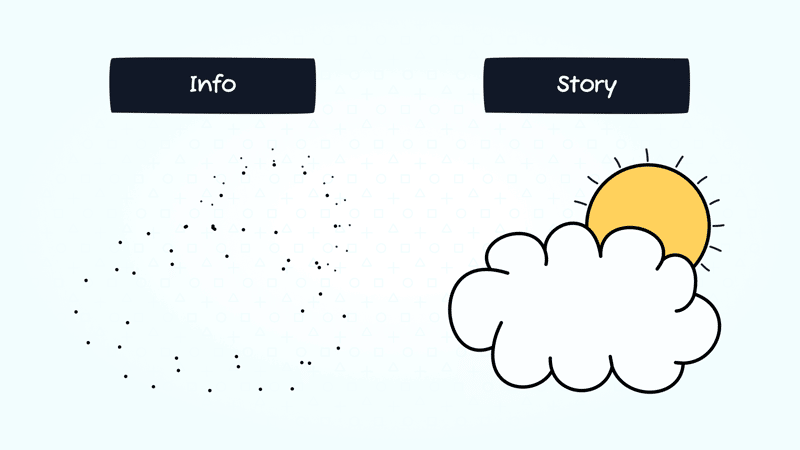 Stories are like breadcrumbs for our minds.
They also inspire us to take action by connecting with us at an emotional level. This is why the most powerful stories are the ones we can relate to, where we feel the emotions felt by the characters. 🤗
The question I'm struggling to answer eloquently is this:
How do you effectively use stories to make online courses more memorable and impactful? 🤔
I'd love to hear your thoughts and any examples of courses where you've experienced the power of storytelling firsthand! 💪
Need to change something? Update your profile
Not getting what you need? No hard feelings! Unsubscribe
113 Cherry St #92768, Seattle, WA 98104-2205
Key phrases
Older messages

Here's what I think happened…
Monday, January 3, 2022
It's been 3 weeks since I put CCW on pause. It's given me some extra breathing room and time to reflect. ‌ ‌ ‌ ‌ ‌ ‌ ‌ ‌ ‌ ‌ ‌ ‌ ‌ ‌ ‌ ‌ ‌ ‌ ‌ ‌ ‌ ‌ ‌ ‌ ‌ ‌ ‌ ‌ ‌ ‌ ‌ ‌ ‌ ‌ ‌ ‌ ‌ ‌ ‌ ‌ ‌ ‌ ‌ ‌

😥 CCW – I've lost my drive
Monday, December 13, 2021
"I've lost my drive." That's what I wrote in my journal on Saturday! 😔 I've struggled a lot this year, on so many levels, and for the past few months with this newsletter and the idea of

✍🏻 CCW #74 – Writing Well with Julian Shapiro
Monday, December 6, 2021
Julian Shapiro's guide to writing, and why I had to take a break from writing this newsletter! ‌ ‌ ‌ ‌ ‌ ‌ ‌ ‌ ‌ ‌ ‌ ‌ ‌ ‌ ‌ ‌ ‌ ‌ ‌ ‌ ‌ ‌ ‌ ‌ ‌ ‌ ‌ ‌ ‌ ‌ ‌ ‌ ‌ ‌ ‌ ‌ ‌ ‌ ‌ ‌ ‌ ‌ ‌ ‌ ‌ ‌ ‌ ‌ ‌ ‌ ‌

📈 CCW #73 – Viral Writing 101 with Shaan Puri
Monday, November 15, 2021
Shaan Puri, Dickie Bush, and Nicolas Cole talk about viral writing, Julia Saxena shares tips on the operational side of running CBCs, and Janelle Allen talks about curriculum design. ‌ ‌ ‌ ‌ ‌ ‌ ‌ ‌ ‌

💸 CCW #72 – Earning $40k Per Month as a Creator
Monday, November 8, 2021
Jay Clouse and Marie Poulin talk about generousity, experiments, fun, consistency, and a whole lot more. Andrew Barry talks about activating prior knowledge in students, and Louis Grenier talks with