More public schools are closing for Islamic holidays
| | | |
| --- | --- | --- |
| US Edition - Today's top story: Students lead more public schools to close for Islamic holidays View in browser | | US Edition | 2 May 2022 |
When I converted to Islam at age 16 back in 1989, I never thought much about taking off from school to attend Eid al-Fitr, the prayer and celebration that occurs on the day after the monthlong fast of Ramadan. To me, missing school to observe this religious holiday just seemed like something I had to do. But many Muslim students today see things differently. In a quest for equal treatment, some students of the Islamic faith are pushing for public schools to close in observance of Eid al-Fitr just like schools already close for Christmas. And in cities like Bridgeport, Connecticut; Iowa City, Iowa; and Detroit, Michigan student efforts to have schools close in observance of the Eid have begun to prevail. Amaarah DeCuir, an American University researcher who specializes in Muslim student issues, explores some of the deeper reasons behind school districts' decisions to close for Islamic holidays.
Also, Tazeen M. Ali, an assistant professor of religion and politics, profiles a women's-only mosque in Los Angeles, and Ken Chitwood, a journalist fellow at the Center for Religion and Civic Culture at the University of Southern California, illuminates some of the ways in which the broader Islamic community celebrates Eid al-Fitr.
Also today:
Jamaal Abdul-Alim

Education Editor
School districts throughout the nation are beginning to heed calls to give students and teachers a day off in observance of the Eid al-Fitr, a major Islamic holiday held at the end of Ramadan.
Ethics + Religion
As Muslims congregate in their local mosques in communal prayer for Eid, the Women's Mosque of America, located in Los Angeles, will provide an exclusive religious space for its female congregants.

Muslims throughout the world will celebrate the holiday of Eid al-Fitr, a celebration at the end of Ramadan. Here's an introduction to this important feast and its partner, Eid al-Adha.
Economy + Business
The Federal Reserve is expected to lift interest rates a half point at its next meeting and more in the coming months, but it may be too late to forestall an economic downturn.
Arts + Culture
Letizia Battaglia's images of Mafia bloodshed made it impossible for people to turn a blind eye to the criminal outfit's reign of terror.
Environment + Energy
When Indigenous peoples lose their river flow to dams, satellite programs like Landsat can help them fight for their resources.

You can't photograph the inside of a twister, but radar offers some clues.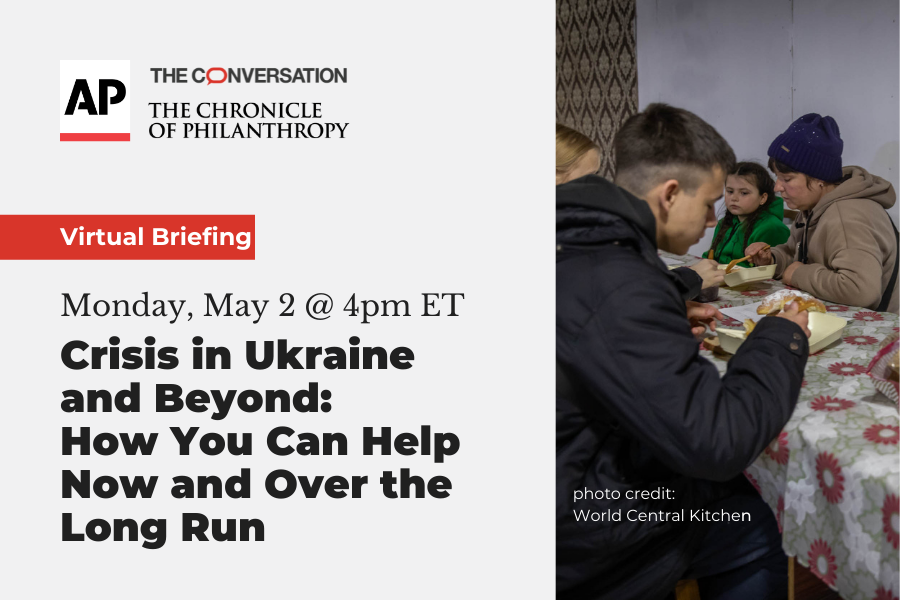 Older messages
Why Atlanta shouldn't be the home of the Braves
Saturday, April 30, 2022
+ giving wildlife more room to roam ‌ ‌ ‌ ‌ ‌ ‌ ‌ ‌ ‌ ‌ ‌ ‌ ‌ ‌ ‌ ‌ ‌ ‌ ‌ ‌ ‌ ‌ ‌ ‌ ‌ ‌ ‌ ‌ ‌ ‌ ‌ ‌ ‌ ‌ ‌ ‌ ‌ ‌ ‌ ‌ ‌ ‌ ‌ ‌ ‌ ‌ ‌ ‌ ‌ ‌ ‌ ‌ ‌ ‌ ‌ ‌ ‌ ‌ ‌ ‌ ‌ ‌ ‌ ‌ ‌ ‌ ‌ ‌ ‌ ‌ ‌ ‌ ‌ ‌ ‌ ‌ ‌ ‌ ‌ ‌ ‌ ‌ ‌
Should we really tell aliens there is life on Earth?
Friday, April 29, 2022
+ a return for the former tweeter-in-chief? ‌ ‌ ‌ ‌ ‌ ‌ ‌ ‌ ‌ ‌ ‌ ‌ ‌ ‌ ‌ ‌ ‌ ‌ ‌ ‌ ‌ ‌ ‌ ‌ ‌ ‌ ‌ ‌ ‌ ‌ ‌ ‌ ‌ ‌ ‌ ‌ ‌ ‌ ‌ ‌ ‌ ‌ ‌ ‌ ‌ ‌ ‌ ‌ ‌ ‌ ‌ ‌ ‌ ‌ ‌ ‌ ‌ ‌ ‌ ‌ ‌ ‌ ‌ ‌ ‌ ‌ ‌ ‌ ‌ ‌ ‌ ‌ ‌ ‌ ‌ ‌ ‌ ‌ ‌
Ukrainians just want to go home
Thursday, April 28, 2022
+ Harriet Tubman, super spy of the Civil War ‌ ‌ ‌ ‌ ‌ ‌ ‌ ‌ ‌ ‌ ‌ ‌ ‌ ‌ ‌ ‌ ‌ ‌ ‌ ‌ ‌ ‌ ‌ ‌ ‌ ‌ ‌ ‌ ‌ ‌ ‌ ‌ ‌ ‌ ‌ ‌ ‌ ‌ ‌ ‌ ‌ ‌ ‌ ‌ ‌ ‌ ‌ ‌ ‌ ‌ ‌ ‌ ‌ ‌ ‌ ‌ ‌ ‌ ‌ ‌ ‌ ‌ ‌ ‌ ‌ ‌ ‌ ‌ ‌ ‌ ‌ ‌ ‌ ‌ ‌ ‌ ‌ ‌
The hunger crises you're not hearing about
Wednesday, April 27, 2022
+ revisiting Will Smith's slap ‌ ‌ ‌ ‌ ‌ ‌ ‌ ‌ ‌ ‌ ‌ ‌ ‌ ‌ ‌ ‌ ‌ ‌ ‌ ‌ ‌ ‌ ‌ ‌ ‌ ‌ ‌ ‌ ‌ ‌ ‌ ‌ ‌ ‌ ‌ ‌ ‌ ‌ ‌ ‌ ‌ ‌ ‌ ‌ ‌ ‌ ‌ ‌ ‌ ‌ ‌ ‌ ‌ ‌ ‌ ‌ ‌ ‌ ‌ ‌ ‌ ‌ ‌ ‌ ‌ ‌ ‌ ‌ ‌ ‌ ‌ ‌ ‌ ‌ ‌ ‌ ‌ ‌ ‌ ‌ ‌ ‌ ‌
How will Musk change Twitter?
Tuesday, April 26, 2022
+ the interesting history of tunnels in warfare ‌ ‌ ‌ ‌ ‌ ‌ ‌ ‌ ‌ ‌ ‌ ‌ ‌ ‌ ‌ ‌ ‌ ‌ ‌ ‌ ‌ ‌ ‌ ‌ ‌ ‌ ‌ ‌ ‌ ‌ ‌ ‌ ‌ ‌ ‌ ‌ ‌ ‌ ‌ ‌ ‌ ‌ ‌ ‌ ‌ ‌ ‌ ‌ ‌ ‌ ‌ ‌ ‌ ‌ ‌ ‌ ‌ ‌ ‌ ‌ ‌ ‌ ‌ ‌ ‌ ‌ ‌ ‌ ‌ ‌ ‌ ‌ ‌ ‌ ‌ ‌ ‌