The political standstill on US gun control
| | | |
| --- | --- | --- |
| US Edition - Today's top story: Why gun control laws don't pass Congress, despite majority public support and repeated outrage over mass shootings View in browser | | US Edition | 27 May 2022 |
So many questions are being asked in the wake of two mass shootings this month. And so many of them don't have answers, including the most profound one: At least 31 people are dead; how can this have happened?
But there are some questions that can be answered. If you are like many people I know, the question you are asking right now – and probably after the many mass shootings that preceded Buffalo and Uvalde – is why won't Congress pass gun control legislation when a majority of the public wants it?
I interviewed political scientists Monika McDermott and David Jones, who study public opinion and Congress, respectively, to get the answer. Turns out there are a few reasons, all of which interact with each other. Among them: Members of the House and Senate are sent there by voters in their district or state. They're not elected by the nationwide selection of people who answer pollsters' questions about gun control. And in each district, there's more or less support for policies that restrict gun ownership. "Local lawmakers are not necessarily focused on national polling numbers," says Jones.
And for a greater understanding of what role the firearms industry has played in shifting the focus of America's gun culture from hunting and sport to self-defense, Boston University public health researcher Michael Siegel takes a hard, data-driven look at the makers of guns.
Also today:
Naomi Schalit

Senior Editor, Politics + Society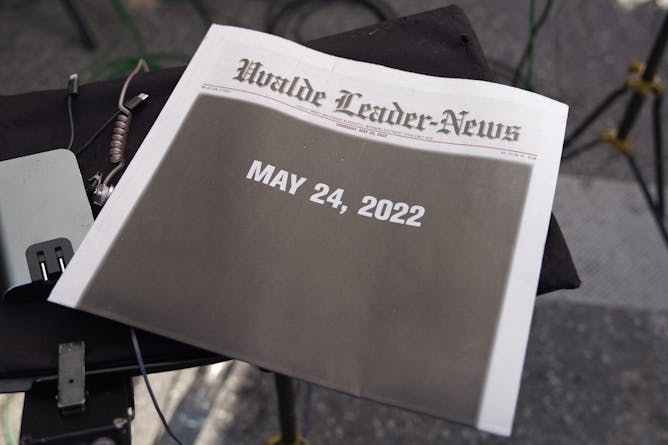 The nature of elected office combines with the lasting priorities of public opinion to put gun control on the back burner, even in times when it does get massive public attention.
Economy + Business
A closer look at firearms sales reveals some interesting trends that should be part of America's ongoing conversation about the root causes of gun violence.
Health + Medicine
Research suggests that giving a person a vaccine through their nose can provide a better defense against future exposure to the coronavirus compared to a shot in the arm.

People who are directly affected by mass shootings may develop PTSD and depression. But those who are indirectly exposed to these tragedies can also experience profound and long-lasting grief.
Education
In middle school classes, students from lower-income families tended to be concentrated in just a few classrooms, new research from North Carolina has found.

Inspired by her own experience with the education system, a professor of sociology explores how race and racism influence school choice and education.
Ethics + Religion
In examining media coverage of Muslims over a 21-year period, in the US, UK, Canada and Australia, scholars found that articles mentioning Muslims were far more negative than other faith groups.
Environment + Energy
Millions of people around the world live on river deltas and are vulnerable when those rivers shift direction. A new study shows why and where these events, called avulsions, happen.

A study found $1.4 trillion in oil and gas industry assets would be at risk if governments follow through on their pledges to deal with climate change.
Podcast 🎙️
And after India banned wheat exports in May due to the high temperatures, we find out how vulnerable crops are to extreme heat. Listen to The Conversation Weekly podcast.
From our international editions
Key phrases
Older messages
Thursday, May 26, 2022
+ why booster shots are recommended for 5- to 11-year-olds ‌ ‌ ‌ ‌ ‌ ‌ ‌ ‌ ‌ ‌ ‌ ‌ ‌ ‌ ‌ ‌ ‌ ‌ ‌ ‌ ‌ ‌ ‌ ‌ ‌ ‌ ‌ ‌ ‌ ‌ ‌ ‌ ‌ ‌ ‌ ‌ ‌ ‌ ‌ ‌ ‌ ‌ ‌ ‌ ‌ ‌ ‌ ‌ ‌ ‌ ‌ ‌ ‌ ‌ ‌ ‌ ‌ ‌ ‌ ‌ ‌ ‌ ‌ ‌ ‌ ‌ ‌ ‌ ‌ ‌ ‌
Mass shooters at schools – what the data shows
Wednesday, May 25, 2022
+ how to make sustainable investing better reflect investor expectations ‌ ‌ ‌ ‌ ‌ ‌ ‌ ‌ ‌ ‌ ‌ ‌ ‌ ‌ ‌ ‌ ‌ ‌ ‌ ‌ ‌ ‌ ‌ ‌ ‌ ‌ ‌ ‌ ‌ ‌ ‌ ‌ ‌ ‌ ‌ ‌ ‌ ‌ ‌ ‌ ‌ ‌ ‌ ‌ ‌ ‌ ‌ ‌ ‌ ‌ ‌ ‌ ‌ ‌ ‌ ‌ ‌ ‌ ‌ ‌ ‌ ‌ ‌ ‌
Repowering Europe without Russian oil
Monday, May 23, 2022
+ a conviction in war crimes trial; the world's first zoo ‌ ‌ ‌ ‌ ‌ ‌ ‌ ‌ ‌ ‌ ‌ ‌ ‌ ‌ ‌ ‌ ‌ ‌ ‌ ‌ ‌ ‌ ‌ ‌ ‌ ‌ ‌ ‌ ‌ ‌ ‌ ‌ ‌ ‌ ‌ ‌ ‌ ‌ ‌ ‌ ‌ ‌ ‌ ‌ ‌ ‌ ‌ ‌ ‌ ‌ ‌ ‌ ‌ ‌ ‌ ‌ ‌ ‌ ‌ ‌ ‌ ‌ ‌ ‌ ‌ ‌ ‌ ‌ ‌ ‌
War through the eyes of Ukrainian kids
Saturday, May 21, 2022
+ online readers are devouring 'Dracula' ‌ ‌ ‌ ‌ ‌ ‌ ‌ ‌ ‌ ‌ ‌ ‌ ‌ ‌ ‌ ‌ ‌ ‌ ‌ ‌ ‌ ‌ ‌ ‌ ‌ ‌ ‌ ‌ ‌ ‌ ‌ ‌ ‌ ‌ ‌ ‌ ‌ ‌ ‌ ‌ ‌ ‌ ‌ ‌ ‌ ‌ ‌ ‌ ‌ ‌ ‌ ‌ ‌ ‌ ‌ ‌ ‌ ‌ ‌ ‌ ‌ ‌ ‌ ‌ ‌ ‌ ‌ ‌ ‌ ‌ ‌ ‌ ‌ ‌ ‌ ‌