Switch Weekly - No Direct, yet.
Your Nintendo digest for the week ending June 12.
Web version | Unsubscribe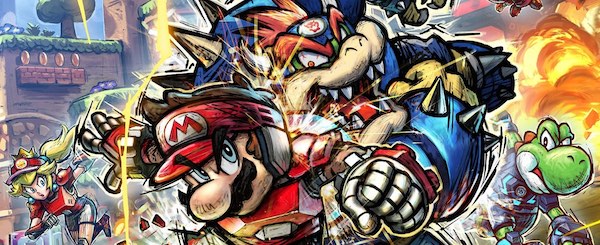 Hello, issue #286 of Switch Weekly here, with your Nintendo round-up.
This week has been manic for anyone who covers games, with countless digital presentations to watch and report on. In fact, I've kinda lost count of how many showcases, trailers and sizzle reels that have been hosted this week. However, there is one notable absentee: Nintendo.
Yup, we still (at time of writing) don't have any hint of a Direct announcement from the big N. For context, last year's "E3" Direct (for lack of a better term) took place on June 15th. Maybe Nintendo will go without this year? I mean, they are skipping Gamescom too - typically where they show European press what they revealed at E3. Could them skipping Gamescom be a hint that we shouldn't expect a typical June Direct. I sure hope I'm wrong, and I hope they announce one real soon (there's speculation of course, and Arlo has shared their hopes and dreams nonetheless). But hey, it's weird to watch everyone else make a song and dance about what's coming next, and for Nintendo to be silent.
In other news Mario Strikers is out now. I opted to skip on picking this one up. The demo didn't grasp me, and the early reviews seemed to suggest it was similar to how the Golf and Tennis games launched — generally a bit lacking. More of this in the issue, including a video from me. (You are subbed to me on YouTube right?) Did you pick it up? I'd love to know how you like it — just hit reply to this email and I'll read it.
Next week sees just over 25 games come to Switch, including the new Turtles game. Full list is below as ever. However, I'll add that there may well be a bunch of shadow drops in the week ahead, so maybe expect more than what's listed?
Big thanks for reading, and hopefully catch you next time post-Direct. 🤞
Cheers,
Chris
🎮 Currently Playing — Cuphead, Mini Motorways
🎮 Upcoming Releases

All releases are digital, Europe & U.S. unless otherwise stated.
Release data sourced in collaboration with Switch Scores.
⭐️ = Ones to Watch | 📦 = Physical release | 🎮 = Demo available
Monday, June 13
Tuesday, June 14
Wednesday, June 15
Thursday, June 16
Friday, June 17
---
💌 Switch Weekly remains accessible and sustainable thanks to the ongoing support of the following amazing patrons:

PC, CapnGoat, SB, FrozenTrout, JR, MindFad, Greg, Michael Fairley, Chris D, Andrew E, and others — why not join them?


Switch Weekly is sent once weekly. If you're no longer interested, you can unsubscribe.

This newsletter may contain affiliate links, which help keep the newsletter sustainable.

🌳
In an effort to offset the carbon of sending this newsletter a tree is planted for every issue sent.

Copyright © 2022 Switch Weekly - Chris Brandrick, All rights reserved.
Made in Europe.
Key phrases
Older messages
Chonky Pokemon and Sonic's Faulty Frontier
Sunday, June 5, 2022
Your Nintendo digest for the week ending June 05. Chonky. Web version | Unsubscribe Switch Weekly Issue 285— June 05, 2022 Lechonk Pokemon Hi, issue #285 of Switch Weekly here, with the Nintendo stuff
Nintendo Update | Mario demos his footy skills
Sunday, May 29, 2022
Your Nintendo digest for the week ending May 29. Looking good. Web version | Unsubscribe Switch Weekly Issue 284— May 29, 2022 Back of Nintendo Switch. Photo by Polina Tankilevitch. Hey, issue #284 of
Should Nintendo just give us a Switch 2?
Sunday, May 22, 2022
Your Nintendo digest for the week ending May 22. Jammies. Web version | Unsubscribe Switch Weekly Issue 283— May 22, 2022 EarthBound Hello, here's issue #283 of Switch Weekly, with your look at the
Fresh Indies and Reggie's book
Sunday, May 15, 2022
Your Nintendo digest for the week ending May 15. No silk. Web version | Unsubscribe Switch Weekly Issue 282— May 15, 2022 Reggie Fils-Aimé Hey, Chris here, back with your Nintendo round-up for the week
Sunday, May 8, 2022
Games, and words. Reflections... Unsubscribe Switch Weekly Issue 281— May 8, 2022 Nintendo Switch — Photo by Iliya Jokic on Unsplash Hey, My name's Jay, and I'm a longtime subscriber of Switch