The Conversation - Juneteenth's unfinished business
| | | |
| --- | --- | --- |
| US Edition - Today's top story: Juneteenth celebrates just one of the United States' 20 emancipation days – and the history of how emancipated people were kept unfree needs to be remembered, too View in browser | | US Edition | 20 June 2022 |
At the end of his 1999 posthumously published novel "Juneteenth," noted Black author Ralph Ellison asked a poignant question that seems relevant to today's federal holiday: "How the hell do we get love into politics or compassion into history?"
Indeed.
As a national holiday, Juneteenth is still trying to balance celebration with compassion.
The end of slavery came at a cost, and as Tufts University history professor Kris Manjapra writes, even that freedom wasn't all that free.
Emancipation Days, such as the original Juneteenth in Texas, "are not what many people think," Manjapra writes, "because emancipation did not do what most of us think it did."
For starters, Juneteenth was not the only Emancipation Day. There were, in fact, 20 separate emancipations in the United States alone, from 1780 to 1865, across the North and South.
But as historians have long documented, Manjapra writes, emancipations did not remove all the shackles that prevented Black people from obtaining full citizenship rights.
On that first Juneteenth in Texas, Black people celebrated their resilience amid America's failure to deliver that full freedom.
The tradition continues today.
Also today:
Howard Manly

Race + Equity Editor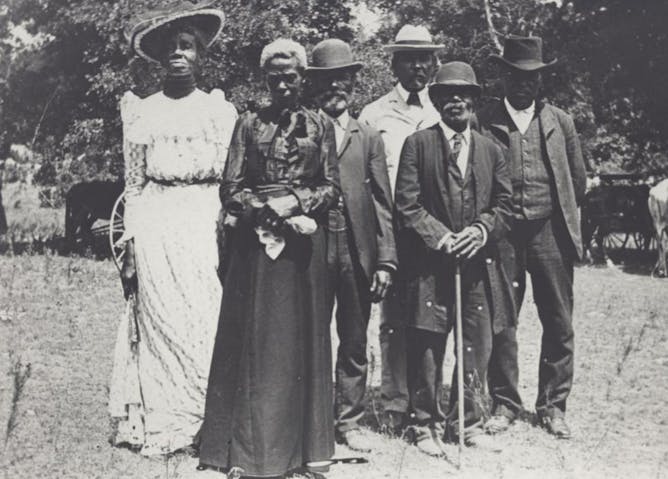 Known as Juneteenth in Texas, Emancipation Days symbolized America's attempt to free the enslaved across the nation. But those days were unable to prevent new forms of economic slavery.
Ethics + Religion
For Wiccans, midsummer, with the maximum hours of sunlight, is the time for celebrating new life.

A scholar writes about how the Southern Baptist Convention's views on abortion changed during the 1980s, when a more conservative wing seized control of the denomination.
Health + Medicine
The FDA's authorization of COVID-19 shots for children ages 6 months to 4 years will bring relief for millions of parents. Pending CDC endorsement, shots for this group will be available within days.
Science + Technology
A terrifying sight in ancient waters, the megalodon shark was once the most feared creature in the sea.
Politics + Society
The vice president has said he looks forward to meeting the framers of the Constitution in heaven. That is not the mindset of someone with short-term vision.

Coverage of the House Jan. 6 hearings focuses on what went wrong that led up to Trump supporters' laying siege to the US Capitol. A government scholar looks at what went right, both then and now.
Reader Comments 💬
"I've taught Blues and Jazz in over 50 schools. The resistance I've had from Principals, to the point of firing me, over the content of the curriculum, about which they have no knowledge and no training, is ridiculous. It's not just Rap, it's any music created by a culture of Black People, that the school Principals label "Gangsta". I've experienced even Louis Armstrong and Mary Lou Williams labeled as "Gangsta"."

– Reader Andrew Taylor on the story When all else fails to explain American violence, blame a rapper and hip-hop music
Older messages
A queer lit summer reading list
Saturday, June 18, 2022
+ Southern Baptists weren't always against abortion ‌ ‌ ‌ ‌ ‌ ‌ ‌ ‌ ‌ ‌ ‌ ‌ ‌ ‌ ‌ ‌ ‌ ‌ ‌ ‌ ‌ ‌ ‌ ‌ ‌ ‌ ‌ ‌ ‌ ‌ ‌ ‌ ‌ ‌ ‌ ‌ ‌ ‌ ‌ ‌ ‌ ‌ ‌ ‌ ‌ ‌ ‌ ‌ ‌ ‌ ‌ ‌ ‌ ‌ ‌ ‌ ‌ ‌ ‌ ‌ ‌ ‌ ‌ ‌ ‌ ‌ ‌ ‌ ‌ ‌ ‌ ‌ ‌
BPA harms human health – and it's nearly impossible to avoid
Friday, June 17, 2022
+ a pivotal election for Columbia; how drugs know where to go ‌ ‌ ‌ ‌ ‌ ‌ ‌ ‌ ‌ ‌ ‌ ‌ ‌ ‌ ‌ ‌ ‌ ‌ ‌ ‌ ‌ ‌ ‌ ‌ ‌ ‌ ‌ ‌ ‌ ‌ ‌ ‌ ‌ ‌ ‌ ‌ ‌ ‌ ‌ ‌ ‌ ‌ ‌ ‌ ‌ ‌ ‌ ‌ ‌ ‌ ‌ ‌ ‌ ‌ ‌ ‌ ‌ ‌ ‌ ‌ ‌ ‌ ‌ ‌ ‌ ‌ ‌ ‌ ‌ ‌
Stress ages your immune system faster
Friday, June 17, 2022
+ what the Fed is trying to do; dismantling a Watergate myth ‌ ‌ ‌ ‌ ‌ ‌ ‌ ‌ ‌ ‌ ‌ ‌ ‌ ‌ ‌ ‌ ‌ ‌ ‌ ‌ ‌ ‌ ‌ ‌ ‌ ‌ ‌ ‌ ‌ ‌ ‌ ‌ ‌ ‌ ‌ ‌ ‌ ‌ ‌ ‌ ‌ ‌ ‌ ‌ ‌ ‌ ‌ ‌ ‌ ‌ ‌ ‌ ‌ ‌ ‌ ‌ ‌ ‌ ‌ ‌ ‌ ‌ ‌ ‌ ‌ ‌ ‌ ‌ ‌ ‌
What's behind the Fed's aggressive rate hike
Friday, June 17, 2022
+ why 'father' and words like it are spoken around the world ‌ ‌ ‌ ‌ ‌ ‌ ‌ ‌ ‌ ‌ ‌ ‌ ‌ ‌ ‌ ‌ ‌ ‌ ‌ ‌ ‌ ‌ ‌ ‌ ‌ ‌ ‌ ‌ ‌ ‌ ‌ ‌ ‌ ‌ ‌ ‌ ‌ ‌ ‌ ‌ ‌ ‌ ‌ ‌ ‌ ‌ ‌ ‌ ‌ ‌ ‌ ‌ ‌ ‌ ‌ ‌ ‌ ‌ ‌ ‌ ‌ ‌ ‌ ‌ ‌ ‌
What's behind the Fed's aggressive rate hike
Friday, June 17, 2022
+ why 'father' and words like it are spoken around the world ‌ ‌ ‌ ‌ ‌ ‌ ‌ ‌ ‌ ‌ ‌ ‌ ‌ ‌ ‌ ‌ ‌ ‌ ‌ ‌ ‌ ‌ ‌ ‌ ‌ ‌ ‌ ‌ ‌ ‌ ‌ ‌ ‌ ‌ ‌ ‌ ‌ ‌ ‌ ‌ ‌ ‌ ‌ ‌ ‌ ‌ ‌ ‌ ‌ ‌ ‌ ‌ ‌ ‌ ‌ ‌ ‌ ‌ ‌ ‌ ‌ ‌ ‌ ‌ ‌ ‌