BPA harms human health – and it's nearly impossible to avoid
| | | |
| --- | --- | --- |
| US Edition - Today's top story: Decades of research document the detrimental health effects of BPA – an expert on environmental pollution and maternal health explains what it all means View in browser | | US Edition | 17 June 2022 |
I vividly recall when I was pregnant and preparing for my first child, and I became aware of the push to avoid baby bottles and other consumer projects that contained the industrial chemical BPA. As a soon-to-be new mother, I felt overwhelmed at how difficult it was to know whether the products I was buying would be safe for my child.
That was 15 years ago, and it's stunning to look back on how little has changed. Many plastic products have been marketed as BPA-free over the last decade, but unfortunately studies have shown that BPA alternatives are not necessarily any safer. And BPA is still ubiquitous in everyday consumer products. The main thing that's changed over the last 15 years is that researchers now know far more about the chemical's potentially detrimental effects on human health.
Now, in response to petitions and pressure from advocacy groups, the Food and Drug Administration is poised to reassess BPA's health effects.
Tracey Woodruff, an expert on the link between environmental pollution and reproductive health at the University of California, San Francisco, details the deep and ever-growing body of evidence documenting BPA's ability to interfere with reproductive processes, fetal and child development, metabolism and more.
Also today:
Amanda Mascarelli

Senior Health and Medicine Editor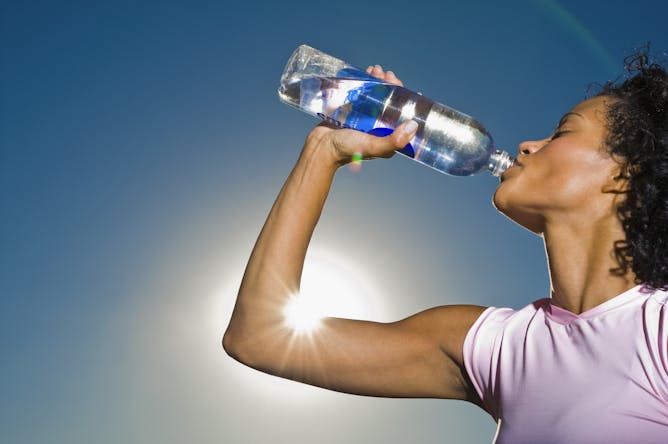 Due to increasing concerns over the health hazards posed by BPA, the Food and Drug Administration plans to reevaluate the safety of the controversial chemical for use in everyday products.
Ethics + Religion
The Catholic Church considers St. Joseph a role model of fatherhood and faith. In many countries, Father's Day is celebrated on his feast day.
Economy + Business
US stocks recently entered a bear market as investors grow pessimistic the Federal Reserve can bring down inflation while avoiding a recession.
Science + Technology
From tablets and patches to ointments and infusions, the best way to deliver a drug is the one that gets the right amount to the right place.

The AI AlphaFold can figure out the three-dimensional protein structure any string of amino acids will become. It has now exceeded its training by figuring out what makes some proteins glow.
Arts + Culture
Even though Afrofuturist works are set in fictional worlds, they provide a blueprint for social, political and economic systems free from exploitation and oppression.
Podcast 🎙️
New discoveries keep changing our understanding of what dinosaurs looked like. Listen to The Conversation Weekly podcast.
From our international editions
The Conversation Quiz 🧠
The urban heat island effect was first described in what year?
A. 1818
B. 1856
C. 1931
D. 1972
Older messages
Stress ages your immune system faster
Friday, June 17, 2022
+ what the Fed is trying to do; dismantling a Watergate myth ‌ ‌ ‌ ‌ ‌ ‌ ‌ ‌ ‌ ‌ ‌ ‌ ‌ ‌ ‌ ‌ ‌ ‌ ‌ ‌ ‌ ‌ ‌ ‌ ‌ ‌ ‌ ‌ ‌ ‌ ‌ ‌ ‌ ‌ ‌ ‌ ‌ ‌ ‌ ‌ ‌ ‌ ‌ ‌ ‌ ‌ ‌ ‌ ‌ ‌ ‌ ‌ ‌ ‌ ‌ ‌ ‌ ‌ ‌ ‌ ‌ ‌ ‌ ‌ ‌ ‌ ‌ ‌ ‌ ‌
What's behind the Fed's aggressive rate hike
Friday, June 17, 2022
+ why 'father' and words like it are spoken around the world ‌ ‌ ‌ ‌ ‌ ‌ ‌ ‌ ‌ ‌ ‌ ‌ ‌ ‌ ‌ ‌ ‌ ‌ ‌ ‌ ‌ ‌ ‌ ‌ ‌ ‌ ‌ ‌ ‌ ‌ ‌ ‌ ‌ ‌ ‌ ‌ ‌ ‌ ‌ ‌ ‌ ‌ ‌ ‌ ‌ ‌ ‌ ‌ ‌ ‌ ‌ ‌ ‌ ‌ ‌ ‌ ‌ ‌ ‌ ‌ ‌ ‌ ‌ ‌ ‌ ‌
What's behind the Fed's aggressive rate hike
Friday, June 17, 2022
+ why 'father' and words like it are spoken around the world ‌ ‌ ‌ ‌ ‌ ‌ ‌ ‌ ‌ ‌ ‌ ‌ ‌ ‌ ‌ ‌ ‌ ‌ ‌ ‌ ‌ ‌ ‌ ‌ ‌ ‌ ‌ ‌ ‌ ‌ ‌ ‌ ‌ ‌ ‌ ‌ ‌ ‌ ‌ ‌ ‌ ‌ ‌ ‌ ‌ ‌ ‌ ‌ ‌ ‌ ‌ ‌ ‌ ‌ ‌ ‌ ‌ ‌ ‌ ‌ ‌ ‌ ‌ ‌ ‌ ‌
Family photos reveal racist past in Texas
Monday, May 30, 2022
+ the meaning of Memorial Day ‌ ‌ ‌ ‌ ‌ ‌ ‌ ‌ ‌ ‌ ‌ ‌ ‌ ‌ ‌ ‌ ‌ ‌ ‌ ‌ ‌ ‌ ‌ ‌ ‌ ‌ ‌ ‌ ‌ ‌ ‌ ‌ ‌ ‌ ‌ ‌ ‌ ‌ ‌ ‌ ‌ ‌ ‌ ‌ ‌ ‌ ‌ ‌ ‌ ‌ ‌ ‌ ‌ ‌ ‌ ‌ ‌ ‌ ‌ ‌ ‌ ‌ ‌ ‌ ‌ ‌ ‌ ‌ ‌ ‌ ‌ ‌ ‌ ‌ ‌ ‌ ‌ ‌ ‌ ‌ ‌ ‌ ‌ ‌ ‌ ‌
How to improve sustainability investing
Saturday, May 28, 2022
+ research on arming teachers; the Catholic Church and exorcism ‌ ‌ ‌ ‌ ‌ ‌ ‌ ‌ ‌ ‌ ‌ ‌ ‌ ‌ ‌ ‌ ‌ ‌ ‌ ‌ ‌ ‌ ‌ ‌ ‌ ‌ ‌ ‌ ‌ ‌ ‌ ‌ ‌ ‌ ‌ ‌ ‌ ‌ ‌ ‌ ‌ ‌ ‌ ‌ ‌ ‌ ‌ ‌ ‌ ‌ ‌ ‌ ‌ ‌ ‌ ‌ ‌ ‌ ‌ ‌ ‌ ‌ ‌ ‌ ‌ ‌ ‌ ‌ ‌