Second Amendment gets vaunted status in SCOTUS gun ruling
| | | |
| --- | --- | --- |
| US Edition - Today's top story: Supreme Court sweeps aside New York's limits on carrying a gun, raising Second Amendment rights to new heights View in browser | | US Edition | 24 June 2022 |
The Supreme Court held its biggest decisions for the end of the session. On Thursday, they released a consequential ruling on gun rights.
But it's not just about guns.
The newly muscular conservative majority on the court ruled that a New York state law that restricted the right to carry a concealed firearm was unconstitutional. That will have major repercussions across the country in communities trying to fight gun crime.
But as Supreme Court scholar Morgan Marietta writes, the conservative majority did something else with the ruling: They elevated the status of the Second Amendment, and that's "part of a dramatic shift in the court's understanding of the Constitution."
Now, says Marietta, a political scientist at the University of Massachusetts, Lowell, the Second Amendment has the same vaunted, almost holy status in U.S. law as the First Amendment and other Bill of Rights protections such as free exercise of religion, freedom of speech and freedom of the press. The flip side, writes Marietta, is that protections recognized by the court over time – abortion, privacy and same-sex marriage – but not in the Bill of Rights, will not be accorded the same protection and respect.
Also today:
Naomi Schalit

Senior Editor, Politics + Society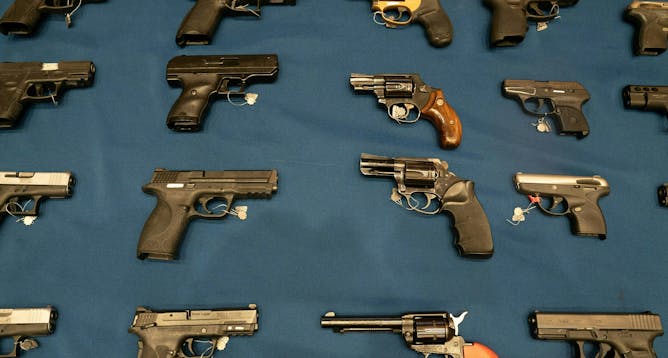 The gun rights decision from the conservative majority on the Supreme Court signals a fundamental change in how the court reads the Constitution.
Politics + Society
Congress tends to be most likely to act after an assassination or assassination attempt of historic proportions or mass shootings. But sometimes lawmakers do nothing beyond debate new measures.

The Supreme Court held off at least another day before announcing a ruling on abortion rights. High profile cases take more time to finalize, but there are also political and public relations factors.

Congress is edging closer to pushing through its first gun control legislation in 30 years. Included in the bill is a provision to expand a firearm ban to dating partners accused of domestic violence.
Economy + Business
Economic growth of countries needs many ingredients. Getting the recipe just right is important.

Concerns about Afghanistan's Taliban leaders have made the rest of the world wary of sending money, and many foreign aid workers have already fled.
Science + Technology
Different painkillers provide relief in different ways. The most effective medication is the one that best targets the type of pain you're experiencing with minimal side effects.

Fluent expression is not always evidence of a mind at work, but the human brain is primed to believe so. A pair of cognitive linguistics experts explain why language is not a good test of sentience.
Health + Medicine
With COVID-19 shots finally available for infants and preschoolers, knowing how to combat misinformation on social media and elsewhere could be more important than ever.
Education
Kindergartners who are relatively younger than their classroom peers are at risk for doing less well in school. A clinical psychologist explains how to reduce those problems.
From our international editions
The Conversation Quiz 🧠
When was the nation's first red flag law, which would allow police to take guns from people deemed a threat to themselves or others, passed?
A. 1999
B. 2012
C. 2016
D. 2018
Click here for the answer.
Key phrases
Older messages
To understand the gun debate, look at America's stories
Thursday, June 23, 2022
+ demolishing schools after mass shootings ‌ ‌ ‌ ‌ ‌ ‌ ‌ ‌ ‌ ‌ ‌ ‌ ‌ ‌ ‌ ‌ ‌ ‌ ‌ ‌ ‌ ‌ ‌ ‌ ‌ ‌ ‌ ‌ ‌ ‌ ‌ ‌ ‌ ‌ ‌ ‌ ‌ ‌ ‌ ‌ ‌ ‌ ‌ ‌ ‌ ‌ ‌ ‌ ‌ ‌ ‌ ‌ ‌ ‌ ‌ ‌ ‌ ‌ ‌ ‌ ‌ ‌ ‌ ‌ ‌ ‌ ‌ ‌ ‌ ‌ ‌ ‌ ‌ ‌ ‌ ‌ ‌ ‌ ‌
Americans gave $485 billion in 2021
Wednesday, June 22, 2022
+ citizen science's whiteness defeats its purpose ‌ ‌ ‌ ‌ ‌ ‌ ‌ ‌ ‌ ‌ ‌ ‌ ‌ ‌ ‌ ‌ ‌ ‌ ‌ ‌ ‌ ‌ ‌ ‌ ‌ ‌ ‌ ‌ ‌ ‌ ‌ ‌ ‌ ‌ ‌ ‌ ‌ ‌ ‌ ‌ ‌ ‌ ‌ ‌ ‌ ‌ ‌ ‌ ‌ ‌ ‌ ‌ ‌ ‌ ‌ ‌ ‌ ‌ ‌ ‌ ‌ ‌ ‌ ‌ ‌ ‌ ‌ ‌ ‌ ‌ ‌ ‌ ‌ ‌
The ugly history of weaponizing hunger
Tuesday, June 21, 2022
+ neighborhoods affect brain development ‌ ‌ ‌ ‌ ‌ ‌ ‌ ‌ ‌ ‌ ‌ ‌ ‌ ‌ ‌ ‌ ‌ ‌ ‌ ‌ ‌ ‌ ‌ ‌ ‌ ‌ ‌ ‌ ‌ ‌ ‌ ‌ ‌ ‌ ‌ ‌ ‌ ‌ ‌ ‌ ‌ ‌ ‌ ‌ ‌ ‌ ‌ ‌ ‌ ‌ ‌ ‌ ‌ ‌ ‌ ‌ ‌ ‌ ‌ ‌ ‌ ‌ ‌ ‌ ‌ ‌ ‌ ‌ ‌ ‌ ‌ ‌ ‌ ‌ ‌ ‌ ‌ ‌ ‌ ‌
Juneteenth's unfinished business
Monday, June 20, 2022
+ Pence saved the nation by keeping his oath ‌ ‌ ‌ ‌ ‌ ‌ ‌ ‌ ‌ ‌ ‌ ‌ ‌ ‌ ‌ ‌ ‌ ‌ ‌ ‌ ‌ ‌ ‌ ‌ ‌ ‌ ‌ ‌ ‌ ‌ ‌ ‌ ‌ ‌ ‌ ‌ ‌ ‌ ‌ ‌ ‌ ‌ ‌ ‌ ‌ ‌ ‌ ‌ ‌ ‌ ‌ ‌ ‌ ‌ ‌ ‌ ‌ ‌ ‌ ‌ ‌ ‌ ‌ ‌ ‌ ‌ ‌ ‌ ‌ ‌ ‌ ‌ ‌ ‌ ‌ ‌ ‌ ‌
A queer lit summer reading list
Saturday, June 18, 2022
+ Southern Baptists weren't always against abortion ‌ ‌ ‌ ‌ ‌ ‌ ‌ ‌ ‌ ‌ ‌ ‌ ‌ ‌ ‌ ‌ ‌ ‌ ‌ ‌ ‌ ‌ ‌ ‌ ‌ ‌ ‌ ‌ ‌ ‌ ‌ ‌ ‌ ‌ ‌ ‌ ‌ ‌ ‌ ‌ ‌ ‌ ‌ ‌ ‌ ‌ ‌ ‌ ‌ ‌ ‌ ‌ ‌ ‌ ‌ ‌ ‌ ‌ ‌ ‌ ‌ ‌ ‌ ‌ ‌ ‌ ‌ ‌ ‌ ‌ ‌ ‌ ‌