Bloomberg - Evening Briefing - This time it's religion
Since Friday, the US Supreme Court has been under withering fire from many quarters (and many countries) for its leap to the right on guns and abortion. New polls affirmed that a majority of Americans reject its judgment that women do not have a right to end a pregnancy under the Constitution and see the ruling in that case as purely political. While anti-abortion groups and the gun industry praised the matching 6-3 opinions by the Republican-appointed majority, some legal observers have eviscerated the reasoning used by Clarence Thomas (who is urging more federal rights be targeted for review) and Samuel Alito to arrive at their conclusions. Both the Democratic-appointed dissenters and members of Congress are now calling into question the court's legitimacy as an institution. But on Monday, the same six justices picked by George H.W. Bush, George W. Bush and Donald Trump kept going, moving to dismantle precedent in yet another foundational area of American jurisprudence: the separation of church and state. In ruling that a public high school employee could lead prayers on the field after a sports event, the six justices built on another of their decisions last week, one in which they held that taxpayers could be made to fund religious schools in certain circumstances.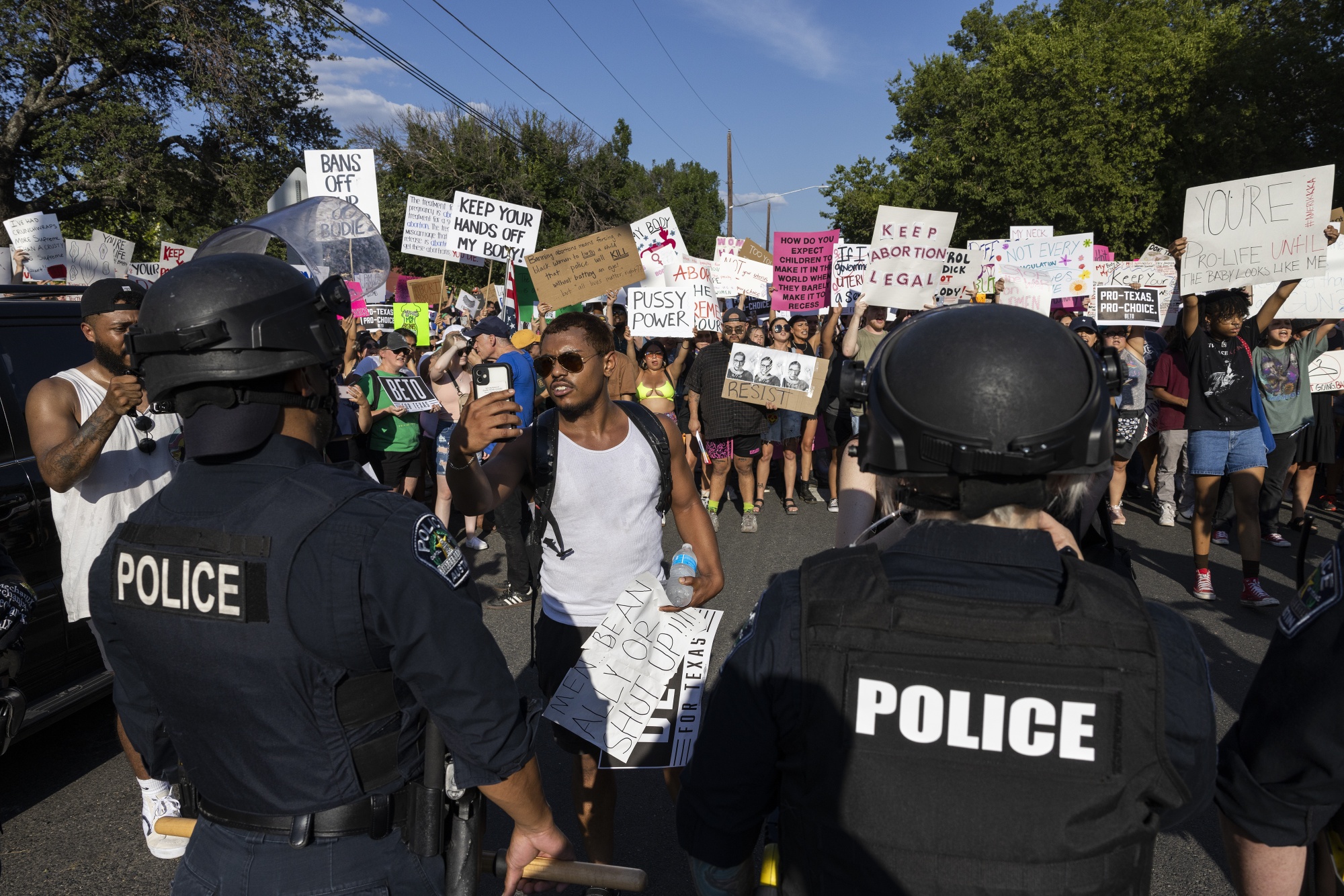 Texas police in riot gear confront abortion rights demonstrators during a Rally For Reproductive Freedom in Austin on June 26. Photographer: Alex Scott/Bloomberg
The fallout from the majority's decision to reverse Roe v. Wade continues to spread across the country, to state capitals and lower courts. But abortion opponents, having secured their decades-old dream, are finding they don't all agree on what to go after next—some, led by former Vice President Mike Pence, want to end abortion rights for all women. Part of the anti-abortion movement's long-term strategy has included the use of so-called crisis pregnancy centers, which are funneling cash into social media efforts, targeting teens and young adults on TikTok, Instagram and Snapchat. But some of them, as it turns out, have been using these platforms to spread what health care professionals warn is harmful misinformation. —David E. Rovella and Natasha Solo-Lyons
Bloomberg is tracking the coronavirus pandemic and the progress of global vaccination efforts.
Here are today's top stories
The Jan. 6 committee called a surprise hearing for Tuesday to "present recently obtained evidence and receive witness testimony," according to a statement. The abruptly scheduled 1 p.m. session was announced after the committee said it had obtained new video evidence from inside the Trump White House before and after the 2021 insurrection.
FTX crypto exchange is exploring whether it might be able to acquire Robinhood Markets. FTX is said to be deliberating internally how to buy the app-based brokerage, but Robinhood hasn't received a formal takeover bid from FTX founder Sam Bankman-Fried, who with almost $10 billion is one of the richest people in crypto.
Cryptocurrency's all-for-one ethos was its biggest draw for a generation of alienated techies. But now panic is spreading across the digital asset universe, and that same ethos may threaten its very survival.
Vladimir Putin is traveling to Tajikistan and Turkmenistan this week as part of his first foreign trip since launching Russia's war on Ukraine, which is estimated to have killed tens of thousands of Ukrainians since it began in February. On Monday, Kremlin forces reportedly added to the death toll, launching a missile strike on a mall in Kremenchuk filled with civilians, killing at least 13 of them, according to Kyiv officials.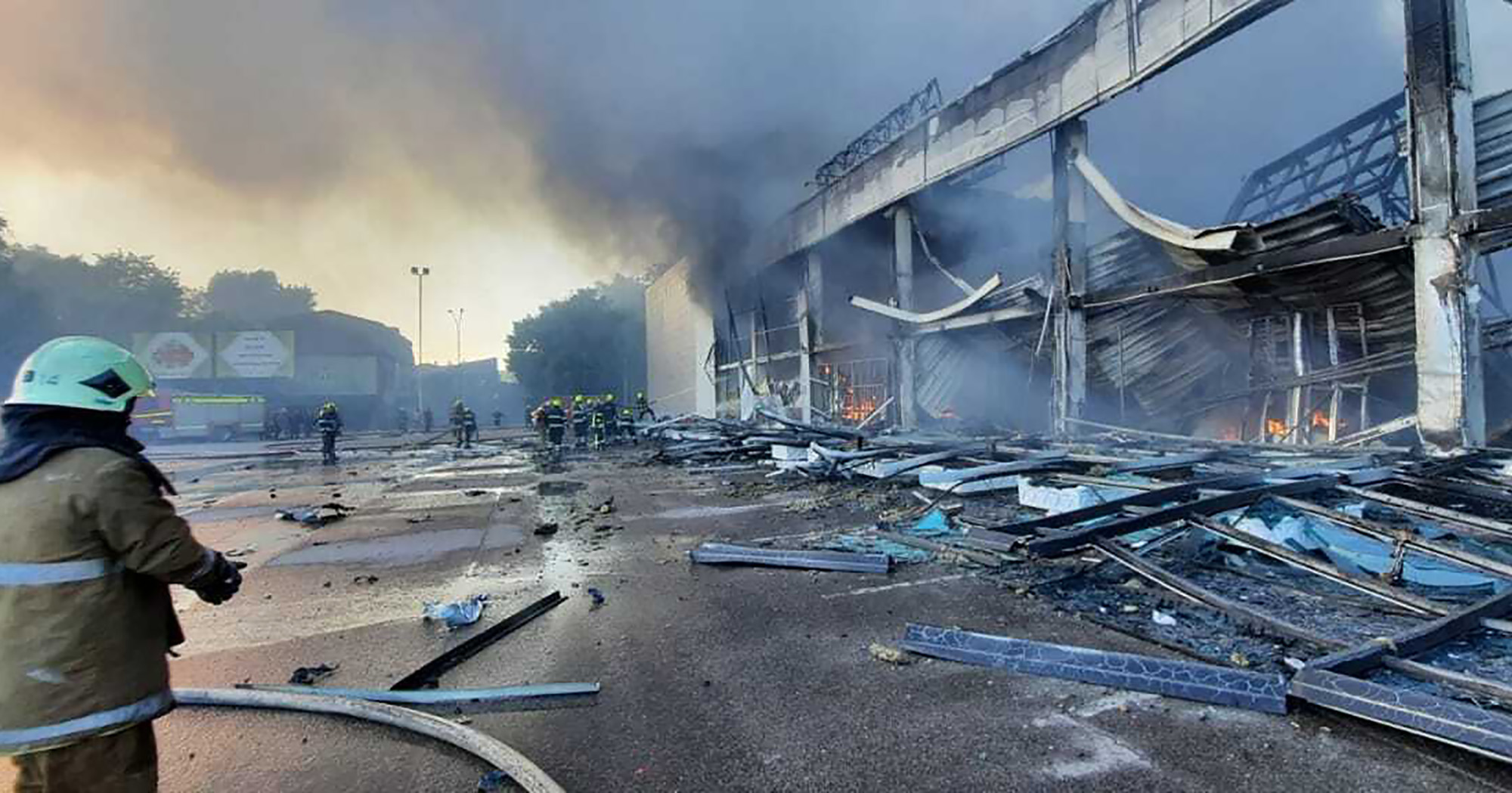 Ukrainian firefighters extinguish a blaze caused by what authorities said was a Russian missile strike on a shopping mall in Kremenchuk on June 27.  Photographer: Ukrainian State Emergency Service/Anadolu Agency via Getty Images
Credit Suisse was convicted of failing to prevent money laundering by a Bulgarian cocaine trafficker. The historic judgment was the first ever criminal conviction of a major Swiss lender in the country's history. 
After last week's powerful Friday rally, stocks edged down Monday. The tech-heavy Nasdaq 100 underperformed, Treasury yields climbed and the dollar largely stayed put. Here's your markets wrap.
Michael Burry, the Scion Asset Management founder made famous by Christian Bale in the movie "The Big Short," suggested that the "bullwhip effect" happening in the retail sector may lead to the Fed reversing rate increases as well as its quantitative tightening policy.
What you'll need to know tomorrow
Stand atop any of Nashville's rooftop bars at sunset and you'll find a gleaming new skyline composed largely of hotels. Practically every luxury brand is swooping in: Over the next three years, Nashville is expecting an influx of five-star hotel brands that include 1Hotel, Edition, Conrad, and Ritz-Carlton, plus a full renovation of the city's grand dame, The Hermitage, which first opened in 1910. Perhaps most luxurious will be a Four Seasons, slated to open late this summer.
Get the Bloomberg Evening Briefing: If you were forwarded this newsletter, sign up here to receive it in your mailbox daily along with our weekend edition. 
Get the latest on what's moving markets in Asia. Sign up to get the rundown of the five things people in markets are talking about each morning, Hong Kong time.
Like getting this newsletter? Subscribe to Bloomberg.com for unlimited access to trusted, data-driven journalism and subscriber-only insights.
Before it's here, it's on the Bloomberg Terminal. Find out more about how the Terminal delivers information and analysis that financial professionals can't find anywhere else. Learn more.
Key phrases
Older messages
Saturday, June 25, 2022
Bloomberg Weekend Reading View in browser Bloomberg Follow Us Get the newsletter Just hours after the US Supreme Court eliminated the constitutional right to abortion, Republican-controlled states
Friday, June 24, 2022
Bloomberg Evening Briefing View in browser Bloomberg This week's Jan. 6 hearings illustrated the potentially historic legal jeopardy faced by Donald Trump given revelations of how far he and his
Thursday, June 23, 2022
Bloomberg Evening Briefing View in browser Bloomberg Having already painted a picture of Donald Trump allegedly directing or at the very least being keenly aware of a wide-ranging plan to subvert the
Wednesday, June 22, 2022
Bloomberg Evening Briefing View in browser Bloomberg Moderna, which along with Pfizer-BioNTech led the way in producing mRNA vaccines against the novel coronavirus, announced some progress in the next
Tuesday, June 21, 2022
Bloomberg Evening Briefing View in browser Bloomberg The special Congressional committee investigating the Jan. 6, 2021, attack on the US Capitol continued its public hearings Tuesday with a broad