Bloomberg - Evening Briefing - Doomsayers' delight
With June now over, we can say that the S&P 500 has suffered its toughest first half since Richard Nixon was in the White House. It was a rout for the history books, with the equity gauge down about 21%. Investors in consumer stocks witnessed a wipeout of $1.8 trillion in market value. That said, the S&P is now simply back where it was in March of last year. On Thursday, we discovered consumer spending fell for the first time in 2022. It's both an indicator of the pernicious effect of high inflation and perhaps on plan for the Fed as it tries to arrest rising prices amid frenzied talk of recession, hoping to engineer a touchdown that doesn't smash the landing gear. But some, like Matt Maley, chief market strategist at Miller Tabak, aren't so sure the central bank's strategy will work: "When demand is not the key reason why inflation is a problem, a slower economy is not going to help bring inflation down as much as some experts seem to think." So what does this mean for the second half? Unclear. —David E. Rovella  
Bloomberg is tracking the coronavirus pandemic and the progress of global vaccination efforts.
Here are today's top stories
It was a trifecta for the right. The US Supreme Court rounded out its term by opening the door to more guns on the street, restricting reproductive freedom for tens of millions of women and, on Thursday, gutting the executive branch's ability to fight the climate crisis. Expanding gun rights, blocking abortion and dismantling the "administrative state" have been high on the Republican Party's wish list for decades. In a decision limiting the Environmental Protection Agency's ability to regulate emissions, the six Republican-appointed justices handed victory to the fossil fuel industry. A gridlocked Congress has been unable to pass significant climate legislation for decades, but the court's opinion may mean that lawmakers must enact laws to accomplish what federal agencies have traditionally done—or explicitly give agencies that power. The ruling was expected, and will likely serve as a blueprint for red states to challenge agency power when it comes to protecting consumers from harmful products, employees from dangerous working conditions and the public from pandemics. The three-Democratic appointed justices, one of whom was officially replaced today by Ketanji Brown Jackson, were livid in dissent. "The court appoints itself—instead of Congress or the expert agency—the decisionmaker on climate policy," Elena Kagan wrote. "I cannot think of many things more frightening."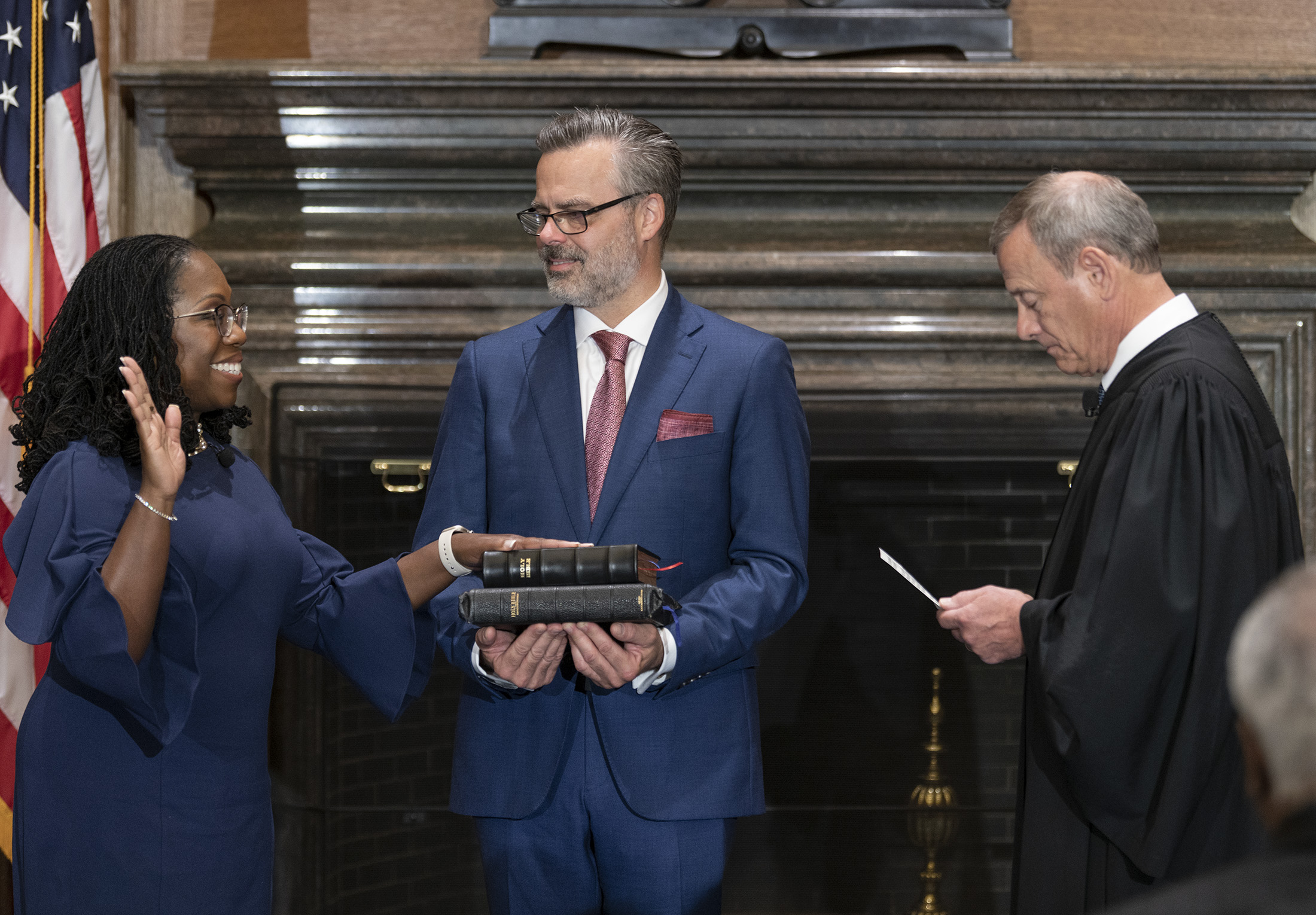 Ketanji Brown Jackson, left, is sworn in by Chief Justice John Roberts, right, at the Supreme Court in Washington on Thursday. Patrick Jackson holds the Bible. Photographer: Fred Schilling
Interestingly enough, the court today also announced it was accepting a case for argument next term that (like in 2000 with Al Gore and George W. Bush) could make it the ultimate decsionmaker on election policy, too. Specifically, its taking a case from North Carolina that deals with whether state courts can—as they have historically—pass judgment on state legislatures that gerrymander districts. The eventual ruling could also apply to recent efforts by 27 states (citing almost nonexistent voting fraud) to restrict access to voting and place political appointees in charge of elections themselves. According to Clarence Thomas, Samuel Alito and Neil Gorsuch, three members of the supermajority who have expressed interest in the case, state legislatures may not have to answer to state courts on these matters. They may only answer to the Supreme Court.
US President Joe Biden said he will back lifting the Senate filibuster in order to pass a federal law enshrining a right to abortion. He also said America must stomach high gas prices "as long as it takes" to beat back Vladimir Putin's war on Ukraine, which has likely killed tens of thousands of Ukrainians. "As long as it takes, so Russia cannot in fact defeat Ukraine and move beyond Ukraine," Biden said at the NATO summit in Madrid. Meanwhile in the northwest Black Sea, Ukraine retook control of a critical island outpost.
It's official: After months of regulatory crackdowns, deleveraging and stringent Covid-19 curbs that wiped trillions of dollars off benchmark gauges, Chinese equities are back in vogue.
The housing slowdown is helping to solve the US real estate market's most intractable problem: tight inventory. With fewer buyers competing, the number of active listings jumped 18.7% in June from a year earlier, the largest annual increase in data going back to 2017. And new sellers entered the market at a faster rate than before the pandemic housing rally began.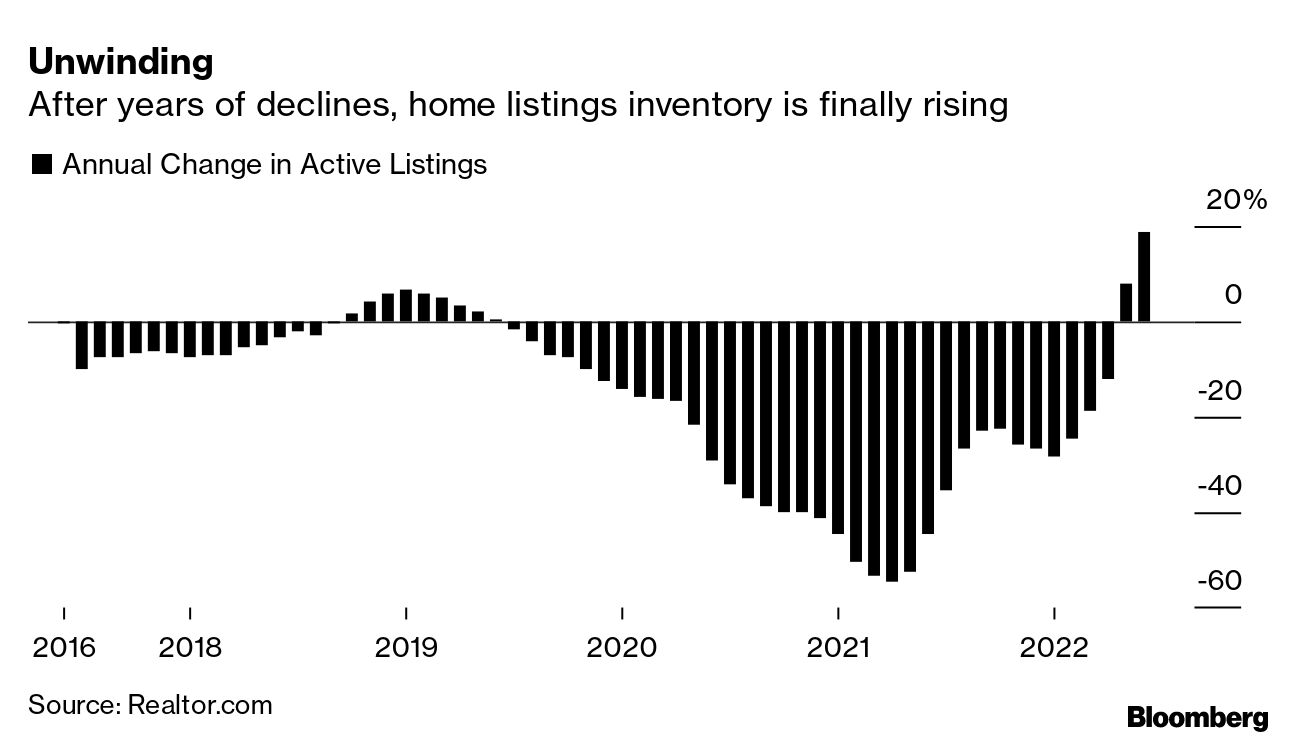 Good news for crypto fans, courtesy of Wall Street. According to JPMorgan, the crypto winter may not last much longer, given "the fact that crypto entities with the stronger balance sheets are currently stepping in to help contain contagion." Still, Bitcoin is on track for its worst quarter in more than a decade.

Since the Supreme Court struck down the federal right to an abortion, Amazon, AT&T and Walt Disney have made a lot of noise about how they will pay for employees to travel for reproductive medical care. But guess who they've been funneling money to for years?
Remember "Minority Report"? A new computer algorithm formulated by social scientists at the University of Chicago and touting 90% accuracy can purportedly predict crime in American cities a week before it happens.
What you'll need to know tomorrow
To remain attractive investments, there's a dawning awareness that large, quasi-public buildings need to be all things to all people, and that means hospitality-level consumer amenities. Old-school office towers need compelling new reasons to pull people in. "We don't build projects any more that are single-use," says Todd Heiser of architecture firm Gensler, which designed the Willis Tower renovation. Bloomberg CityLab reports on how office buildings have just been given a new job.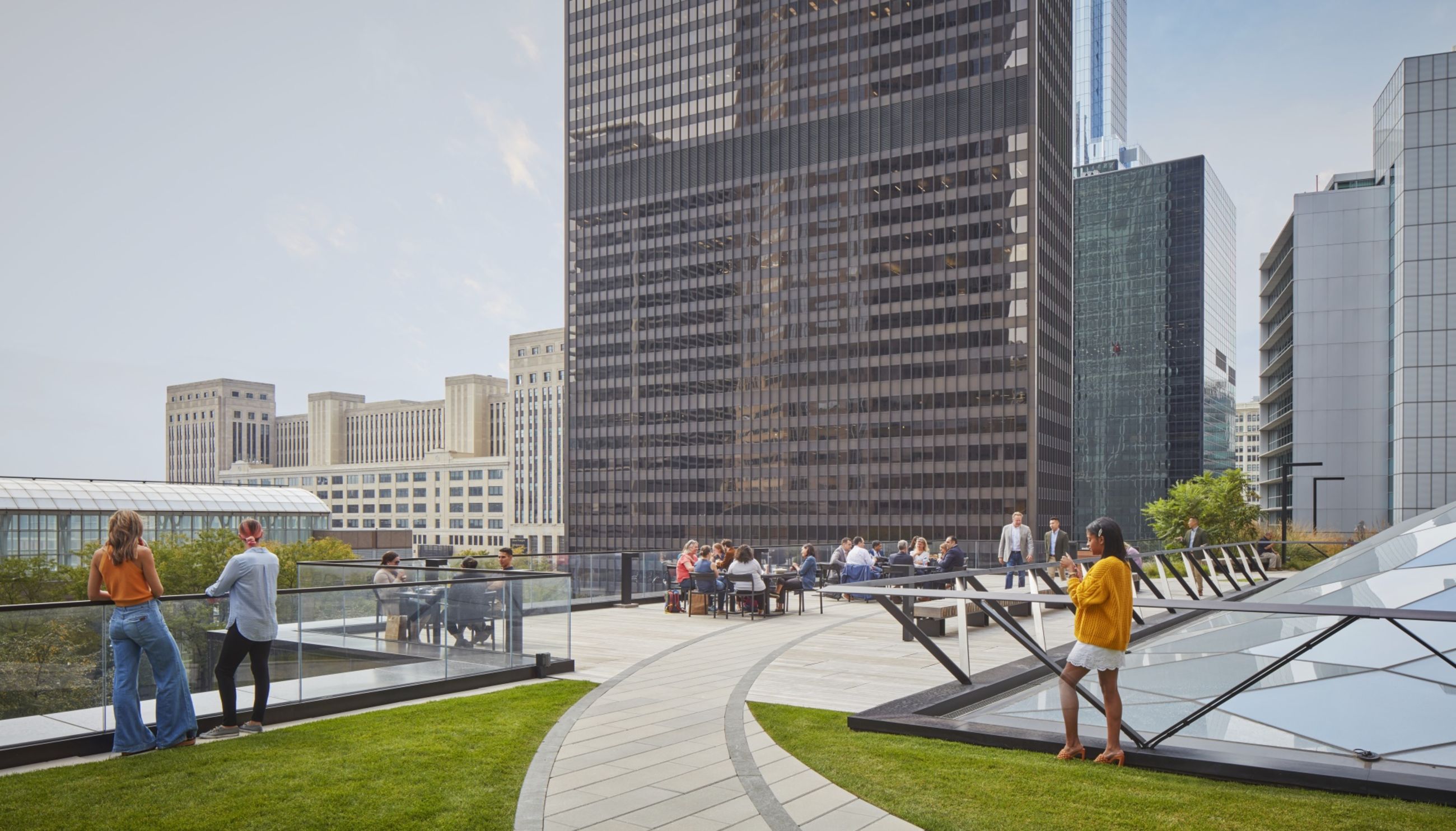 The Willis Tower in Chicago now boasts an outdoor roof garden and a host of other features. Photographer: Tom Harris/EQ Office/Gensler
Get the Bloomberg Evening Briefing: If you were forwarded this newsletter, sign up here to receive it in your mailbox daily along with our Weekend Reading edition on Saturdays. 
Sign up for Bloomberg CityLab's weekly digest of what's trending in the future of cities.
Like getting this newsletter? Subscribe to Bloomberg.com for unlimited access to trusted, data-driven journalism and subscriber-only insights.
Before it's here, it's on the Bloomberg Terminal. Find out more about how the Terminal delivers information and analysis that financial professionals can't find anywhere else. Learn more.
Older messages
Wednesday, June 29, 2022
Bloomberg Evening Briefing View in browser Bloomberg Whether it's hope, self-delusion or they just didn't get the memo, the receding stock market tide has left Wall Street analysts sitting on
Tuesday, June 28, 2022
Bloomberg Evening Briefing View in browser Bloomberg A former White House aide testified before Congress that in the run-up to Jan. 6, 2021, Donald Trump's closest deputy confided in her that "real
Monday, June 27, 2022
Bloomberg Evening Briefing View in browser Bloomberg Since Friday, the US Supreme Court has been under withering fire from many quarters (and many countries) for its leap to the right on guns and
Saturday, June 25, 2022
Bloomberg Weekend Reading View in browser Bloomberg Follow Us Get the newsletter Just hours after the US Supreme Court eliminated the constitutional right to abortion, Republican-controlled states
Friday, June 24, 2022
Bloomberg Evening Briefing View in browser Bloomberg This week's Jan. 6 hearings illustrated the potentially historic legal jeopardy faced by Donald Trump given revelations of how far he and his