👩‍⚖️ I Testified About "Tech Bro Culture"

Sallie's Opinion
I testified about "tech bro culture"
Last week I testified in front of the House Financial Services Committee (that's the one led by Congresswoman Maxine Waters — someone pinch me). Their Task Force on Financial Technology held a hearing on "Combatting Tech Bro Culture: Understanding Obstacles to Investments in Diverse-Owned Fintechs" (their title, not mine). And about how you can literally count on your fingers the number of women CEOs who have raised more than $100 million in fintech venture funding. Literally.
This matters because:
1) Fintech can be capital intensive — it's not really something you can crowdfund on Kickstarter or finance out of pocket. So without the ability to raise venture capital, there are fewer financial apps focused on women. (Case in point: Just one "wealth tech" app has seen a majority of its downloads come from women — and that's Ellevest.)
And 2) With fewer financial offerings centered on women, women's needs aren't being met. And so women have less money.
It's as simple and powerful as that.
Money is power. Power to direct our lives. Power to build our futures. Power to make our voice heard. Power to make change.
So it matters.
Here's my full testimony for the committee. And here's hoping it helps move the needle.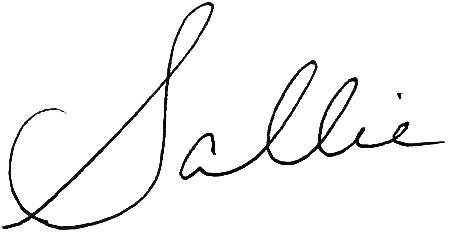 CO-FOUNDER & CEO
ICYMI on the Magazine: smart $ moves (in this economy)
It's only natural to worry about the financial future, especially in times like these — and to search for something to do about all of it. Here's our current advice.
Tomorrow's our first-ever Ellevest Explains: Inflation
Join Financial Planner Victoria Ferguson to get the inside scoop on how inflation works and what you should do about it. Plus, plenty of time for Q&A.
What we clicked on this week
No, you don't have to wait to start investing.
All opinions and views expressed by Ellevest are current as of the date of this writing, for informational purposes only, and do not constitute or imply an endorsement of any third party's products or services.

Information was obtained from third-party sources, which we believe to be reliable but not guaranteed for accuracy or completeness.

The information provided should not be relied upon as investment advice or recommendations, does not constitute a solicitation to buy or sell securities and should not be considered specific legal, investment or tax advice.

The information provided does not take into account the specific objectives, financial situation, or particular needs of any specific person.

Investing entails risk, including the possible loss of principal, and there is no assurance that the investment will provide positive performance over any period of time.

Banking products and services are provided by Coastal Community Bank ("Coastal"), Member FDIC, pursuant to license by Mastercard International. Your Ellevest Spend and Ellevest Save Account deposits will be insured to the regulatory limits by the FDIC through Coastal Community Bank, Member FDIC.

Funds held in your Ellevest investment accounts are not FDIC insured, not guaranteed by Coastal, and may lose value. Ellevest does not guarantee investment performance.

Older messages
📍 New Summer Schedule Just Dropped!
Tuesday, July 5, 2022
Including our *new* Ellevest Explains: Dealing with Inflation. ‌ ‌ ‌ ‌ ‌ ‌ ‌ ‌ ‌ ‌ ‌ ‌ ‌ ‌ ‌ ‌ ‌ ‌ ‌ ‌ ‌ ‌ ‌ ‌ ‌ ‌ ‌ ‌ ‌ ‌ ‌ ‌ ‌ ‌ ‌ ‌ ‌ ‌ ‌ ‌ ‌ ‌ ‌ ‌ ‌ ‌ ‌ ‌ ‌ ‌ ‌ ‌ ‌ ‌ ‌ ‌ ‌ ‌ ‌ ‌ ‌ ‌ ‌ ‌ ‌ ‌ ‌ ‌ ‌
💸 Money Cheat Sheet: In This Economy?
Thursday, June 30, 2022
Smart money moves to make during uncertainty. ‌ ‌ ‌ ‌ ‌ ‌ ‌ ‌ ‌ ‌ ‌ ‌ ‌ ‌ ‌ ‌ ‌ ‌ ‌ ‌ ‌ ‌ ‌ ‌ ‌ ‌ ‌ ‌ ‌ ‌ ‌ ‌ ‌ ‌ ‌ ‌ ‌ ‌ ‌ ‌ ‌ ‌ ‌ ‌ ‌ ‌ ‌ ‌ ‌ ‌ ‌ ‌ ‌ ‌ ‌ ‌ ‌ ‌ ‌ ‌ ‌ ‌ ‌ ‌ ‌ ‌ ‌ ‌ ‌ ‌ ‌ ‌ ‌ ‌ ‌ ‌ ‌ ‌
Opinionated: What We Can Do Beyond Voting
Tuesday, June 28, 2022
Plus, the economic case for abortion access. ‌ ‌ ‌ ‌ ‌ ‌ ‌ ‌ ‌ ‌ ‌ ‌ ‌ ‌ ‌ ‌ ‌ ‌ ‌ ‌ ‌ ‌ ‌ ‌ ‌ ‌ ‌ ‌ ‌ ‌ ‌ ‌ ‌ ‌ ‌ ‌ ‌ ‌ ‌ ‌ ‌ ‌ ‌ ‌ ‌ ‌ ‌ ‌ ‌ ‌ ‌ ‌ ‌ ‌ ‌ ‌ ‌ ‌ ‌ ‌ ‌ ‌ ‌ ‌ ‌ ‌ ‌ ‌ ‌ ‌ ‌ ‌ ‌ ‌ ‌ ‌ ‌ ‌
🤔 Opinionated: Are We Going Into a Recession?
Wednesday, June 22, 2022
Here's what Chief Investment Officer Dr. Sylvia Kwan has to say. ‌ ‌ ‌ ‌ ‌ ‌ ‌ ‌ ‌ ‌ ‌ ‌ ‌ ‌ ‌ ‌ ‌ ‌ ‌ ‌ ‌ ‌ ‌ ‌ ‌ ‌ ‌ ‌ ‌ ‌ ‌ ‌ ‌ ‌ ‌ ‌ ‌ ‌ ‌ ‌ ‌ ‌ ‌ ‌ ‌ ‌ ‌ ‌ ‌ ‌ ‌ ‌ ‌ ‌ ‌ ‌ ‌ ‌ ‌ ‌ ‌ ‌ ‌ ‌ ‌ ‌
This Week's Money Workshops (And More!)
Monday, June 20, 2022
Including: A free-for-members budgeting worksheet. ‌ ‌ ‌ ‌ ‌ ‌ ‌ ‌ ‌ ‌ ‌ ‌ ‌ ‌ ‌ ‌ ‌ ‌ ‌ ‌ ‌ ‌ ‌ ‌ ‌ ‌ ‌ ‌ ‌ ‌ ‌ ‌ ‌ ‌ ‌ ‌ ‌ ‌ ‌ ‌ ‌ ‌ ‌ ‌ ‌ ‌ ‌ ‌ ‌ ‌ ‌ ‌ ‌ ‌ ‌ ‌ ‌ ‌ ‌ ‌ ‌ ‌ ‌ ‌ ‌ ‌ ‌ ‌ ‌ ‌ ‌ ‌ ‌ ‌ ‌