business.com - 🍂 Why your focus is coming back
Summer technically ends on Sept. 22 this year — which means maybe you can sneak in another weekend pool party or two. But we all know the cold, hard truth: Labor Day is the dividing line between the laid-back months and the nose-to-the-grindstone ones.
Workers are less productive in hot weather, according to University of Chicago researchers. (In August, the Labor Department announced the biggest productivity drop in recorded U.S. history.) So, if you've felt especially malaise-y, the good news is that regaining your focus will get easier as the temperatures cool. But if you're missing those pool parties, hey, it's never too early to plan your office Christmas extravaganza.
Ghosting candidates: A bad habit that should get "boo"-ed.
Cybersecurity: How much hackers cost businesses like yours.
Abercrombie: Life's a Fitch and then you die.
Why Ghosting Candidates Is Bad for Business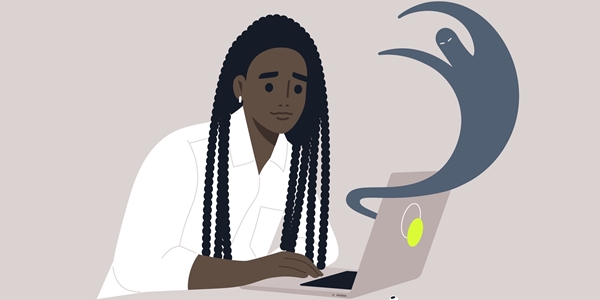 While ghosting is best known as an unfortunate part of the modern dating scene, it has also infiltrated the corporate world. A 2021 Indeed survey found that 77% of job candidates who took the time to sit for an interview never heard from the employer again. A tenth of candidates even say they were ghosted after receiving a job offer, according to Indeed.
That stings. It's also bad for business, and here's why.
Ghosting Is Disrespectful to Great Candidates
What if the shoe were on the other foot? After investing considerable time and effort into recruiting for a role, you've narrowed down your search to a chosen few. One candidate shines the most, and you're thinking, "That's the one!" Then suddenly, the candidate vanishes.
You'd feel ignored, insulted, and disappointed. (In fact, ghosting by candidates rose from 19% to 28% between 2019 and 2021.) That's how the average ghosted candidate is likely to feel. Over 60% of jobseekers say that even if they don't get hired but receive feedback, they'll be more likely to apply for future jobs with that employer.
Ghosting Can Topple Your Reputation
Candidates may use social media and Glassdoor to warn prospective applicants about your company's habit of ghosting. (Even if it's not a habit, offended candidates may see it that way.) Erring on the side of caution, prospective applicants may change their minds about wanting to work for your company. Some of these people might have been a huge asset to your team.
Ghosting Puts Your Competitive Edge at Risk
If you've ghosted the applicant, odds are high that they will end up with one of your competitors. This can be revenue-defeating, especially if that applicant has in-demand skills and the role needs to be urgently filled.
Whether you hire a candidate or not, it's imperative to let them know where they stand. The bottom line: Respect goes a long way. That's a lesson for dating and hiring alike.
75%
Job applications eliminated by resume-scanning software
Source: Preptel
How Much Do Hackers Cost Businesses Like Yours?
Netflix's Abercrombie & Fitch Doc Is Shocking A(&)F
How'd one of America's biggest fashion brands go from $1.04 billion net sales in 1999, to $40-million discrimination lawsuits in the aughts, to shuttering 137 stores in 2021?
It's all chronicled in Netflix's White Hot: The Rise & Fall of Abercrombie & Fitch. Recruit chiseled, almost exclusively white frat boys to work as proto-influencers? Yep. Forbid employee dreadlocks and hijabs? They did that. A CEO declaring, "A lot of people don't belong [in our clothes], and they can't belong. Are we exclusionary? Absolutely." That happened!
Clothing styles are supposed to change over time, but director Alison Klayman's documentary is a wider reflection on how society has changed from valuing "exclusionary" brands to inclusive ones. Fortunately, we don't expect that shift to go out of fashion.
"Find out what you like doing best, and get someone to pay you for doing it."
— Katharine Whitehorn, British journalist (1928-2021)
Written by Grace Ferguson, Lauren Treadwell, and Dan Ketchum.
200 5th Ave., 2nd Floor Waltham, Massachusetts 02451

©️ 2022 business.com. All Rights Reserved
Key phrases
Older messages
Friday, September 2, 2022
Making your business the best place to work, every Friday. Mark your calendars: Saturday is the first annual "National Cinema Day." More than 3000 theaters across the US will sell movie tickets for
Tuesday, August 30, 2022
Grow your business. Then grow it more, every Tuesday. Watch out, McPlant and Impossible Whopper: A new competitor has entered the plant-based wars. Actor Kevin Hart opened a vegan fast food restaurant
🏅 Your chance to win a $50 gift card!
Monday, August 29, 2022
Don't miss this opportunity Business.com Small-business leaders, we need your help! What are the three most essential tools or programs for your business? Let us know by taking a two-minute survey.
🚗🔌 California bans the gas car
Friday, August 26, 2022
Making your business the best place to work, every Friday. Remember the scene in La La Land when every car key at the pool party belonged to a Prius? If you live in LA, you know that's a slight
Tuesday, August 23, 2022
Grow your business. Then grow it more, every Tuesday. Between a labor shortage in the US and unpredictable supply chain issues overseas, American companies are bringing jobs back home. In 2022, almost