Puerto Rico loses power - India's conservation experiment - Virginia's trans students policy
19 SEP 2022
Facts, not fear.
TRENDING TOPICS
Puerto Rico loses power • Virginia's trans students policy • EU pressures Hungary • Central Asia border clash • India reintroduces cheetahs
FEATURED UNDER-REPORTED STORIES
Wastewater privacy • Crisis counselor resources • Delaying boys' education
You are on the free plan of The Factual


Get a free month of Premium for referring just 1 friend.


TRENDING TOPICS, MOST CREDIBLE STORIES
#1 in U.S. News • 37 articles
Why did all of Puerto Rico lose power as a hurricane made landfall?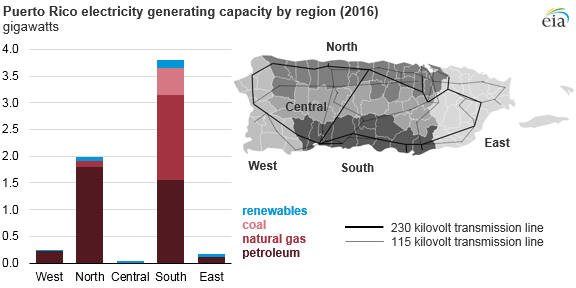 Highly-rated - last 48 hrs
Five years after Hurricane Maria, Puerto Rico's power crisis and a new storm revive grim memories.
NBC News (Moderate Left) • Factual Grade 76% • 5 min read


Late Sunday morning, Tropical Storm Fiona strengthened into a Category 1 hurricane. As of Sunday afternoon, even though the hurricane was far weaker than Maria, the island had lost all power — like five years before. Puerto Rico's patched-up power grid continually acts up, causing constant blackouts and brownouts even when weather events aren't present.
...
Residents have experienced longer service restoration times since June, when Luma Energy, a Canadian-American company, took over Puerto Rico's energy system. In a recent congressional hearing, [a Luma Energy executive] said the company had done more in the past 15 months to increase energy efficiency than what had been done in the past decade.
...
Puerto Rico depends mostly on imported oil [for] electricity. There has been some progress to use renewables, mostly solar panels to counteract the tenuous power grid. [But] renewable energy generation is currently at less than 4%. A few weeks ago, [FEMA] made $9.5 billion available for Puerto Rico to rebuild its power grid, the largest ever public infrastructure project.
Different political viewpoint


The entirety of Puerto Rico loses power due to Hurricane Fiona.
Deseret News (Moderate Right) • Factual Grade 70% • 2 min read
Selected long-read


Puerto Rico seeks clean-energy revolution. It is getting blackouts.
Christian Science Monitor (Center) • Factual Grade 64% • 8 min read
#2 in U.S. News • 7 articles
How is Virginia Gov. Glenn Youngkin changing the state's policy on transgender students?




The Virginia Department of Education released updated "model policies" mapping out treatment of transgender students in schools from use of names and pronouns to participation...


Full summaries, images, and headlines for subscribers only.
One payment. Once a year. $25

Upgrade Now


#1 in World News • 15 articles
Why is the EU considering cutting funding to Hungary?




[EU official Johannes Hahn] said the figure amounts to 65% of the commitments for three operational programs and about a third of cohesion funds the country received from t...


Full summaries, images, and headlines for subscribers only.
Free your time. Get rid of multiple news feeds.

Upgrade Now


#2 in World News • 15 articles
Why did a border clash between Kyrgyzstan and Tajikistan escalate?




The former Soviet republics clashed over a border dispute on Sept. 14-16, accusing each other of using tanks, mortars, rocket artillery and assault drones to attack outposts and nearby settlements. Long stretches...


Full summaries, images, and headlines for subscribers only.
Just the facts. Just about $2/mth.

Upgrade Now


#1 in Science News • 14 articles
How is India attempting to reintroduce cheetahs?




On Saturday, eight cheetahs arrived in central India from Africa, initiating a great experiment for the world: whether a top predator population can be brought back to life in a place wher...


Full summaries, images, and headlines for subscribers only.
Multiple perspectives + Quick summaries = $25/yr

Upgrade Now


TODAY'S POLL
Should countries reintroduce animal species that went locally extinct in the last century?
All votes are anonymous. This poll closes at: 9:00 PDT
Should religious universities have to recognize LGBTQ student clubs?
495 votes, 57 comments
Context: Supreme Court temporarily rules against Yeshiva University's rejection of LGBTQ club.
HIGHLIGHTED COMMENTS
" No - I don't think any university should HAVE to recognize certain student groups. To be university sanctioned, there should be some alignment with the university. The students are free to congregate for whatever reasons they want, but it doesn't have to be sanctioned by the university. They certainly wouldn't have to recognize a certain fraternity or sorority, or BLM or ANTIFA or a political club or a swingers club...the list is endless and the University should be able to sanction whatever clubs fit their stance."
" Yes - A university, like any other business, does not have a right to discriminate against an..."
" Unsure - My answer is actually Yes and No instead of Unsure. If the school takes state or federal funding to operate then yes,..."
No more paywalls
When you share The Factual
Step 1: Refer friends to start a trial with The Factual
Step 2: At each reward level, get a free 1-year digital subscription or donate to a charity of your choice
Your referral count: 0
You can also copy & paste your referral link:
https://thefactual.com/?refid=27228436
UPDATES & BREAKING NEWS

HIGHLY CREDIBLE, UNDER-REPORTED STORIES

EDITOR'S PICKS

Got feedback? Just reply to this newsletter and we'll respond within 48 hours.
Was this email forwarded to you? Sign up now to get The Factual in your inbox.
You received this email because you signed up for The Factual newsletter. Unsubscribe here.
The Factual, 55 E 3rd Ave, San Mateo, CA 94401, USA
Key phrases
Older messages