SoleSavy - 👟 RESTOCKS: Off-White AF1 & Panda Dunk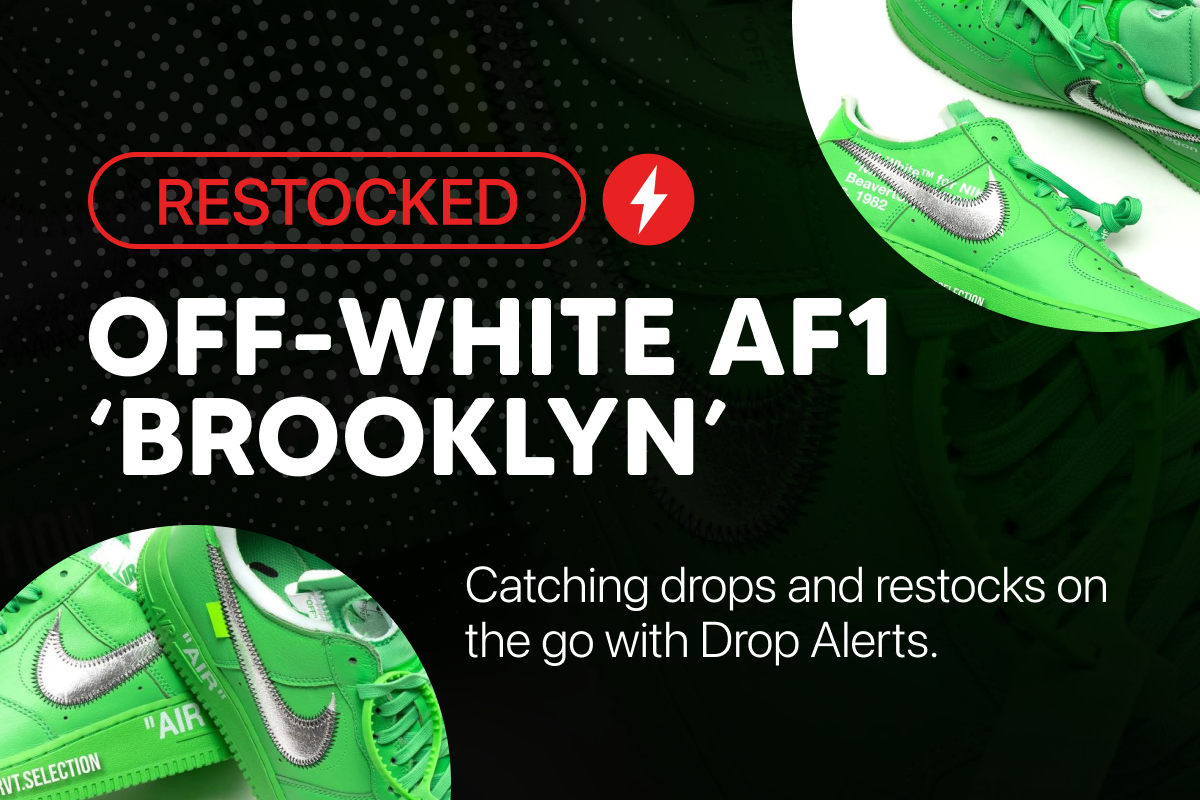 Yep you read that right, the coveted green colorway of the Off-White x Nike Air Force 1 restocked late Sunday night. After days of teasing with loaded checkpoints and seemingly random questions, the Canary Yellow website surprise restocked pairs at around 10pm ET.
Members who had their keywords set up in Drop Alerts got notified instantly and were able to add their size to cart and checkout after answering a tricky question. Check out our recap of members taking RETAIL Ws.
Panda Dunks Restock Tomorrow
The now iconic Nike Dunk Low in black/white restocks 10AM ET tomorrow on Nike US in full family sizing! Make sure you're logged in with details filled for the best chance at copping. Preview here.
November 19 can't come any sooner, and now Nike has uploaded the official images of the AJ1 'Lost and Found' - arguably the biggest drop of the year . . .
We've got a list of sneaker suggestions deserving of a place in your rotation that are affordable alternatives to popular grail colorways . . .
The partnership powerhouse of adidas & Ye continue to struggle after multiple IG posts from the rapper aimed at adidas' board . . .
To pretty much no one's surprise, Bronny James going into his senior year of high school has officially inked a n NILNike deal alongside other young athletes on the rise . . .
One of the most exciting LeBron signature shoes is here for the king's 20th season. We cover everything from fit, comfort & comparisons in our sizing guide . . .
Stay Savy-on-the-go
To stay connected with us, download the SoleSavy app to follow all news, upcoming events, and track the latest releases!
You're receiving this email because you created an account with SoleSavy. We will be sending you exclusive promotions, breaking SoleSavy news, and more.

© SoleSavy. All rights reserved
Key phrases
Older messages
📈 AJ1 Lost & Found Stock, September's Bests & more
Wednesday, October 5, 2022
SS4 Available Tomorrow! ‌ ‌ ‌ ‌ ‌ ‌ ‌ ‌ ‌ ‌ ‌ ‌ ‌ ‌ ‌ ‌ ‌ ‌ ‌ ‌ ‌ ‌ ‌ ‌ ‌ ‌ ‌ ‌ ‌ ‌ ‌ ‌ ‌ ‌ ‌ ‌ ‌ ‌ ‌ ‌ ‌ ‌ ‌ ‌ ‌ ‌ ‌ ‌ ‌ ‌ ‌ ‌ ‌ ‌ ‌ ‌ ‌ ‌ ‌ ‌ ‌ ‌ ‌ ‌ ‌ ‌ ‌ ‌ ‌ ‌ ‌ ‌ ‌ ‌ ‌ ‌ ‌ ‌ ‌ ‌ ‌ ‌ ‌ ‌ ‌ ‌ ‌ ‌ ‌
📉 The Current State of Sneakers
Wednesday, July 27, 2022
Recapping July and looking onward! ‌ ‌ ‌ ‌ ‌ ‌ ‌ ‌ ‌ ‌ ‌ ‌ ‌ ‌ ‌ ‌ ‌ ‌ ‌ ‌ ‌ ‌ ‌ ‌ ‌ ‌ ‌ ‌ ‌ ‌ ‌ ‌ ‌ ‌ ‌ ‌ ‌ ‌ ‌ ‌ ‌ ‌ ‌ ‌ ‌ ‌ ‌ ‌ ‌ ‌ ‌ ‌ ‌ ‌ ‌ ‌ ‌ ‌ ‌ ‌ ‌ ‌ ‌ ‌ ‌ ‌ ‌ ‌ ‌ ‌ ‌ ‌ ‌ ‌ ‌ ‌ ‌ ‌ ‌ ‌ ‌ ‌ ‌
☀️ Yeezy restocks & an interview with Social Status!
Friday, July 15, 2022
July's remaining drops and more ‌ ‌ ‌ ‌ ‌ ‌ ‌ ‌ ‌ ‌ ‌ ‌ ‌ ‌ ‌ ‌ ‌ ‌ ‌ ‌ ‌ ‌ ‌ ‌ ‌ ‌ ‌ ‌ ‌ ‌ ‌ ‌ ‌ ‌ ‌ ‌ ‌ ‌ ‌ ‌ ‌ ‌ ‌ ‌ ‌ ‌ ‌ ‌ ‌ ‌ ‌ ‌ ‌ ‌ ‌ ‌ ‌ ‌ ‌ ‌ ‌ ‌ ‌ ‌ ‌ ‌ ‌ ‌ ‌ ‌ ‌ ‌ ‌ ‌ ‌ ‌ ‌ ‌ ‌ ‌ ‌ ‌ ‌
😎 Travis Scott & Jordan are back for the summer!
Tuesday, June 28, 2022
It's officially summer and the drops aren't slowing down. ‌ ‌ ‌ ‌ ‌ ‌ ‌ ‌ ‌ ‌ ‌ ‌ ‌ ‌ ‌ ‌ ‌ ‌ ‌ ‌ ‌ ‌ ‌ ‌ ‌ ‌ ‌ ‌ ‌ ‌ ‌ ‌ ‌ ‌ ‌ ‌ ‌ ‌ ‌ ‌ ‌ ‌ ‌ ‌ ‌ ‌ ‌ ‌ ‌ ‌ ‌ ‌ ‌ ‌ ‌ ‌ ‌ ‌ ‌ ‌ Hey there!
Wednesday, June 8, 2022
News and Releases for June 8 ‌ ‌ ‌ ‌ ‌ ‌ ‌ ‌ ‌ ‌ ‌ ‌ ‌ ‌ ‌ ‌ ‌ ‌ ‌ ‌ ‌ ‌ ‌ ‌ ‌ ‌ ‌ ‌ ‌ ‌ ‌ ‌ ‌ ‌ ‌ ‌ ‌ ‌ ‌ ‌ ‌ ‌ ‌ ‌ ‌ ‌ ‌ ‌ ‌ ‌ ‌ ‌ ‌ ‌ ‌ ‌ ‌ ‌ ‌ ‌ ‌ ‌ ‌ ‌ ‌ ‌ ‌ ‌ ‌ ‌ ‌ ‌ ‌ ‌ ‌ ‌ ‌ ‌ ‌ ‌ ‌ ‌ ‌ ‌ ‌ ‌